These Are The Top-Rated Dog Carseats
Safety first!
We independently pick all the products we recommend because we love them and think you will too. If you buy a product from a link on our site, we may earn a commission.
You want your co-pilot to be as safe as can be while out on your next great adventure. Lucky for both you and your dog, there are actually car seats that have been designed specifically with your dog's wellbeing in mind.
According to pet parents who have invested in and tried out dog car seats, the below car seats from Amazon are the absolute best ones you can try. So next time you and your BFF go out for a spin, you'll have peace of mind knowing that he's safe if the worst should happen.

Available in three sizes, with the biggest supporting dogs up to 25 pounds, the PetSafe Happy Ride Deluxe booster seat for the car lifts your dog to the perfect height to see out the window. It straps securely into place with two buckles, and the high sides ensure your pet is safe if and when you need to make a hard stop. Over 7,100 pet parents gave this seat a five-star rating.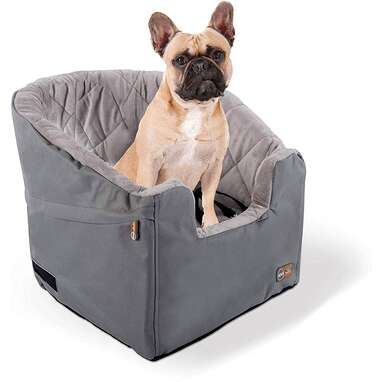 Soft and cozy, this booster seat from K&H Pet Products buckles into place using your car's seat belt buckles, and also includes inner clips that can be attached to your pet's harness to keep him in place. "Perfect!!" one five-star reviewer raved. "I was in a car accident … My pups were fine because they were secured in their pet booster seat and in their harness."
The SWIHELP dog car seat on Amazon safely secures to your passenger seat using two heavy-duty straps that keep the mesh carriage in place. It won't tilt, slide or fall over while driving, meaning you can keep your eyes on the road. And this seat comes with mesh pockets, so you'll get extra car storage and a safe ride for your dog all in one item!
"I would give this 10 stars," one five-star reviewer wrote of the Henkelion small dog car seat. "My dog Max usually cries in the car because he can't see and he gets bored. So I installed the booster seat today and immediately took him for a car ride. He was so good, he loved it." This seat can hold dogs up to 50 pounds, and secures to the passenger seat with three sturdy straps.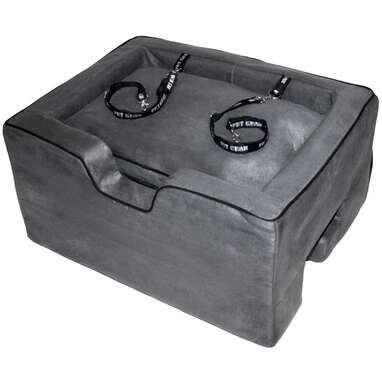 Give your pup a boost with this car seat from Pet Gear. It can be easily installed on the front seat using your car's existing seat belt buckle. The booster seat is crafted from durable foam and microfiber suede, and includes a machine-washable pillow for your pet to sit on. It also comes with two straps that can be attached to your dog's harness to increase safety.
Your dog will be cozy and comfy in this faux-shearling-lined booster seat from Snoozer. The passenger seat belt loops through the back divot, securing the bed into place, and the seat is tall enough that your small dog can see out the window. "My 24-pound Boston terrier LOVES this item, and so do I," one pet parent wrote. "He can stand up to look out the window safely, securely and steadily on the firm yet soft seat."
The BLOBLO dog car seat on Amazon is basically a big, slouchy couch for your dog. One strap loops over the headrest, and the other secures behind the seat. The BLOBLO car seat also has a strap available to attach to your dog's harness for added security.
The entire plush cover of the PetSafe Happy Ride booster seat is removable for easy washing, and the durable plastic frame ensures the bed won't collapse onto your dog. He'll be boosted up to window height, and you can use your existing seat belts to buckle the booster seat into any seat in the car.