These Are Best Dog Bowls For Every Type Of Pup
Make dinner time so much easier!
We independently pick all the products we recommend because we love them and think you will too. If you buy a product from a link on our site, we may earn a commission.
Just like their unique personalities, all dogs have different styles of eating. From the inhalers to the pickers to everyone in between, each dog has his own mealtime quirks — and the type of bowl he's eating from can greatly affect how those quirks present themselves.
Whether you're hoping to slow down your dog's eating or are looking for a feeder that alleviates neck pain, The Dodo found the best dog bowls on Amazon for every type of hungry pup out there. And according to pet parents who left reviews and ratings, these bowls are worth all the hype.
As the name suggests, this set of stainless steel dog bowls from Amazon is about as basic as it gets. Each bowl comes with a non-skid ring around the bottom, and the no-spill shape is great for dogs who are overly eager to eat their dinner.
Another simple option is the PEGGY11 non-skid stainless steel dog bowl. This pack of two bowls comes in several different sizes, with the smallest fitting 3 cups of kibble and the largest fitting up to 16 cups, and the bowls can each be washed in the dishwasher.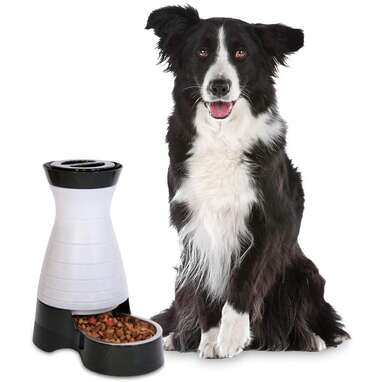 If your dog likes to pick away at his food rather than inhale all at once, the PetSafe gravity food station is a great fit for light eaters. It automatically refills as your dog eats, and can hold up to 4 pounds of kibble. "I have been in search of an actual gravity feeder, but nothing ever worked," one five-star reviewer wrote. "I don't have to touch this feeder at all, the food just comes out."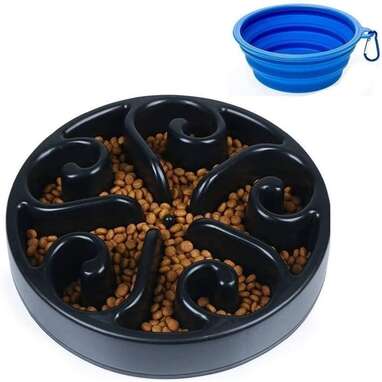 On the other hand, if your dog can't seem to eat fast enough, slow him down by putting his kibble in this slow feeder dog bowl from Freefa. The rounded swirl channels make gulping down food more challenging, and it will lessen the chances of him vomiting or choking on his meal. "Our Lab has always finished his meals in seconds. He never chews," one pet parent wrote, adding that when he eats from the Feefa bowl, "it [now] takes him 10 to 15 MINUTES to eat a meal. He is forced to CHEW also!"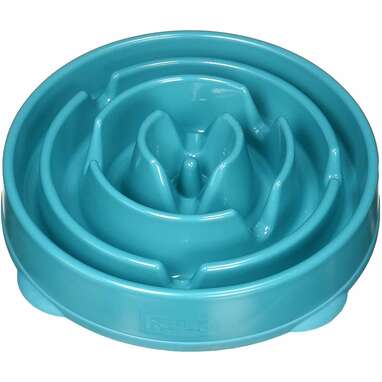 Another favorite slow feeder bowl among pet parents is the Outward Hound slow feeder. It comes with a maze-like design that forces your dog to actually eat rather than inhale. "It has worked wonderfully for all three [dogs], who have different snouts/jaws — including the short, thick pit bull's mouth," one pet parent wrote. "They all figure out a way to get every single piece of kibble out — and all three seem to really enjoy the time spent, and each one has her own 'system.'"
For dogs who need a bit of a lift, the FORREY raised pet bowl duo can help them polish off their dinner without any neck pain or difficulty swallowing. The non-slip stand comes in sizes from 4 to 15 inches tall, and two dishwasher-safe stainless steel bowls come with the purchase of the stand.
If your pup makes a bit of a mess when he dives in, this set of stainless steel bowls from Vivaglory solves the problem of the kibble explosion. The non-slip silicone mat, in which the bowls snugly fit, catches overflow and prevents kibble pieces from rolling every which way. The bowls and mats come in four different sizes.
The Emfogo adjustable dog bowl stand is awesome for growing puppies and senior dogs alike. Start your large-breed puppy on the lowest rung and move it up as he grows, or adjust the height to help your senior dog finish his dinner without pain or other issues from bending over. "Our dog is a bit older and having trouble eating," one pet parent wrote. "Our dog loves it. Plus it has that rustic farmhouse feel."
If kibble seems to spray from the bowl so much that a catch-all mat doesn't help, the Neater Feeder bowl might be your best choice. This set of pet bowls (one of which can be a slow feeder) comes with its own backboard to prevent mess, and the entire unit is dishwasher-safe.
Picky eaters might have a more enjoyable meal when they eat out of the Super Design angled dog bowl from Amazon. Thanks to its shape, your pup doesn't have to lean so far over to get his food out of the bowl, and the higher back makes less mess. "We have a shih tzu who is very picky," one pet parent wrote. "He hated the usual flat-style dog bowl. It was very hard to try and find him a bowl he liked to eat from until this one was found."
Made to grow with your dog, this adjustable feeder from Pet Zone can be kept flat, sitting at about 3 inches off the ground, and then can be raised to two different heights thanks to the adjustable legs. Elevated bowls can not only relieve neck pain and improve swallowing, but they can also relieve joint pain because your dog won't have to bend down to eat.