We independently pick all the products we recommend because we love them and think you will too. If you buy a product from a link on our site, we may earn a commission.
Welcoming a new cat into your home and getting to know your future BFF is such an exciting process. And to make the transition into a cat-friendly home a seamless one, you're going to want to get your supplies together ahead of time.
The Dodo is here to help. Below is a list of essentials from Amazon that new cat parents will want to consider adding to their cat supplies stockpile before welcoming their new friend into the family. From beds and scratch posts, to carriers and litter boxes, you can make and check-off your pre-cat to-do list all in one go.
The Henkelion cat carrier may just be the only cat carrier you ever buy. It comes with a comfort pad for your cat and several mesh doors so you can access your BFF from many different angles. It's also airline-approved, lightweight and can be carried using the adjustable shoulder strap or top handles.
Help your new cat find her favorite toy by giving her a huge selection to choose from. This 30-piece set from Mibote comes with rattling and crinkle balls, fluffy mice and string toys that will keep her entertained for hours. "Really good quality toys!" one cat parent wrote. "Great value for the price! I was pleasantly surprised. My cats love these toys."
Pet parents have noticed a huge difference in their cats' digestion after switching to raised food and water bowls like this set from Kitty City. "I was kind of skeptical of the whole 'raised food dishes are better for your pet' logic," one pet parent wrote, adding, "She's eating a lot more … She's also keeping her food down a lot better. Her Highness is happy with her food bowls, and I'm happy that they've actually seemed to make a difference."
If you're looking to invest in the litter box of the future, the PetSafe self-cleaning litter box is the way to go. Its crystal litter absorbs odor and dehydrates solid waste, and its automatic scoop prevents you from having to clean the litter box or replace litter for several weeks at a time. "Here's the short and sweet, buy this," one five-star reviewer wrote, calling this litter box a "miracle."
On the other hand, if you plan on using a standard litter box, you should look into the Pieviev cat litter mat, which catches rogue bits of litter that make their way out of the box. Its honeycomb upper layer traps litter, and the envelope design makes cleanup a breeze. Over 1,500 pet parents have said this mat has tidied up their litter box area tremendously.
The Pet Neat grooming brush claims to reduce shedding by up to 95 percent thanks to its deshedding comb that removes loose undercoat. And over 32,700 cat parents agree that this brush is the real deal. One parent wrote, "This comb is a godsend … I've never gotten so much hair off the cats!"
Cats love to scratch, and if you don't have a scratching post specifically for your new cat, your furniture will probably suffer the consequences. This adorable scratching post from PAWZ Road looks like a piece of art and helps keep claws off the couch. "If my cat Pepperoni could write a review she would say this is the best thing her human serf has purchased," one pet parent wrote.
Protect your new friend from fleas and ticks with Frontline Plus. It's fast-acting and waterproof, and keeps your cat safe from critters that carry dangerous diseases like Lyme. Just make sure your cat is over 8 weeks old before you apply — Advantage II also makes a kitten formula suitable for cats weighing 2 to 5 pounds.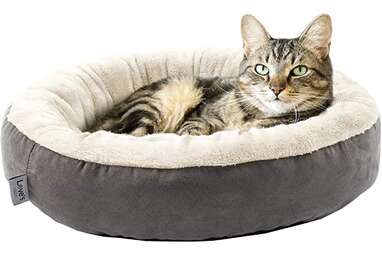 Give your cat a spot of her very own with this donut cat bed from Love's Cabin. It comes in a handful of cute colors and its fleece interior makes it the perfect place for your BFF to curl up and take a much-needed cat nap. Plus, you can keep her new bed at peak fluffiness by throwing it in the wash and tumble drying it on low heat.
Accidents happen, which is exactly why you need to add this Angry Orange pet odor eliminator to your cat supplies closet. It's made with real oranges and is great for removing stains and odor from both soft and hard surfaces. Simply shake and spray. "This is it. The solution to all pet odors EVER!!!!!" one five-star reviewer wrote. "I know … it is unreal, but the smell is GONE. As in NOTHING!!! No cat was ever here!"