We independently pick all the products we recommend because we love them and think you will too. If you buy a product from a link on our site, we may earn a commission.
Let's face it — no one enjoys cleaning their cat's litter box, but it's pretty much unavoidable. Luckily, there are litter boxes out there that actually make the cleanup process easier, while also keeping odor and mess to a minimum.
According to the thousands of five-star reviews from real cat parents who've tried them, these cat litter boxes on Amazon are the absolute best ones you can buy. They'll make both your life and your cat's life so much better.
The jumbo litter box from Catit comes with a hood and a privacy door that also prevents litter tracking throughout the house. The carbon filter cuts down on odors, which over 22,400 cat parents say has changed their lives for the better. "Let me just start with — I LOVE THIS BOX!" one wrote. "No more nasty smells, litter all [over] the ground, etc. And not to mention — it is HUGE! Which is perfect because I have two kittens who share it."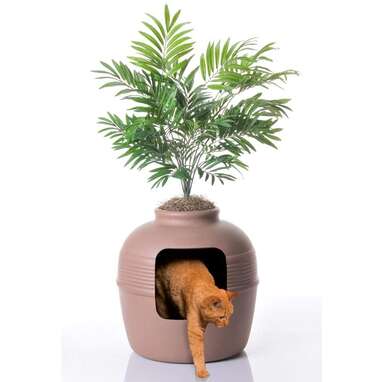 It looks like a potted plant, but this is actually a hidden litter box from Good Pet Stuff. The plastic vase splits in half so you can easily access the box for cleaning. Simply turn the door to face a corner of the room, and your cat's litter box will become so discreet, your guests may even compliment you on the beautiful fern you have growing in your living room.
This igloo-shaped litter box from Petmate features a grooved-step entryway that shakes loose any litter stuck on paws. The charcoal filter inside the dome limits odor — and over 10,400 pet parents attest that the odor-eliminating filter actually works.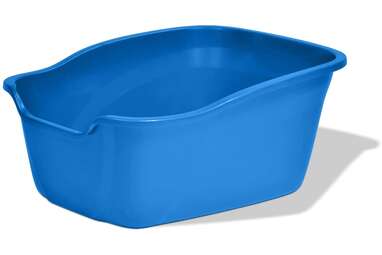 Looking for something super basic? Look no further than the Van Ness litter pan with high sides. This litter box is perfect for cats who like to dig, thanks to its depth, and the highly-polished finish makes cleanup a breeze.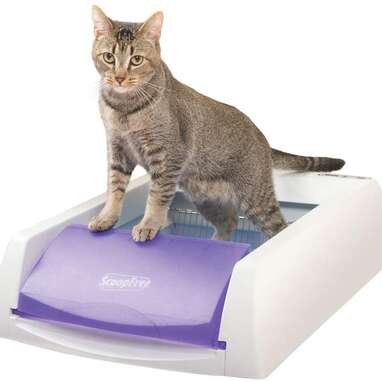 Leave the scooping to the PetSafe self-cleaning cat litter box on Amazon. After loading it with specialized odor-reducing crystal litter, the automatic feature does the scooping for you for weeks at a time. "Here's the short and sweet: buy this," one of the over 11,600 five-star reviewers wrote. "I can literally stand next to a full, two-week-old litter box and not smell a thing."
This litter box from Petmate has a hole in the top that your cat can jump into when it's time to do her business. To clean, just pop the top and scoop. The top entry prevents other members of the household — *cough* the dog *cough* — from potentially raiding the litter box when no one is looking.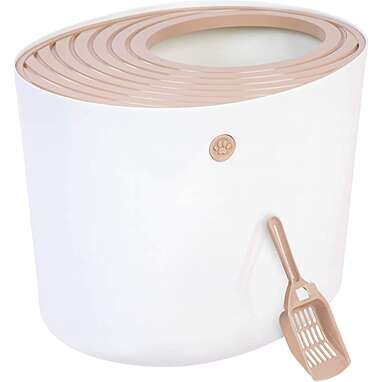 Another great top-entry cat litter box on Amazon is the one from IRIS that comes with a grooved lid to trap excess litter before your cat can track it elsewhere. "[I] quickly realized that having an open box of waste hanging around my house wasn't for me," one pet parent wrote. "After looking at dozens of other options, I settled on the IRIS box … I'm so glad I did. I love it! It doesn't look or feel like a litter box, just more like a high-end trash can or office tote."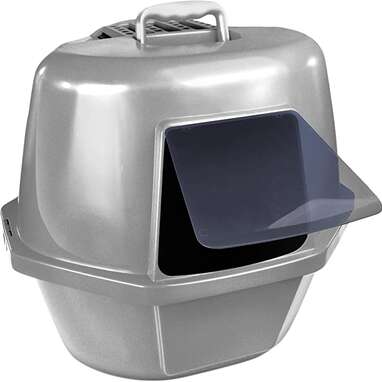 This basic corner litter box from Van Ness comes with a privacy door and an odor-controlling air filter. And thanks to its shape, you can easily disguise it in the corner of any room. Over 7,500 pet parents say this box is the one for them.
The Petmate sifting cat litter box on Amazon offers a new way to clean. Simply remove the sifter pan from the box and watch the unused litter slip away to reveal the waste. "Cleaning the litter boxes was the worst thing on my chore list," one cat parent wrote. "I bought one sifting litter box to try it out and let me tell you it was life changing! I wish I had purchased [it] sooner."