The 11 Best Amazon Basics Items For Your Dog
These no-nonsense products are perfect for your no-nonsense pup.
As the name suggests, Amazon Basics has you covered when it comes to finding affordable and simple products for your pet. Their no-nonsense line of dog products features tons of fan-favorite staples for pet parents, and whether you're just starting out with a new puppy or looking for great items to help your senior dog, Amazon Basics has everything you need.
So if you're not in the mood to shop around and compare prices, check out the below list of Amazon Basics products that dog moms and dads love and continue to buy time and time again.
Some small dogs need a big boost, and this booster seat from Amazon Basics gives them just that. Make car rides more enjoyable and safer for your pup by installing this plush flannel booster in the back seat. "He has lots of room to lay down, and it's a great height so he can look out the window while laying down," one dog parent wrote.
This plush cushion bed is the perfect fit for your no-nonsense dog. It comes in five different sizes ranging from 23 inches to 46 inches, and is covered with an ultra-soft faux fur upholstery. It's slightly tufted, giving it that cushion feel, and with a 4.5-star rating, it's about as classic as a dog bed can get.
If you've got a hot dog on your hands, this elevated cooling platform bed is like doggy AC. A breathable mesh platform sits nearly 8 inches off the ground, providing your pup with cooling airflow. Less panting equals more relaxation. "My dogs LOVE these beds," one five-star pet parent wrote. "If there [are three beds] in the room they will take the elevated bed first every time."
The Amazon Basics gravity pet waterer and feeder come as a combo, or you can buy each one separately. The feeder is great for dogs who love to pick at dry kibble throughout the day, and the waterer ensures there's always water available to hydrate. "We have a 4-month-old German shepherd and we are in the south so we were constantly filling his water bowl," one of the over 23,000 five-star pet parents wrote. "This keeps him [fed] and hydrated for several days … My life just got a lot easier!"
When pups are being house-trained or when they get older, they sometimes struggle with incontinence. Luckily, Amazon Basics has created a male diaper wrap that protects your pup from leaks and eliminates your need for cleanup. Plus, they come in four different sizes so you can be sure your dog is getting the best fit possible.
With over 87,000 five-star reviews, these Amazon Basics dog and puppy pads are a favorite among the pet-parent community. They get the job done with their absorbent core and are quick-drying. "They are thick enough to hold the liquid," one customer wrote. "They do not seem to leak. They seem to keep the smell at bay as well. I am very happy with this purchase and will be buying them again!"
If your small dog loves to curl up in a nest, this donut-shaped bolster bed will become his new favorite hang-out spot. Made from durable canvas and plush flannel, it's soft, comfy and machine washable. With over 7,300 five-star ratings, the bolster bed is a favorite among pet parents and their pups.
This eight-piece dog grooming kit is literally a one-and-done deal. With one purchase you get a slick brush, shedding tool, double-sided brush, flea comb, bathtime grooming mitt, grooming hand brush and nail clippers — everything you could possibly need for grooming your medium- to long-haired pup. And each tool is crafted with stainless steel so you know they're made to last.
Treat your dog to a luxurious 3-inch-thick memory foam dog bed, available in five different sizes. This bed is ultra-cushy with a dense, egg-crate foam filling and plush, machine-washable cover. More than 1,000 dog parents have left this bed a five-star rating, with one person saying, "I'd nap on it."
Parents of fast-eating dogs know that the food bowl can easily slide across the kitchen floor during mealtime. To put a stop to the traveling food bowl, check out this anti-slip waterproof mat, perfect for keeping your dog's bowl in place. "Perfect size, simple to clean and fulfills its purpose!" one shopper wrote.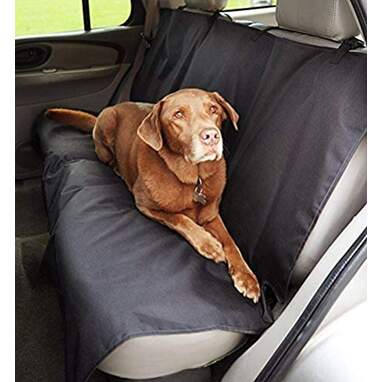 You'll never have to fear muddy paws again after installing the Amazon Basics waterproof car seat cover in your back seat. The durable polyester fabric prevents dirt and dog fur from being left behind on your bench seat and protects your leather from scratches. Plus, the seat cover can be installed easily with headrest loops and anchors.