The Best Amazon Basics Cat Items
Durable, affordable and also pretty cute 🙌
We independently pick all the products we recommend because we love them and think you will too. If you buy a product from a link on our site, we may earn a commission.
Sometimes, simpler is better when it comes to buying items for your pet — after all, your cat probably doesn't care how fun and decorative her cat tree is as long as it gives her all the scratching goodness she craves.
And when it comes to simplicity, the Amazon Basics brand does it best. According to pet parents who look for good, reliable, basic must-haves for their cats, Amazon Basics knocks it out of the park every time (and at a great price). Here are the best Amazon Basics cat items online.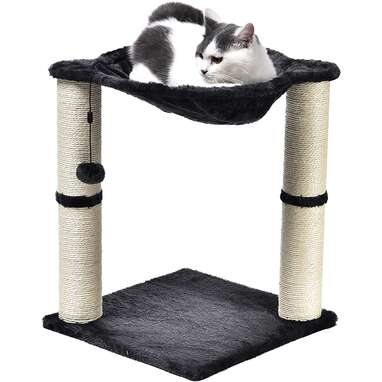 It's a cat hammock, it's a tree tower, it's a scratch post — this Amazon Basics cat condo has everything your cat might need to entertain herself and then take a load off. Over 26,400 cat parents say this cat condo is easy to install and has become their cats' new favorite hangout spot. And The Dodo team granted it our Paw of Approval after testing it out on our own cats (our cat parents particularly loved that it's a great option for small spaces).
This super simple litter box from Amazon Basics comes with a privacy cat door in the lid so your cat can easily get in and out without odor and mess following her. The box is easy to keep clean thanks to its no-fuss design, and contains a carbon filter to keep odor to a minimum.
For litter boxes that come with a tray for absorbent pads, these litter box pads from Amazon Basics are the best according to over 15,800 pet parents. "These fit perfectly in drawer-type cat litter systems," one wrote. "They are super absorbent and have a film on the bottom that locks in moisture."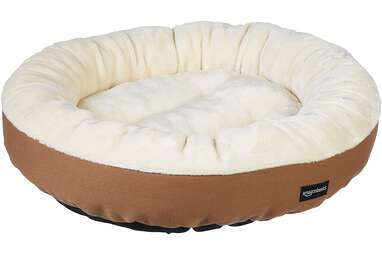 Your cat will love curling up in this Amazon Basics round bolster bed lined with plush flannel material. These beds are machine washable, and actually fit perfectly in the cat condo tree tower above — you can even purchase these two items together on the bolster bed listing.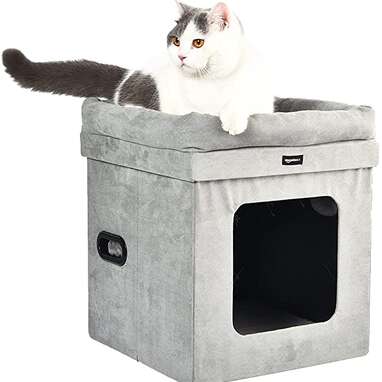 For cats who like to curl up in a den and be king of the castle, this Amazon Basics cat house offers a little bit of both. It comes with a bed on top as well as a bed inside. And yes, it is collapsible — but good luck trying to get your cat out of it to test out its collapsibility.
As its name suggests, this litter box mat from Amazon Basics will leave you with less mess to deal with after your cat uses her litter box. The litter-trapping grooves catch litter that exits the box before particles end up on your floors and furniture, and over 2,500 cat parents say this is the real deal. "I have two Maine coon cats with fur growing between their toes, and they track litter everywhere. I've tried numerous types of litter, but still end up with it all over my floor," one wrote. "I bought two of these mats, one for each box, and the problem stopped immediately."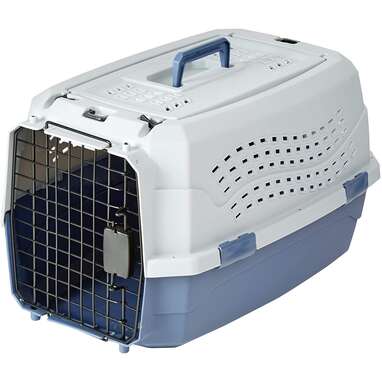 If you're in need of a simple, hard-sided cat carrier, the one from Amazon Basics has stellar reviews among fellow cat parents. It features two doors — one of which is at the top of the carrier, making it so much easier to get your cat in and out without a fight.
Amazon Basics also has a mesh, soft-sided cat carrier, too, that zips closed at both the front and on top. Each of these carriers come with a faux-sherpa mat and an adjustable shoulder strap. And some parents say this carrier is awesome for traveling and flying thanks to the breathability and size.
Cats who love to cuddle and get as toasty as possible will love this Amazon Basics warming bed, which is made using the same technology as heat-reflecting space blankets. It's lined with plush faux sherpa and effectively reflects your cat's body heat back to her. You can pick one up in sizes from 18 inches to 35 inches across.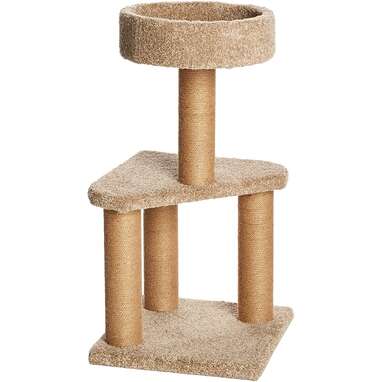 "Let's face it: Most cats are more interested in the box the cat tree came in than the tree itself," one cat parent joked in their review of the Amazon Basics cat activity tree. "When I found this from Amazon Basics, I immediately bought it … We put the box next to the cat tree, and so far the cat has played with both equally, which is a win in my book." This cat tree is durable, carpeted in a neutral color and has plenty of room for scratching, playing and sleeping.