Here's Why People With Pets Should Also Have Air Purifiers
Say goodbye to allergies and weird smells 👋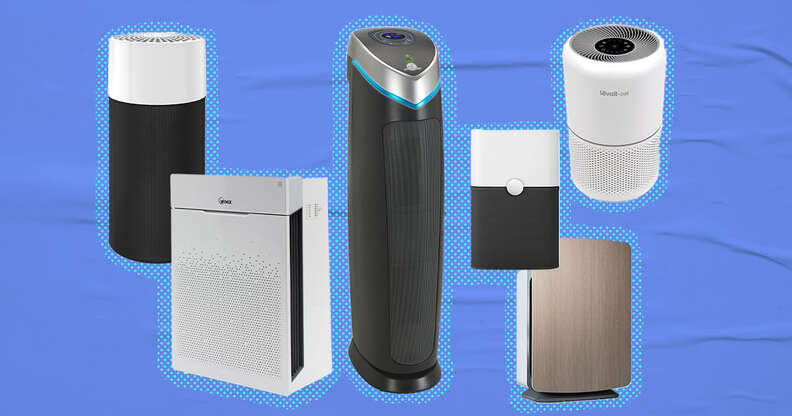 Whether you have allergies or just don't like the feeling of a stray dog hair floating up your nose, it's probably worth getting an air purifier if you're living with a pet.
"[Air purifiers] decrease the amount of dander that can cause allergies," Dr. Antonio DeMarco, a veterinarian and president of medical operations at GoodVets in Kansas City, Missouri, told The Dodo.
We spoke with Dr. DeMarco, who explained why you might want to invest in an air purifier and how to find the best ones.
The best air purifier for pets is one with a HEPA filter, because it can filter out all those allergens. Here are some of our favorites:
What to look for to find the best air purifier for pets
There are a few things you should consider when shopping for an air purifier.
Opt for a HEPA filter
According to Dr. DeMarco, you're going to want an air purifier with a HEPA filter, because they're pretty great for dander.
A HEPA filter is a filter that meets specific high-efficiency standards. For a filter to be considered a HEPA filter, it has to be able to capture 99.97 percent of particles that are .3 microns — aka bacteria-level small.
"I would recommend going with a top-brand air filter," Dr. DeMarco said. "Most filters will say [they're] made for allergies [or] pets. [They're] usually more costly, but tend to work better."
Factor in your room size
Different air purifiers are designed to perform best in different sized rooms, so you'll have to keep that in mind during your search.
Take note of the square footage of the room you want your air purifier in, and compare that to the optimal room size listed by the manufacturer.
Think about your ideal noise level
Not all air purifiers operate at the same volume, so you'll want to think about how loud is too loud for your personal preference, especially if you plan on leaving it running while you're sleeping.
The noise level will be measured by decibels. For reference, 20 decibels is like a whisper from about 5 feet away, 30 decibels is like whispering nearby, and 40 decibels is the same as quiet library sounds. Under 40 decibels is generally a sweet spot for air purifiers, but it depends on your preference!
The best air purifiers for pets
We rounded up some of the best air purifiers for pet parents. (Bonus: They'll actually look good in your home, too.)
This air purifier is the best overall because it removes particles down to .1 microns, it's super quiet (less than 31 decibels), it removes larger particles like pet hair, and it can filter large spaces really quickly — up to a 540-square-foot room within 12.5 minutes (and if you do that math, that means it can go through 2,592 square feet in just an hour). And it's got a layer of activated carbon to filter out those telltale pet odors.

As an added bonus, the color block design is fun and functional, since the bottom half is actually a machine-washable pre-filter. And when you want to replace it, you can buy other fun colors like gray, pink, blue, yellow and white.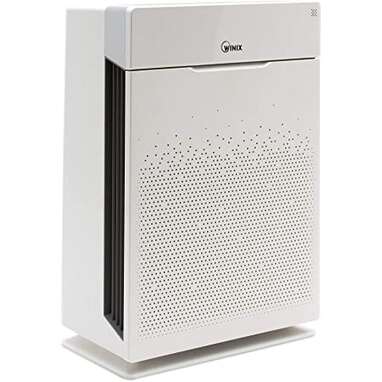 This air purifier can clean a 300-square-foot room and has five stages of purification to stay on top of all sorts of pet particles. It's got a pet pre-filter for hair and dander, a washable pre-filter for bigger particles, and a carbon filter to keep odors in check. So, you should be able to handle whatever your pet throws at you (and your sensitive sinuses).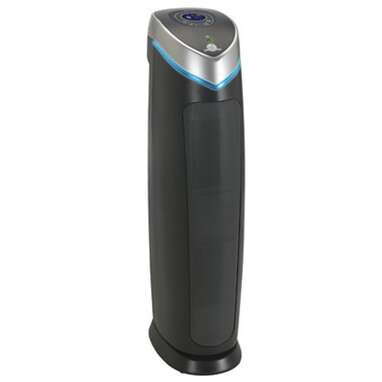 This air filter has a UV-C light technology setting that can help kill airborne germs and viruses to help keep you and your pup healthy. It's also treated with an antimicrobial agent to keep mold, bacteria and that telltale pet smell in check. It has five different speed settings, so you can make the filtration more intense during the day and quieter at night.
Here's one that will actually look good in your home instead of looking like a giant, out-of-place appliance. It's available in five stylish colors: white, oak, weathered gray, brushed stainless and espresso.

It's definitely a splurge, but this air purifier is great for large rooms and can also capture 99.7 percent of particles (even those as small as .1 microns) in the air.
This air purifier is so quiet that you'll forget it's even there. The lowest setting is only 17 decibels, which is quieter than a whisper. And like its larger counterpart, it also has a layer of activated carbon to handle any pet smells. It can clean the air in a 161-square-foot room in about 12.5 minutes and a 772-square-foot room in an hour.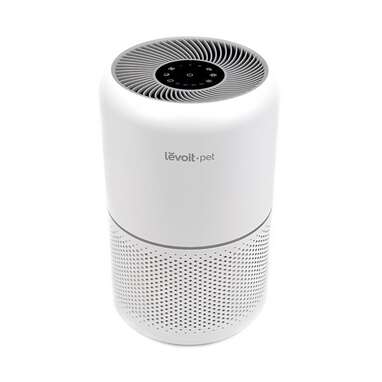 If you're looking for an air purifier that won't take up a ton of space, look no further. At just over 14 inches tall, it's small and cute enough that it won't look bulky or super out of place. And it can filter the air in rooms up to 219 square feet.

It also has three filtration stages — including one for pet hair and one with activated carbon that's been treated to eliminate odors — so it's pretty effective at what it needs to do.
Air purifiers can be pricey, which is why we love that this one is so affordable.

And you're getting a ton of bang for your buck — it's got a bunch of filters, including one for pet hair, two for odors and a HEPA filter for those teeny-tiny particles.

And it's portable, so you can put it pretty much anywhere. (Just keep in mind that it works best in rooms up to 160 square feet).
So whether you have allergies or just like knowing you and your BFF are breathing the freshest air, these are the best air purifiers for pets.
We independently pick all the products we recommend because we love them and think you will too. If you buy a product from a link on our site, we may earn a commission. Links are updated when possible, but note that deals can expire and all prices are subject to change.