People Are Loving These Top-Rated Kitten Toys
Perfect for those tiny teeth and claws 😽
We independently pick all the products we recommend because we love them and think you will too. If you buy a product from a link on our site, we may earn a commission.
The best part about bringing a new kitten home is all the energy she'll bring with her — you'll never have a dull moment again! But that also means it helps to have a healthy collection of kitten toys available for her to burn off her energy.
According to pet parents, the below kitten toys on Amazon are the absolute best. From crinkle balls to catnip-stuffed animals, Amazon reviewers say these kitten toys will become instant favorites (and end up under every piece of furniture you own). Here are the top toys of 2021.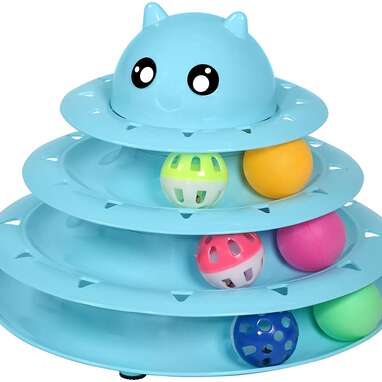 Over 18,600 pet parents say the roller ball kitten toy from UPSKY has become an instant hit for both young and old cats alike. Each toy comes with three tiers of rolling action, with six balls in total — three of which have bells in them. Plus, the whole thing is easy to dismantle if your cat wants to play with the balls on their own.
This toy variety pack from Dorakitten has everything your kitten could possibly want — a tunnel, crinkle balls, a feather toy, catnip fish, mouse toys and rope balls. It's the perfect starter pack for new kitten parents, according to the over 800 parents who have bought it.
The kitty chew wheel toy from Petstages comes with a catnip-infused rubber ring with spokes that's meant to encourage chewing, but is gentle on gums and teeth. The attached ribbons will make it easy for your kitten to carry this toy around the house and add an extra layer of fun.
These may be the most simple toys on the list, but according to over 1,400 pet parents, these spring toys from Adiker are a favorite. "My kitten Sundance loves these springs," one pet parent wrote. "He happily plays with them for several hours a day. They are well-made and perfectly springy. Only problem is they disappear. Lol … Nearly 50 springs are in my small two-bedroom cottage. Ha! Who knows where they are?"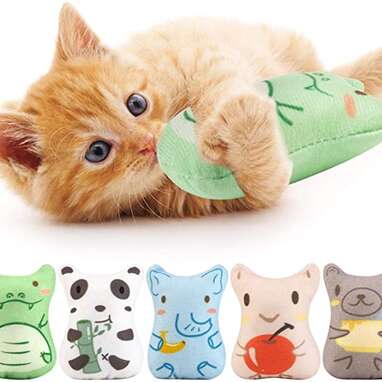 The only thing cuter than these toys is watching your kitten actually play with these catnip-filled toys from Dorakitten. "I bought these for two kittens I am fostering," one pet parent wrote. "They took to these toys right away! The size and texture of these was perfect for them. They also use them for pair-play and hunting amongst the kittens."
Hang the dream dangler from SmartyKat on a doorknob or flick it around by hand, and your kitten is bound to go nuts for it. Each dangler comes with feathers and ribbons of all different lengths and sizes attached to a sturdy and safe jute ring. And, honestly, this thing looks great as a decoration, too.
These colorful pom-pom toys are stuffed with soft filling and each contains a bell that will keep your kitten intrigued for hours. Each pack comes with four balls in three different sizes.
These bread toys from CiyvoLyeen are puffy, stuffed with catnip and soft fiberfill, and utterly addictive for cats. "I started using this to give my kitten whenever she attempts to bite my fingers, and now she's obsessed with them," one pet parent wrote. Each pack comes with six unique bread toys.
It's like a baby mat for your cat! The PETMAKER cat activity center has two crisscrossing arches that have a variety of different toys hanging from them. "My cat loves this!" one five-star reviewer wrote. "He loves playing with each of the hanging toys, as well as just sleeping on it. I just wanted something to entertain my cat at night, but this entertains him on and off throughout the day!"
Anxious kittens will feel instant comfort from the SmartPetLove snuggle kitten toy. It comes with a realistic battery-powered heartbeat and disposable heat packs that last up to 24 hours. This toy is great for soothing kittens who may be a bit nervous about being on their own for the first time.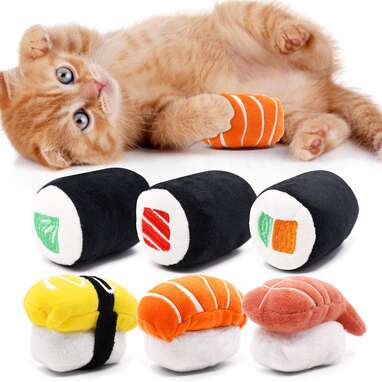 If you can't give your kitten the real thing, give her a set of toy sushi and sashimi instead! This set of six catnip sushi toys from CiyvoLyeen are not only adorable, but the soft fiberfill helps your kitten keep her teeth clean while she plays and bites.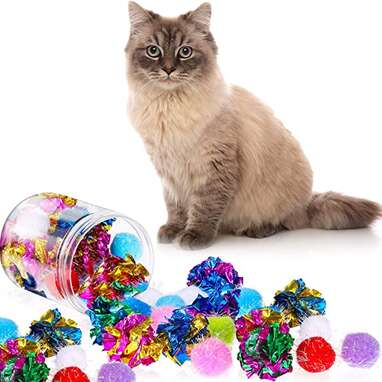 Kittens will go crazy for these WILLBOND crinkle toys on Amazon. Each pack comes with 20 pom-pom crinkle balls and 12 sparkle crinkle balls that will definitely end up all over your house. "My cat loves these, not sure why," one pet parent wrote. "He doesn't like conventional cat toys. They don't leave a mess, they make him happy, great price."