These Are The Highest-Rated Dog Food Storage Containers
No more stale wasted food 👏
We independently pick all the products we recommend because we love them and think you will too. If you buy a product from a link on our site, we may earn a commission.
Your dog isn't the only one who thinks their kibble is delicious — pests like bugs and mice do, too. But the right dog food container can ward off pests and keep your dog's food fresh and crunchy.
There are a ton of really great dog food containers on Amazon, but according to pet parents who have put them through the test, the containers below are the best of the best. So if you're in the market for a dog food container that will stand the test of time, here are the top-rated containers to try.
Available in sizes from 15 quarts up through 67 quarts, the IRIS USA airtight container for dog food keeps moisture and pests from invading your pup's kibble supply. The containers are BPA-free, easy to clean and come on wheels so you can easily move your pet food around once the container is filled. Over 22,100 pet parents have rated these containers five stars.
Sneaky dogs have finally been outsmarted by the Gamma2 Vittles Vault container. The airtight twist-to-lock seal keeps food from going stale and, more importantly, keeps pests and nosy pups out. And because this container is heavy-duty, you can store it almost anywhere.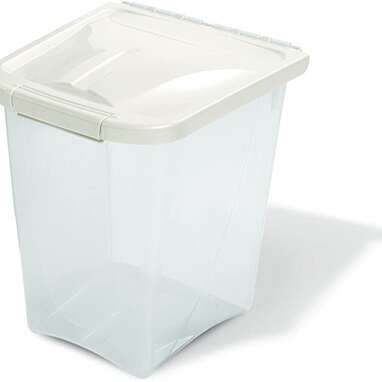 For smaller dogs or pet parents on the go, the Van Ness 10-pound dog food container is a win. "All of my old Tupperware-type containers are falling apart after decades of use," one pet parent wrote. "This is not small but not huge either and sits easily in the pantry. I love that it locks and keeps the food fresher than an open bag … It's also great to throw in the back seat when we're off on one of our adventures."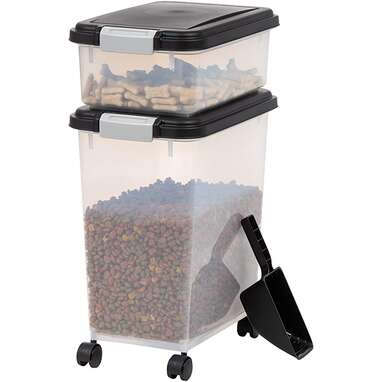 This stacking container set from IRIS USA is awesome for pup parents who may have two different sized dogs. The top container can fit a smaller amount of kibble or treats, and the bottom container can hold 33 quarts of dry dog food. And this set comes with a hand scoop, too.
Available in small, medium and large sizes, the Simplehuman dog food container on Amazon is a high-tech alternative to the standard plastic containers. It features a magnetic-mounted scoop on the lid and a locking handle to keep pests out, and comes with a removable BPA-free bucket.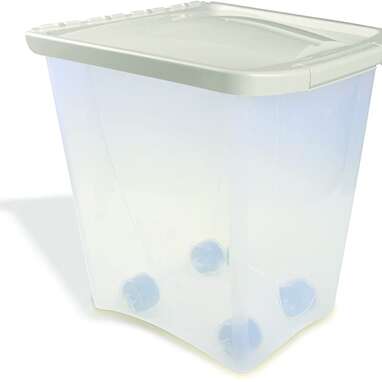 "I'd been keeping our dog food in a giant container for years that was taking up a lot of space in our pantry," one pet parent wrote in their five-star review of the Van Ness pet food container. "This box takes up [a third] of the room of the last box, AND it has wheels. Totally recommended product." And because the wheels are embedded in the bottom of the container, they don't waste space.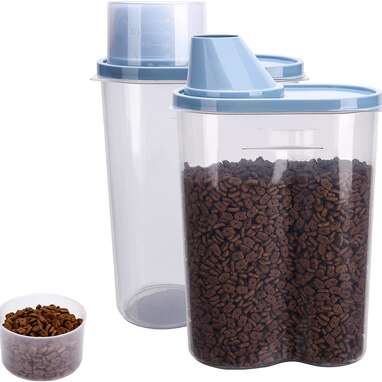 If you're looking for a pourable option, this dog food container on Amazon from Green Joy comes with a pouring spout and a measuring cup. These containers come in a set of two, and you can fit up to 2.5 pounds of dry kibble in each container. The grooved end makes it super easy to grip and pour.
Fit up to 20 pounds of dry dog food in the Komax Biokips pet food storage container, which features an airtight top hatch. This container is BPA-free, comes with a scoop and can easily be stacked in your pantry.