These Are The Best Dog Doors You Can Install Yourself
You don't need to be an expert! 🛠
We independently pick all the products we recommend because we love them and think you will too. If you buy a product from a link on our site, we may earn a commission.
Sometimes you might need to give your dog a bit of independence when it comes to letting himself outside, to keep you both sane — and that's where a dog door comes in handy. Your pup can choose if and when he wants to go out into the yard without having to ask. Plus, dog doors can stop accidents before they happen.
Buying and installing a dog door is actually a lot easier than you may think, and there are a handful of really great options on Amazon that all come with DIY instructions. All you need to do is measure twice, cut once and install — and, of course, make sure you install it in a door or wall leading out to a safe, enclosed area.
Here are the best dog doors on Amazon The Dodo found, according to pet-parent reviewers.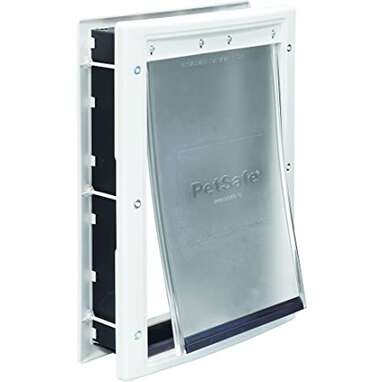 The PetSafe plastic pet door can easily be installed in interior or exterior wood, PVC, metal and paneled human doors that are up to 2 inches thick. The doors come in four different sizes, and over 6,300 pet parents have rated this door five stars, with one writing, "I still can't believe that it took me two years to get this life-changing dog door."
If you'd rather install a dog door in an exterior wall than a door, the PetSafe wall entry door is the right choice. It's specifically designed with a telescoping feature to fit within any wall, including walls with siding, stucco and even brick. And each door comes with a cutting guide and DIY instructions.
Pet parents can't get over how easy it is to install the Ideal Pet Products all-weather dog door. It's made with energy-efficient foam-molded plastic, and features a heat-saving double flap and slide-in blocking panel. "We installed this door about one month ago; it took about 30 minutes tops," one five-star reviewer wrote. "This has saved my sanity!!! I used to get up and down so many times a day to let them in and out, but no longer, and life is now great!"
Available with both a plastic and an aluminium paintable frame, the PetSafe extreme weather dog door on Amazon has a unique three-flap system that is rated 3.5 times more energy-efficient than single-flap doors, according to the company, and snaps closed with a magnetic strip after use. You can also attach the snap-on panel that blocks off the door and keeps in heat.
The Ideal Pet Products air seal dog door is made with impact-resistant thermoplastic and features a clear, weather-resistant flap made of thick plastic. "I like the three little flaps or light boxes instead of just a plastic flap," one pet parent wrote. "They insulate from the weather [and] they make it a little heavier and more sturdy, and so far they seem to be holding up real well considering my dog has a habit of running in and out of the door several times at full speed."
Have a slider? No problem. The PetSafe sliding glass door insert allows you to install a doggy door without needing to know how to cut glass (phew!). Just measure your existing slider and choose the right size from the seven different size options available, and you're ready to install.