These Are The Best-Rated Dog Crates On Amazon
Every pup needs a castle 👑
We independently pick all the products we recommend because we love them and think you will too. If you buy a product from a link on our site, we may earn a commission.
Crate training has a ton of benefits for both puppies and older dogs. You can use a crate to teach your puppy where to do his business, you can keep nosy dogs out of trouble when you're away from home, and you can give your dog a den-like place where he feels safe and secure.
But if you're looking for the perfect crate for training or stress relief, you might be overwhelmed by all the options available online. To help you out, The Dodo found some great pet-parent-approved options that have hundreds of five-star ratings. Here are the best crates on Amazon.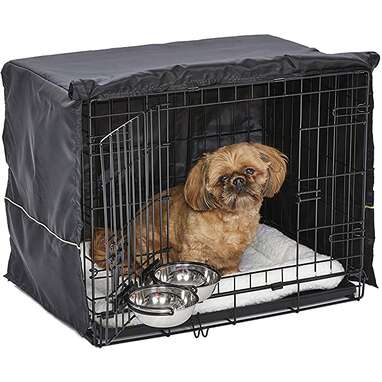 Everything you need to start crate training comes in the iCrate Starter Kit from MidWest pets. Each kit includes a two-door crate in your choice of six sizes, a "quiet time" crate cover, a bed and two "Snap'y Fit" bowls. "My dog loves it," one five-star reviewer wrote. "The pad that comes with it is so nice, and the cover makes it more like a cave for her."
Made to meet baby industry standards and with durable materials, like high-grade aluminium, steel and mesh wire, this collapsible small dog crate from Diggs is made with your dog's safety in mind. The Dodo team tested it on one of our own dogs, and it earned our Paw of Approval. It comes with three easy-access doors and a pull-out leak tray, and, because it's plastic, it's easy to pick up and move around. (Size large is currently sold out.)
Available in sizes from 24 to 48 inches long, the New World Pet Products folding crate is a win according to over 15,700 pet parents. It's easy to assemble and features two doors (one on the end and one on the side), and, as one pet parent wrote, "finally — [it's] a keeper."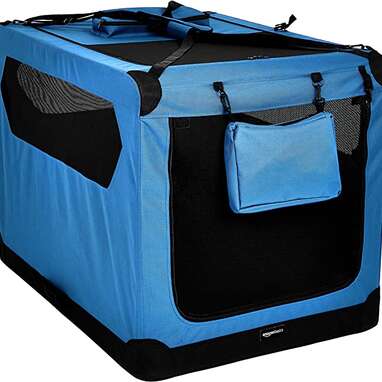 This soft-sided crate from Amazon Basics is made with a durable polyester and PVC material, and comes with a fleece bed for added comfort. Though this crate is great for traveling, and comes with handles for easy maneuvering and zipper-close doors, the soft-sided crate can also be used at home to give your pup the perfect cave to curl up in.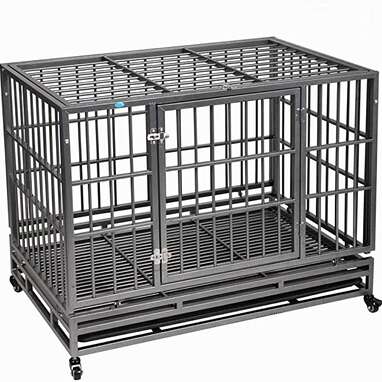 If you're looking for something that you can move around the house easily, this dog crate from COZIWOW has wheels at the bottom for that purpose. It comes in two large sizes and can be opened from either the side or the top. Plus, it comes with a slide-out leak tray that protects your floors from puppy accidents.
This dog crate from Casual Home on Amazon is meant to do double duty as a crate and an end table. It's made with chew-resistant wood, features a secure lock and is the perfect size for small- to medium-sized dogs (plus their beds).