Here's All The Stuff Your Cat Needs From Amazon Right Now
You'll want it all 😻
We independently pick all the products we recommend because we love them and think you will too. If you buy a product from a link on our site, we may earn a commission.
Super-extra cat parents are always on the lookout for the most unique and interesting items for their cats. And because there are so many cool cat things out there, the search for the best is seemingly endless.
The Dodo did the heavy lifting and read through hundreds of five-star reviews to find some of the best, most fun cat stuff on Amazon — from an adorable and comfy flower-shaped bed to a massive wall maze that will keep your cat entertained for hours. Basically, your cat will need these awesome things simply because they're just that awesome.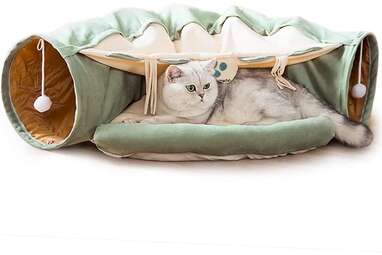 The DREAMSOULE 2-in-1 system has everything your cat loves. It's a comfy bed tucked under a cozy canopy with a tunnel toy attached to the back of it. Plus, both the tunnel and the bed have hanging toys attached so that your cat can play the day away if she chooses.
Indoor cats will feel like they're hanging out in the great outdoors thanks to these canopy shelves from On2Pets. These wall-mounted units are camouflaged with cat-safe faux greenery that will make your cat feel like she's being super sneaky. "They look good enough to hang in my bedroom [and] they're sturdy and well made," one pet parent wrote on Amazon. "And my cat LOVES them! … I really think these shelves register as a 'tree' for cats. My boy's eyes light up like he's in the jungle."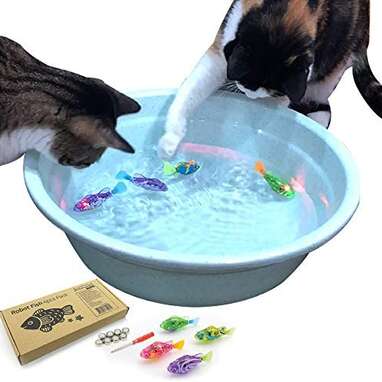 Your cats will go nuts trying to catch these interactive swimming fish from BlackHole Litter Mat. The pack comes with four robotic fish that swim like the real thing when placed in water. Throw them in the tub or the sink and watch your cats' curiosity spark.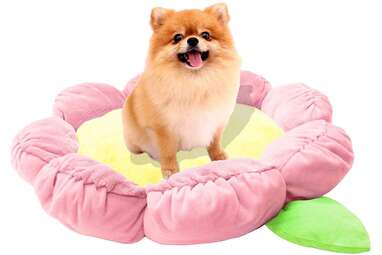 "I just received this today and it's the cutest little thing," one pet parent wrote about the TONBO flower cat bed. "My cat went in it immediately and snuggled up in a cute little ball. It's the perfect size … Need to order more so my fur babies don't fight over this one." You'll love this bed as much as your cat does because not only is it adorable, but it's also completely machine washable.
It's like a plant hanger, but for your cat! This macrame cat hammock from KARCEEY on Amazon is a cool wall hanging that morphs into a cozy cat bed at the bottom. The macrame securely holds a cushy cat bed. Hang it on the wall or in front of the window, and let your cat enjoy the calming rocking motion and breezy (yet cozy!) macrame design.
The Sweet Spot Kitty Carpet from FUZZU looks great and feels even better when your cat lounges on it. It's made with two layers of a plush fabric and comes with an insertable pouch of high-quality catnip. The Kitty Carpet is a spot for resting and playing. "We now have three of these," one five-star reviewer wrote. "I bought the first and found [my] three large cats didn't want to share. So I purchased a second one and found they all like to use it at the same time. Now my 12-pound dog wants one."
Some cats simply won't drink water unless it's flowing from a tap or being pawed out of their human's water glass. But according to over 33,600 pet parents who installed the Veken water fountain in their homes, their cats are finally — finally! — staying hydrated. This cool cat item features a cute flower water spout that creates a gentle current, encouraging your cat to drink.
You'll love growing the Cat Ladies cat grass kit as much as your cat will enjoy gnawing on the final product. Cat grass is awesome for your cat's digestive system, helps control hairballs and is packed with nutrients and vitamins that help her maintain a healthy heart, hormones and teeth. She'll even have fresher breath.
"The minute I had this hammock put together, my cat wanted to be on it," one pet parent wrote about the FUKUMARU cat hammock. "She loved it!" Your cat can either lounge on the hammock while the pegs hold it in place, or rock away thanks to the U-shaped legs.
This cat scratching post from BIG NOSE gets mounted on the wall and acts as a hangout spot for your cat. It comes with two wooden platforms and a plush cup bed where your cat can feel safe in a high spot. "The shelves and the hammock can be turned to face whichever way so that kitty can use them as steps to climb up or down," one pet parent wrote. "There are lots of very pricey cat climbers for sale, but this item is well made and will outlast all of them."
Treat your cat like the princess she is by getting her this awesome unicorn cat condo from TOPKITCH. The rainbow neck and legs are actually sisal scratch posts, and the plush carpeted body is a fun tunnel for your cat to sleep in. The unicorn's tail even has a cute hanging pom-pom toy your cat can play with while she lounges.
The CatastrophiCreations activity center may just be the coolest thing for your cat on Amazon. It's a massive wall-mounted maze with various platforms, steps and holes to jump through, and planters in which you can plant cat grass or other pet-safe greenery. It comes in a variety of different finishes so you can pick the right one for your space and customize the setup based on what's already hanging on your wall.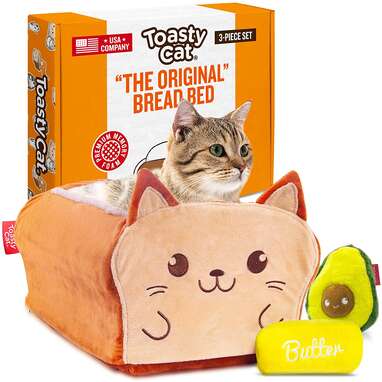 Your cat will literally be toasty in this self-warming bread bed from TOASTYCAT. The Original Bread Bed is made with orthopedic memory foam that makes for more comfortable napping, and the high sides help to keep your cat feeling safe and cozy. "I run a rescue and foster program, and every one of them is OBSESSED!" one five-star reviewer wrote. "Still haven't found another cat bed that comes close to the bread bed!"