Affordable Cat Costumes To Win Any Halloween Contest
For every type of cat 😺
We independently pick all the products we recommend because we love them and think you will too. If you buy a product from a link on our site, we may earn a commission.
If you're looking to earn your cat a few cute points at this year's Halloween costume contest, you'll need to dress her in something really eye-catching. Luckily, there are a ton of great cat costumes on Amazon, and according to the reviews, pet parents can't get over how great their BFFs looked in these outfits. Here are the best cat Halloween costumes of 2021.
(But remember, if your cat isn't feeling a costume, don't force it! She can just go as herself for Halloween this year.)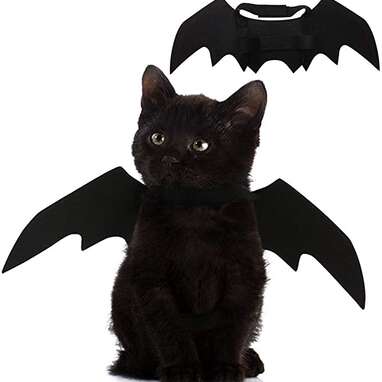 It doesn't get much cuter than these bat wings for your cat from Puoyis. Simply attach the wings under both your cat's neck and belly, and she'll be ready to take flight. "When I put it on my cat, I was surprised how much the wings didn't bother her," one pet parent wrote. "It fit just fine, and she walked around comfortably with it on."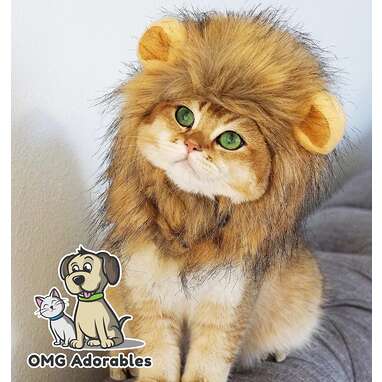 Release your cat's inner lion by dressing her up in this lion's mane from OMG Adorables. It's a simple hood design made of a soft polyester and cotton blend, so it's comfy to wear and easy to slip on.
The town may not be big enough for both you and your cowboy cat once she slips into this hilarious costume from Meihejia. The collar-style costume slips over your cat's front legs and features two extra arms that Velcro around her neck. And, of course, what's a cowboy without a hat? This one has an adjustable band that fits snug under her chin.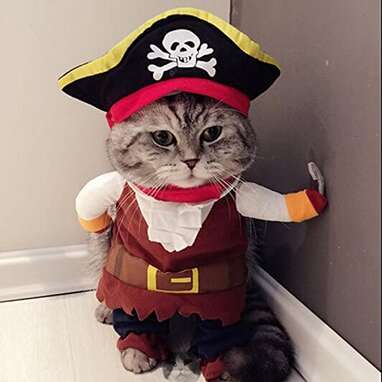 The Idepet pirate cat costume from Amazon fits just like the cowboy costume — but instead of a pistol in one hand, your cat will have a classic pirate hook! "Yo ho ho it's the pirate life for me. I'm Captain Oliver! Hand over all your mice!" one pet parent wrote (in their cat Oliver's voice). "Human seemed pleased enough with the pictures."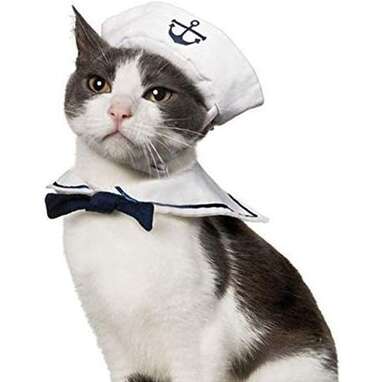 Cats may not always love water, but that doesn't mean your cat can't be a sailor for a single night. This cute sailor costume from Namsan comes with a simple sailor hat and a matching collar, making it the perfect costume for a cat who prefers wearing a simpler outfit.
Turn your little pumpkin into an actual little pumpkin with this adorable costume from ANIAC. The jack-'o-lantern body piece Velcros in place around your cat's belly and neck, and the cap features a matching sparkly pumpkin stem. "Love this costume!!" one pet parent wrote. "The Velcro fits perfectly, and my cat still runs around and can move in the pumpkin costume."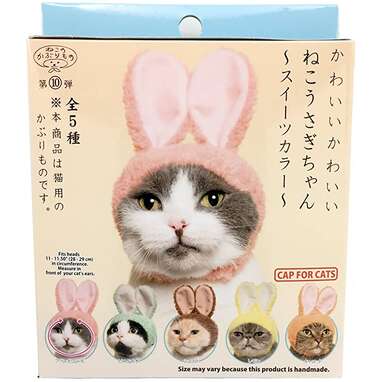 You've probably seen these bunny ears all over the internet, and now your cat can finally have her own pair. The Kitan Club bunny ears fit snugly (yet comfortably) over your cat's head, and each box contains a mystery color — you can collect all five!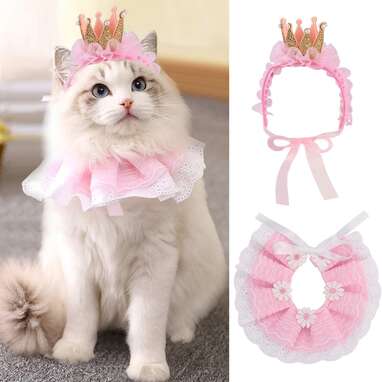 You already treat your cat like the princess she is, so why not let her dress the part? This princess cat costume on Amazon from Legendog comes with a frilly lace collar and sparkly felt crown that each tie in a bow.
Kitan Club also sells these random color flower cat caps that fit just like the brand's bunny ears, but feature felt flower petals that frame the face. "What's not to like?" one pet parent wrote. "Coco says the other cats only make fun of him because they don't have their own 'flower fun cap' and they are envious."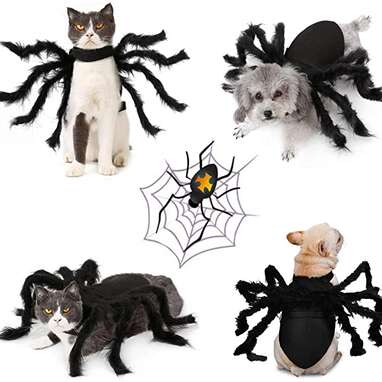 For Halloween, you can't go wrong with a spider costume like this one from Idepet. With furry legs and a plush body, this spider body costume secures underneath your cat's belly and around her neck, leaving her with plenty of room to move comfortably.