9 Aesthetic Dog Beds To Match Any Decor Style
Totally Insta-worthy 🛏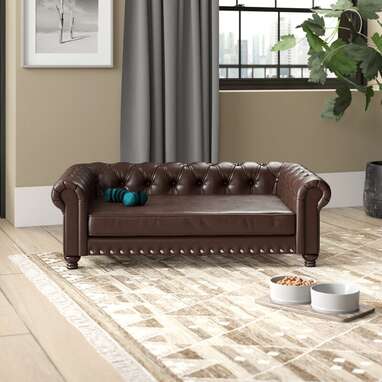 This couch dog bed looks just like your leather couch and is perfect for homes that have a classic style. But while it looks like your leather sofa, it's made of faux leather that's easy to clean, which makes for a great alternative to trying to keep your pup off the leather couch. It has detailing like tufted upholstery and studs to add to its sophisticated look. It can also hold up to 80 pounds, so it will fit most small- to large-sized dogs. The dog bed is also eco-friendly, fair-trade-certified and made without harmful chemicals.
You might want to decorate your entire backyard to match this dog bed that looks like a fancy cabana (or you just might want to lounge in it yourself). The bed has a roof to provide shade for your pup and to keep him cool so he can relax in the sun, and the frame is made of steel, so it's sturdy and will hold up even if your dog likes to jump on it. The sides are also vented to allow your pup to enjoy the breeze.
This comfy memory foam dog bed looks just like a fur rug (faux fur, of course) and is perfect if you have a cozy style. It comes in two colors, white and brown, so you can match it to your decor. The removable cover is water resistant and washable for easy cleaning, and it has an anti-slip bottom, so your pup won't go sliding across the floor. There's a double layer of protection too — not only does it have a removable cover, but there's also a waterproof inner liner to protect the memory foam. The orthopedic memory foam inside is 5 inches thick (!!!) and will retain at least 90 percent of its shape and support for three years.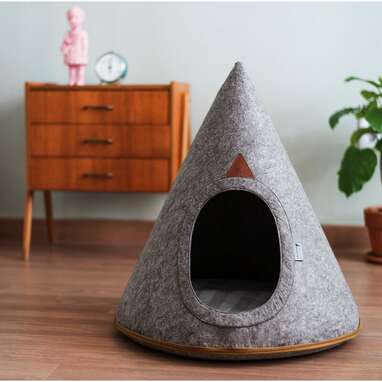 If your dog prefers some privacy when he's relaxing, get him a cave dog bed like this one that looks like a little cone. The bed is super lightweight to allow you to easily move it around if you decide to redecorate, and it has a removable cushion inside to keep your pup comfortable. You can travel with this dog bed too — it can be rolled up, and it comes with a travel bag to easily pack it and carry it with you so your dog can have his bed with him wherever he goes. It also comes in two sizes for different sized pups and is machine washable.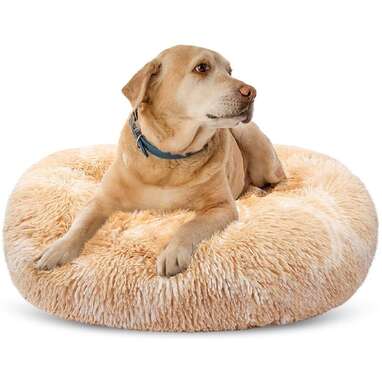 This donut dog bed is perfect for dogs who like to curl up when they sleep. The donut shape with raised sides gives your dog a sense of security and provides support for his neck and head while sleeping. It's also made of a soft faux fur that's machine washable and water resistant, with a dirt-resistant bottom so you can easily keep it clean. The bed has a non-slip bottom to keep it in place too. It comes in four different colors to match any style and four sizes to match any dog.
This orthopedic dog bed looks exactly like a human bed — and it might be even more comfortable than yours. This bed evenly distributes your dog's weight to improve his sleep quality and reduce stress on his joints and muscles. So it not only looks cool, but it's good for your dog's health too. The frame of the bed is made of faux leather, and the memory foam cushion is machine washable. It comes in four colors and three sizes, so it's perfect for pretty much any pup.
This outdoor dog bed looks super futuristic, and it's so fancy your guests might think it's a human chair. The frame is made of wicker, and it comes in two colors and sizes. The canopy will keep your dog shaded from the sun when hanging out outside in the hot summer months. The extra-large size holds up to 90 pounds, so it can fit most small- to large-sized dogs. The cushion is machine washable for easy cleaning, and it's odor and water resistant. It's also 3 inches thick, so your pup will be extra comfortable while lounging outside.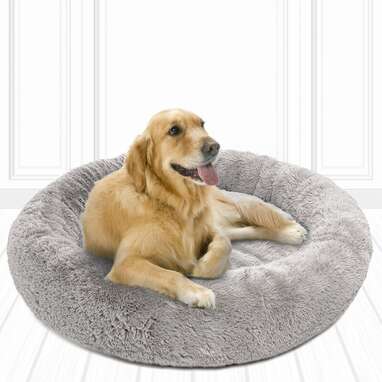 This faux fur donut dog bed looks like a fuzzy bean bag chair that you just might want to hang out in yourself. The donut shape provides security for your pup and supports his head and neck so he can sleep soundly. It comes in four different colors to match any style (including pink if you want to add some color to your home) and three sizes, and it's also chew-resistant for pups who like to play with their beds.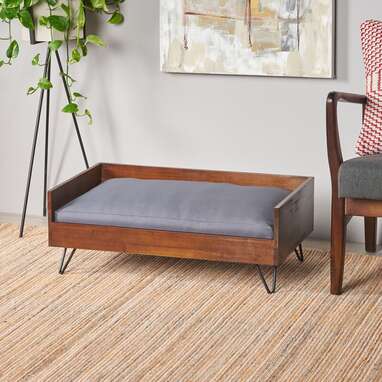 This dog sofa bed looks just like an accent bench and will fit right into your mid-century modern decor. The bed has a wood frame with a water-resistant memory foam cushion. It comes in two colors to match your style — oak with a dark grey cushion and light wood with a grey cushion. All the tools needed to assemble the bed are included, so don't worry if you're not super handy with building things.