Products featured on The Dodo are independently selected by our editors. Purchases made through the links in this post may earn us a commission.
Finding the perfect rug for your house is even harder when you're a pet parent. There are so many things to think about before dropping money on an oriental runner or faux sheepskin rug to protect your wood floors or carpet. You need a rug that masks pet dirt and hair, is easy to clean, and stands up to the wear-and-tear caused by pet paws and nibbles.

With so many rug shapes and fabric styles available, finding one can get pretty overwhelming — so here are some rules to remember when you're looking for a pet-friendly rug for your space.
Pick A Print
A rug in a vibrant print will go a long way toward hiding all the dirt and pet hair that could accumulate every day. The right print might even mean you can go a little longer before vacuuming all that hair up — which saves you time. Because no one wants a rug that turns into a giant cotton ball during shedding season.
Choose A Low Pile
A rug with a lower pile will make it easier for you to vacuum up all the dirt, debris and hair. A lower pile rug will also be less likely to snag on your pets' claws — which is good for you and them.
The Smaller The Better
Choosing a rug in a smaller size provides a more convenient option for either machine-washing or hosing down your rug. Which you'll be grateful for if you run into any major messes that need to be cleaned up quickly.
Now you're equipped with those quick tips, here's a run-down of what type of rug will work best for your space and style. We've broken down your fabric options and found the top-rated rugs on Amazon that fall into each category. So prepare to say goodbye to the worn-out rug that's been accumulating pet hair all year.
Classic Rugs
Easy to clean with a vacuum or broom, these tightly woven rugs are a timeless option for any space with a pet. They're also stain-resistant!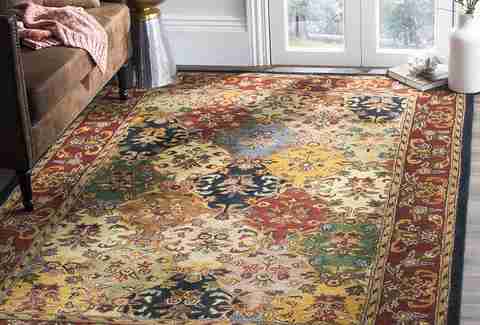 This rug's thick pile prevents even the sharpest cat claws from snagging the fabric. "This is such a handsome rug and the perfect size for the side of my bed," one reviewer said. "My cats scratch it, but can't do any damage because of the thick pile." Reviewers have also praised it for its ability to hide pet hair thanks to its vibrant pattern. "The colors of the rug are dark enough that my dog's black fur doesn't show on it," a reviewer said. "It is the most beautiful rug I have ever bought. It is true to size, nice and thick, and feels so good to walk on."
Get it from Amazon for $27.99+.
4.4 out of 5 stars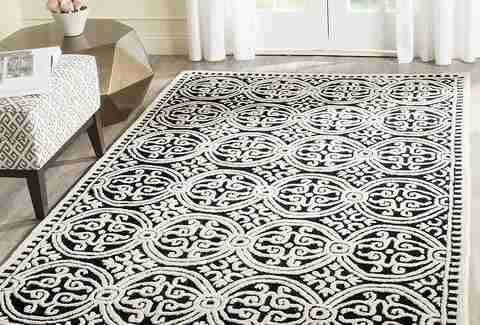 The heavy-weight rug, which features a pretty geometric print, is a breeze to clean, according to reviewers. "The pile is very thick and shedding is minimal to normal, which is expected with a wool rug," one reviewer said. "The cat puked on it and we were able to clean it up without any stains!"
Get it from Amazon for $19.67+.
4 out of 5 stars
Polypropylene
Polypropylene rugs are made with synthetic fibers that effectively absorb water and repel stains. So they are ideal for high-traffic areas or for taking on hair, dirt, and mud from your pet.

Messes are no match for this rug, which (unlike your pet) is shed-free. "I am blown away at how easy it is to clean," one reviewer said. "For potty stains and puke stains, we use the Bissell Pet Stain Eraser for them and the stains come out great."
"The rug is thick enough to muffle the noise of our poodle's nails for our downstairs neighbor and thin enough that's easy to clean," another reviewer said. "The quality on this bad boy is on point."
Get it from Amazon for $58.99+.
4.4 out of 5 stars

The area rug with a cute faded print is a must if you need to disguise pet hair and dirt, especially if you're someone who doesn't vacuum every day. "Our cats enjoy laying on it," one reviewer said. "But the pattern disguises any pet fur between vacuuming. I highly recommend this rug for a modern and fun vibe."
Get it from Amazon for $22.94+.
4.7 out of 5 stars
Tufted
A tufted rug is another great, snag-free option.

The hand-tufted rug is recommended for people who need a floor covering that can stand up to the most high-traffic areas of a house. "This is my first wool rug and I love it! I've waited a few months to review it, as we bought it for the high traffic area of our front door. But it's been perfect," said one reviewer. "It's sturdy yet very soft underfoot. We have three little dogs and one ornery cat, and they are constantly rolling on it, playing on it and even sleeping on it. My last cheap rug lasted maybe four months at the front door while this one has shown zero wear."
Get it from Amazon for $94.49+.
4.1 out of 5 stars

This ombre rug is praised by pet owners for being able to withstand the wear-and-tear of multiple pets. "My dogs run on it and play and their nails claw into it, making me cringe every time," one reviewer said. "But this rug has stood up to it without coming apart. I've had this rug about six months now and it's still as soft as ever. Sometimes we lay on it with pillows instead of the couch."
Get it from Amazon for $57.67+.
4.2 out of 5 stars
Flatweave
Flatweave rugs are the most portable rug option, since they're lightweight and can easily be folded up. They're also some of the easiest rugs to shake off and hand-wash, when needed.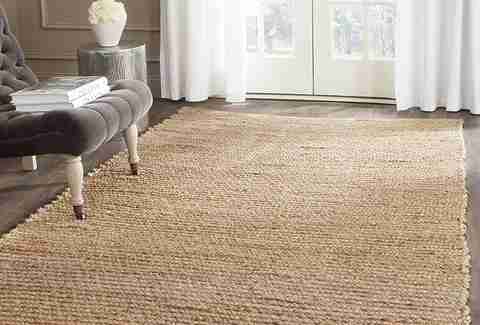 This hand-woven rug, made out of a natural fiber called jute, received high marks for being comfortable and catching dirt and debris that can get tracked into your home. "This rug is comfy and durable. And I love that it's the first thing people and my dog wipe their feet on when they walk into my apartment," one reviewer said. "It keeps my living space so much cleaner. And after an initial vacuum, there really hasn't been a problem with the rug shedding."
Get it from Amazon for $19.98+.
4.1 out of 5 stars

Vacuuming pet hair off this rug is easy, making it a great option for homes with multiple pets. "I appreciate this rug's durability and ease in cleaning," one reviewer said. "I have two dogs that enjoy laying on it in this hot weather and keeping this rug clean is effortless. Just a quick vacuum does the trick."
Get it from Amazon for $24.99+.
4.3 out of 5 stars
Cotton and Faux-Sheepskin
If comfort is your goal, a cotton or faux-sheepskin rug is the way to go. With their soft feel, these rugs often end up standing in as a second dog bed. Even though their fluffy fibers can sometimes trap pet hair and dirt, you can quickly vacuum them to have your rug looking like new again.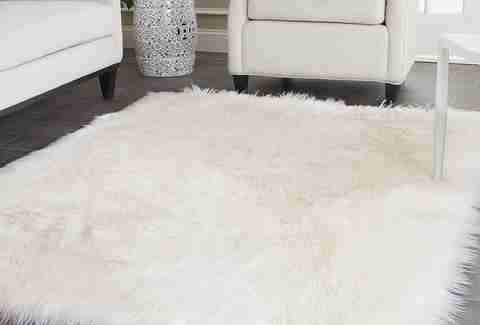 You can use this as an area rug in your home or even as a luxe addition to your dog's bed. "I used as a topper for a dog bed," one reviewer said. "The original faux-sheepskin on his bed was wearing thin. But he loves his bed now that I added this rug to replace the worn fabric!"
Get it from Amazon for $20.93+.
4.3 out of 5 stars

If you want a rug so cozy your pets won't ever want to get off it, this shag beauty is a great option. "The quality of this rug is great and it is super soft," said one reviewer. "My dog also prefers this rug over her $119 orthopedic bed! You can buy what you think they want, but they end up liking what you like and use."
Get it from Amazon for $53.99+.
4.4 out of 5 stars
Indoor-Outdoor
An indoor-outdoor rug will easily take anything your pet throws — or drags — its way. These rugs are crafted from sturdy polypropylene, which can quickly be cleaned with soap and water. The material can stand up to pet scratches as well.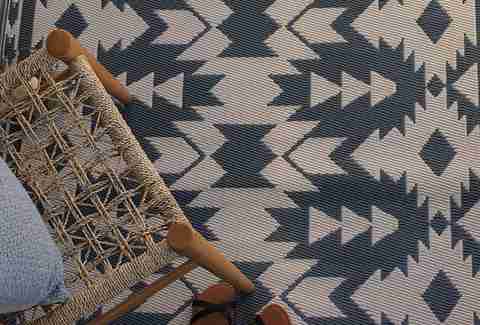 This gorgeous rug — which features a reversible design in several patterns — is crafted from 100 percent recycled premium plastic and is great for use in kitchen and dining areas where pets (or kids) might spill food or track in dirt. "This rug is easy to clean and has survived being outside for two years on our porch," one reviewer said. "It now resides inside in our toddler's play area and still looks new. It is very good if you have pets or young kids. I think we'll put this under our casual dining table next!"
Get it from Amazon for $37+.
4.7 out of 5 stars

With its flatweave design, this rug won't take up any space under furniture. Reviewers praise it for being easy to clean with a hose in the case of extreme messes. "These are nice looking rugs and exactly what I wanted, as I have pets," one reviewer said. "I wanted something that looked nice but I could take out and hose off, if there were any accidents."
Get it from Amazon for $27.99+.
3.9 out of 5 stars