Pet-Parenting Apps You Should Try Right Now
These apps will help make pet-parenting just a little easier.
Want to be the best pet parent possible? There's one simple solution, and it's more obvious than you think: your smartphone. From booking a pet sitter to assisting you in training your cat, there are tons of apps to help you out.
When it comes to caring for your animal, your phone can surprisingly be one of your best pet-parenting tools. From booking a dog sitter to tracking the amount you spend on your pet each month, there are a variety of apps that can assist you in numerous pet parenting tasks.
Many of these apps also focus on connecting pet owners, providing a space where you can share pet care tips and favorite pet brands and products, and even show off your cutest photos of your animals.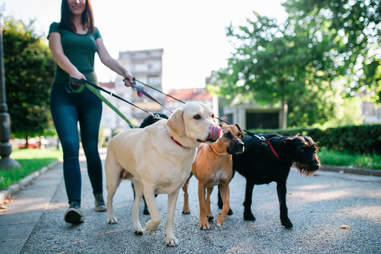 Shutterstock
Pet Sitting and Walking

Rover is your personal assistant when it comes to finding and booking trusted pet sitters, dog walkers, and doggy day cares in your area. To give you added peace of mind, all sitters are required to pass background checks, fill out a detailed personal profile and be approved by Rover's specialists. To make things even easier, you can book and pay for services directly through the Rover app. Pet care services are currently only available for cats and dogs.
Get it from the App Store for free or Google Play for free.

Pet Minder is another option if you're looking for a dog or cat sitter while you're away. You can also sign up to be a pet sitter on the app, if you want to make some extra cash while playing with cute animals. Both the owner and sitter plans cost $119 per year.
Get a TrustedHousesitters membership for $119 per year. 
Shutterstock
Pet Entertainment 

You can give your cat his own personal soundtrack with this app. Relax My Cat features music that's specially recorded to appeal to your pet. The songs are based on both feline vocal communication and the sounds a cat would be exposed to in their home or outside. They're even designed for specific moments — including music to help your cat sleep, ease their separation anxiety and relax pregnant cats.
Get it from the App Store for $9.99 or Google Play for free.
 

Give your cat a serious challenge with Friskies Cat Fishing 2, a game designed to capture your cats attention and hopefully help heravoid any moments of boredom. The game is simple to set up — just place your device on a flat surface close to your cat, press the start button and step back as your cat tries to capture the fish and score points.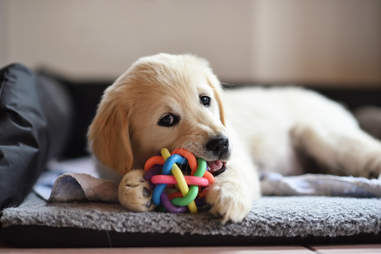 Shutterstock
Pet Products

BarkHappy will fill your life with all the details on lots of dog-friendly restaurants, retailers, hotels, and parks — it's like Yelp for dogs. It also gives you the details on nearby dog-friendly events, and even lets you connect with dogs and dog owners in your area. Along with connecting you with your local dog-lover community, the app has a feature you can use to create lost or found alerts for missing pups. Plus, BarkHappy users have access to a range of exclusive deals on pet products that can be claimed through the app.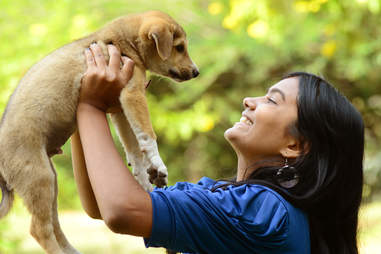 Shutterstock
Pet Adoption

If you're looking to learn more about dogs, cats, horses, rabbits, birds, and other animals available for adoption in your area, take a swipe through WeRescue. The app features full-screen images of local pets and lets you contact shelters directly through the app. You can also filter results by breed, size, age, gender and other details. The animals' information is sourced from both shelters and foster-based rescues, with your results displaying animals closest to your search location. And the information from the shelters is updated whenever the organizations make any changes to an animal's adoption status. This means you'll be up-to-date on the status of any animal you're considering welcoming into your home.
Get it from the App Store for free.
 

BarkBuddy — which was created by the founders of BarkBox — is another great option if you are searching for a new addition to your family. To use the service, just download the app and start swiping through the profiles of dogs in your area. When you find a pet you're interested in adopting, you can organize a meeting with the rescue or shelter directly through the app.
Get it from the App Store for $9.99 or Google Play for free.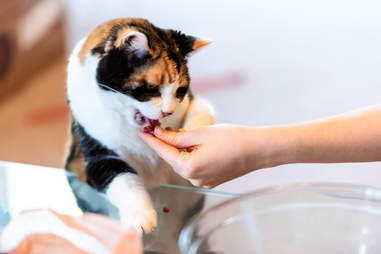 Shutterstock
Pet Training

Cat Training is a great resource for — you guessed it — training your cat. The app includes training tutorials that'll help you teach your cat new skills and tricks. The topics covered on the app include training your cat to accept medication, perfecting his litter box skills and teaching him to use a cat flap.
Get it from Google Play for free.

This app is pretty straightforward. It's literally a clicker you can use for training your cat (or other pets). It saves you a trip to the pet store to buy a clicker, or can serve as a substitute if you misplace or forget your physical one.
Get it from the App Store for free.  
Shutterstock
Pet Travel

This highly-rated app is basically a pet travel concierge right in the palm of your hand. The app pulls information from BringFido.com to let you discover restaurants, hotels, and attractions that are pet-friendly. You're also able to book pet-friendly hotels straight through the app, as well as learn about pet events in your area.