Products featured on The Dodo are independently selected by our editors. Purchases made through the links in this post may earn us a commission.
We already know your pet is your world. So why not celebrate all their amazingness with some products personalized with their lovely face? Because there's no way you can love your pet too much— even if it means buying a 5-foot-tall pillow with their photo on it.
From photo necklaces to temporary tattoos, there are so many items you can bless with an image of your animal. So take a look through our roundup of some of the best products you can use to show off how much you love your pet. Just be prepared for everyone to want to know where you got that hand-drawn portrait of your dog wearing a gleaming crown like the royalty she is.
Your pet is already a work of art in your mind. So why not commission a Di Ford Illustration custom portrait that you can display in your home or office. Each portrait is hand-drawn and finished in watercolor inks. Simply send along a few photos of your pet to the illustrator, and in two to three weeks you'll have a matted and framed portrait you'll want to display immediately.
Get it from Di Ford Illustration on Etsy for $75+.
If you can't get enough cuddles from your pet, then investing in a Mr. Paws Co. photo pillow cover will allow you to show them double the love. The cover features a zip closure and can be filled with bean bag filling or a poly fill. The process to create the pillow is as easy as sending a photo, approving the proof design, patiently waiting for your pillow, and finally cuddling away when your custom pillow arrives.
Get it from Mr. Paws Co. on Etsy for $83.41.
Dedicating a spot on your body to a tattoo of your pet is a major commitment. But a set of Shopawsative temporary tattoos will take away all the pressure if you're curious how your pet's face would look as a tatt. The set includes two custom tattoos you can personalize with a photo of your pet — one in black and the second in any color of your choice.
Get them from Shop Pawsative on Etsy for $7.50+.
Elevate your pet to saint status with a custom Go Saint Yourself prayer candle that'll surely have your whole crew talking. To pay homage to your pet deity, send in a photo of your animal, and their image will be transferred over to the candle. There's no guarantee the candle will lead to your prayers being answered. But it'll still look super cute on your desk or night stand.
Get it from Go Saint Yourself on Etsy for $26+.
You can show off your pet with a set of Muntra earrings featuring a photo of your pet. They'll add some serious personality to your outfit. And with their lightweight design you'll have no problem wearing them every day.
Get them from Muntra on Etsy for $24.99.
Send a card your friends and family will adore with a Wonderflies greeting card customized with an image of your pets. The card could work as the perfect gift or you can order one and frame it just for yourself.
Get it from Wonderflies on Etsy for $45.
A Red Cloud Studio pillow keychain can fill in for your full-size pet pillow when you're on the go. With its compact size, it can fit on your keyring, bookbag or even on your purse or tote bag. Plus the print is double-sided, so you'll get to see your pet's lovely face no matter what side you turn it to.
Get it from Red Cloud Studio on Etsy for $30+.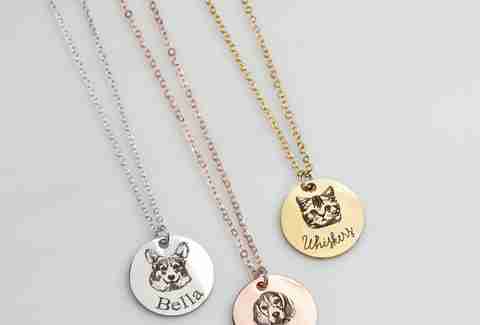 A Mignon and Mignon portrait necklace is a luxurious way to keep your pet close to your heart at all times. The necklace comes in gold, silver and rose gold finishes, so you're guaranteed to find a design that fits your personal style. And with the option to include up to three photo coins on the chain, your whole pet family can be included on your necklace.
Get it from Mignon and Mignon for $24.99+.