9 Items Every Tech-Savvy Dog Parent Must Have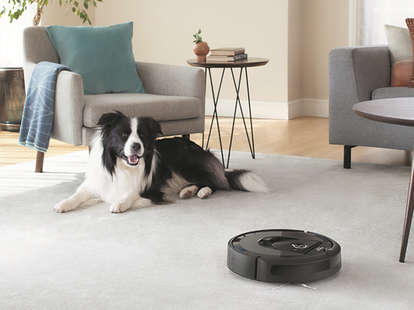 Photo courtesy of iRobot
Photo courtesy of iRobot
As humans, we're always looking for and investing in the latest technology to improve our lives -- so it's only fair that dogs should benefit from our collective tech obsession, too. That's why we've compiled a list of our favorite, most-used gadgets for every stage of a dog's life, whether you're a new pet parent looking for guidance, or an experienced dog owner wanting to upgrade your pet's must-haves. From a puppy training app and a smart ball for play time, to security cameras and robotic clean-up devices, these products are recommended to help make your life easier, and your pet's life happier (not to mention more tech-savvy).
For the dog who likes to make a mess:

As much as we love our dogs, they're not always the most graceful bunch. From potty training mishaps and excessive shedding to overenthusiasm for their food bowls, clean ups are inevitable. Tackle these unavoidable pet messes (no matter the floor type) with the iRobot Roomba® robot vacuum and Braava® robot mop. The Roomba® robot vacuum has a three-stage cleaning system that picks up 99% of pollen, dirt and pet hair on your carpet. The Braava® robot mop contains a precision jet spray to tackle liquid messes and tough stains left over from an unexpected potty accident. Plus, most iRobot® products are voice compatible with Alexa and Google Assistant, allowing you to clean up after your pet without lifting a finger.

Buy the bundle and save, starting at $432
Buy Roomba® here starting at $249
Buy the Braava® here starting at $199
For the dog who you love, but makes you sneeze:

An air purifier is a must-have for dog lovers who won't let allergies get in the way of a much needed cuddle sesh. Enter the Levoit Air Purifier, which removes pet dander, airborne bacteria and unpleasant odors from your home thanks to its three filtration stages. This air purifier is also equipped with QuietKEAP Technology (an advanced noise reducer), allowing you to breathe freely and soundly with your dog right next to you.

Buy it here for $89.98
For the dog with a fitness goal:

As a dog parent, you know that maintaining a healthy diet and active lifestyle for your pet is essential for a long life, but feeding and exercise aren't one-size-fits-all. The Whistle Fit health tracker takes the guesswork out of it by sending daily alerts customized to your dog's breed, age and weight goals. Its features include a food portion calculator and wellness reports that you can share with your vet to track abnormal licks, scratches and pet behavior. The upgraded versions, Whistle Go and Whistle Go Explore, include these same health monitors plus real-time tracking so that you can get notified when your dog has escaped from a designated 'safe place.' Bonus: The gadget is waterproof and gets up to 10 days of battery life.

Buy Whistle Fit here for $79.95
Buy Whistle Go here for $99.95
Buy Whistle Go Explore here for $129.95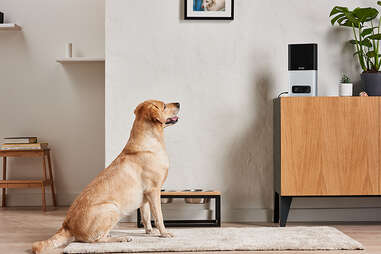 For the dog you can't keep your mind off of:

When it comes to tech for supervising your dog, the Furbo Dog Camera and Petcube Bites 2 have similar features: Both have wide-angle cameras and two-way audio systems so you can speak to your furry friend(s) while you're away. They also have treat dispensers, night vision and send real-time barking and intruder alerts straight to your phone. The notable difference between the two is that Furbo offers a clicking sound with its treat dispensing for positive reinforcement training, making it perfect for dogs prone to destructive habits. For the dog suffering from separation anxiety, the Petcube is compatible with Alexa, allowing you to play calming music for your pet when you're away.

Buy Furbo Dog Camera here for $199
Buy Petcube Bites 2 here for $199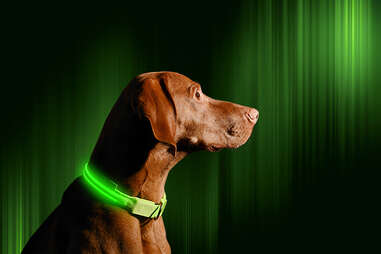 For the dog who likes to run ahead on walks:

Relieve the stress of evening walks and playtime thanks to this Illumiseen LED Dog Collar. The bright light offers 360-degree visibility to help both you and passing cars or bicyclists keep an eye out for your potentially wandering pet. LED lights are safe for pets because, unlike other light sources, they don't produce heat, which could harm your pet's neck. This LED collar is USB rechargeable, and lets you select from three flashing modes -- slow, steady or rapid for hypervisibility -- and comes in six colors (matching leashes also available), allowing you to personalize your walks.

Buy it here for $17.99
For the dog always ready for playtime:

Let's face it, your dog has a lot of energy and you... may not. Keep their playtime whines at bay with the PlayDate Smart Ball. The ball is controlled through your phone's Wi-Fi and equipped with a smart camera and built-in microphone that lets you watch, play and interact with your dog from anywhere (even if it's from your own couch). The smart ball is also chew resistant and has a wireless charging dock for long-lasting playtime sessions.

Buy it here starting at $149
For the dog who is new in your life:

Being a first-time puppy parent can be overwhelming, and if you're new to dog training, thankfully, there's a (free) app for that. Puppr covers obedience training with step-by-step instructions paired with picture and video guides so that new pet parents can feel confident in their abilities. Master basic commands with the built-in app clicker, and work your way up to complex tricks with the lesson packs available for an additional cost (starting at $9.99/month or $95.99/year for Premium). App features such as proper grooming and crate training tips are also available to help your new dog become a very good boy.

Download it here for free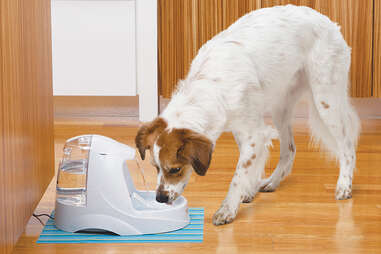 For the dog who's always thirsty:
Encourage your pet to stay hydrated (and prevent stagnant water bowls) throughout the day with the Drinkwell Platinum Pet Fountain. The flowing stream helps draw your pet's attention to drinking and the activated carbon filter prevents unwanted particles and tastes from contaminating their water. It's assembled with dishwasher-safe parts, and the brand offers fountains for various dog sizes.
Buy it here for $52.99
For the dog who's always hungry:

If your dog is constantly waking you up early for breakfast, you need an automatic feeder. The PetSafe Simply Feed lets you schedule meals in advance, as well as helps you easily manage food portions (good if your pet needs to watch their weight) and offers a slow feed option for the pooch whose eyes are bigger than their stomach. The best part? It's dishwasher safe.

Buy it here for $104.99