The Best Dog Dental Treats, According To A Vet
Because healthy gums and teeth are a must for your dog.
We know your dog's oral health is of high importance, with it being recommended dogs visit the vet for a professional dental cleaning once a year and have their teeth brushed at least two to three times each week.
But the steps you take between cleanings and brushings can be just as important in keeping your pet's mouth clean and healthy. And one great (and fun!) tool for maintaining your pet's oral health is dental treats.
"Dental treats are designed to help reduce plaque or tartar, helping to keep your dog's mouth healthy," Dr. Zay Satchu, cofounder and chief veterinary officer at Bond Vet in Brooklyn, New York, told The Dodo. "And as an added bonus, dental treats can help freshen up your pup's breath — which makes it much more pleasant to enjoy your dog's kisses."
Not all dental treats focus on the same areas of oral hygiene, though. Some feature ingredients that clean teeth and freshen breath while others provide vitamins and nutrients to your dog.
As a general rule, it's recommended that pets chew treats for more than two minutes. It is also important that the treats are able to bend to avoid breaking your dog's teeth.
Your dog's physical health should also be considered when choosing a treat, as some dental chews can be high in fat.
"Search for quality ingredients and a low fat content that won't interfere with your dog's meal plan or dietary health," Dr. Zay explained. "Plus, the treats are still an indulgence, so limit the number of treats you feed to your dog."
Dr. Zay also stressed that dental treats are no substitute for brushing your dog's teeth, which is the most effective way to remove plaque that can cause tooth decay and gum disease. "Brushing your dog's teeth is the gold standard of care," Dr. Zay said.
With all those considerations, the search for dental treats can be pretty overwhelming for even the most knowledgeable pet parent, especially if your dog has specific needs. So here are some veterinarian-recommended options you can count on to maintain your dog's oral health.
These treats feature a texture that cleans down to the gumline, fighting plaque and tartar while also freshening breath. They also come in a large range of sizes so you can easily find a chew that your dog can safely consume. "These are praised for their size variety and easily digestible ingredients," Dr. Zay said.
Get them from Amazon for $14.98+.
OraVet treats are formulated with delmopinol, which assists with loosening and dislodging plaque while your dog chews them. It also helps form a barrier to protect your dog's teeth from plaque and calculus buildup. "The chews are specifically designed to clean and protect from plaque-causing bacteria and they are Veterinary Oral Health Council [VOHC] approved," Dr. Zay said.
Get them from Chewy for $11.59+.
Tartar Shield has a variety of options that make them a strong choice for pet parents, with the treats coming in rawhide chews, tabs, biscuits and sprinkles options. "These are a great option for pets, seeing that they are VOHC-approved, palatable and offer Many options for picky eaters," Dr. Zay said. 
Get them from Healthy Pets for $9.99+.
The Bristly dental system is basically a toothbrush cleverly disguised as a chew toy. It's fabricated from nontoxic natural rubber and features a design that makes it easy for dogs to hold down with their paws. It has two-sided bristle grooves that clean dogs' teeth down to the gumline. And the self-dispensing toothpaste reservoir — which you can fill with the Bristly prebiotic toothpaste — effectively cleans your pet's mouth. "These are great for those that like the taste of pet toothpaste," Dr. Zay said. 
Get it from Bristly for $19.99+.
Kong Ziggies are a tasty treat that'll also help freshen your dog's breath with ingredients like rosemary. Their texture is designed to clean your dog's teeth as they chew. And you can even place the treat inside your dog's Kong toy, which'll let them have a bit more fun while cleaning their teeth. "Kongs come in many different sizes and different strengths of material — so you can have the correct toughness for older pets and pups," Dr. Zay said.
Get them from Chewy for $5.30+.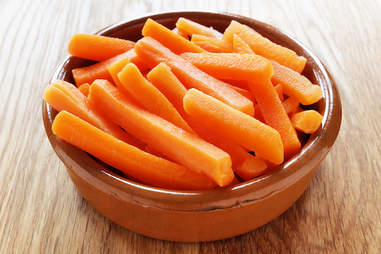 Shutterstock
Carrots — which may be one of your own favorite snacks — are also beneficial for your dog's oral health. Carrots are high in fiber and vitamins and are low in calories. And the texture of the carrots effectively cleans the surface of your dog's teeth as they chew on them. However, be sure to cut the carrots into bite-sized pieces before feeding them to your dog, or else they can pose a choking hazard. "Carrots are all-natural, feature a single ingredient and can be frozen for a little extra toughness," Dr. Zay said.
Get them from Fresh Direct for $5.99.
These treats are plant-based and provide a trio of benefits for your pet — cleaning their teeth, freshening their breath and promoting a balanced digestive system. They feature a chewy consistency and Z shape to help your dog to better grip the treat while biting it. "These are a great option for pets with severe allergies." Dr. Zay said.
Get them from Chewy for $19.04+.