Do homeless people "deserve" to have dogs?
Homelessness is a shared experience in New York City - either you have been homeless, know someone who has been homeless, or have shared the sidewalk or a subway car with someone who is homeless. In a city of 8.5 million people, more than 59,000 homeless people sleep in shelters and at least 3,300 more sleep on the streets and subways every night, many of whom have pets.

It's quite common for people to judge homeless people unworthy of animal companionship and doubt their ability to take good care of dogs. However, for many homeless, the only emotional support, stability, and unconditional love they receive comes from the loyal pets that stay close to them throughout their hardship.


Do homeless people "deserve" to have dogs?
To find the answer, my friends and I went out on the street to conduct interviews with many homeless people who own dogs. Although they became homeless for various reasons, the one common thread we discovered was that they all strived to keep their dog's companionship no matter what else happened in their lives. "My dog always eats first", was the most frequent thing we heard during interviews.
Below are some true stories of NYC homeless and their dogs in our interviews.

Allen, 36, veteran. " Without Nitro, I would have already died."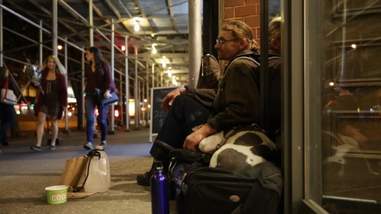 Once, while walking around Columbus Circle, we met a man named Allen and his pet Pitbull named Nitro. Although this area is one of the wealthiest and most exclusive on the Island of Manhattan, Allen was homeless, and slept on the sidewalk in front of Lincoln Center.
Allen had served in the United States Marine Corps. During his time in the Marines, Allen was a member of the Military Police, and then was part of the Bomb-squad unit once he was deployed to Iraq. One day while on a mission, Allen and his team fell victim to an IED attack. After the horrific explosion that tore through his vehicle, Allen was lucky to be alive, but he didn't escape unharmed. Allen had to undergo many surgical procedures to remove shrapnel that was embedded deep within his body, and need to have his bones screwed back together. As a result of the most life changing injury Allen sustained as a result of that tragic day, he is now missing a portion of the frontal lobe on the right side of the brain.
Like many soldiers come home after serving in a war, Allen suffers from Post Traumatic Stress Disorder (PTSD), which has totally destroyed his life. As his symptoms worsened his family could not handle his behavior any longer, and his wife decided to divorce him. Allen had no job, no family, no wife, nothing. So as a result, Allen decided to travel around the U.S. and see the country he once fought for.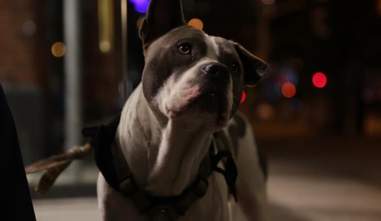 While visiting Houston, Texas, Allen's life took a turn for the better. One day while walking down a desolate street on the outskirts of town, Allen heard barking. There was nobody else around, and he noticed that the barking was coming from inside an abandoned house. Allen went into the house through a broken window. He continued to follow the sounds of the barking until he reached a window in the Kitchen that looked out into the backyard. There he saw a dog that was barking at a group of birds perched on a fence. Allen then went outside to get a closer look at the dog. The dog was as thin and frail as a skeleton. He was tied to the house. So, one could only imagine how long he'd been left there without food or water. It appeared the dog had been abandoned there with no family to look after him. Allen felt the dog was just like him in so many ways. So, he decided to rescue the dog, and they'd be one another's new family.
Allen decided to name the dog "Nitro", although he was seemed to be only about four months old, it was apparent he had been through a lot. Nitro weighed under 10 pounds and was very sick and thin. After being tied up for so long, Nitro had a chain imbedded into the back of his neck, and a bullet which had passed through his left ear was lodged in his back. Allen took 500 dollars, which was all the money he had to his name, and took Nitro to a veterinarian in an attempt to help him to get better. After the veterinary treatment, Nitro gained 20 pounds and recovered his health. From that day on, Allen and Nitro would go everywhere together.
Allen and Nitro eventually made their way to New York, where they began exploring and panhandling on the streets. Sometimes people give him hard time and call him "a homeless piece of shit", but Allen has learned not to care about what people say. There are times when very generous people would give Allen and Nitro food and money. Although the streets are a tough place to live, Allen says it's much better than the battlefield.
Just as Allen was becoming accustomed to his new lifestyle, he learned that he has an inoperable brain tumor which sits on his pituitary gland. As a result of the Tumor, Allen suffers from Seizures. Although it is almost impossible to know when a seizure is going to occur, Nitro has become Allen's seizure alert dog. He recognizes indications that indicate Allen may have a seizure before it actually occurs. About an hour before Allen suffers a seizure, Nitro runs around and barks to alert Allen so he can take medicine to combat it.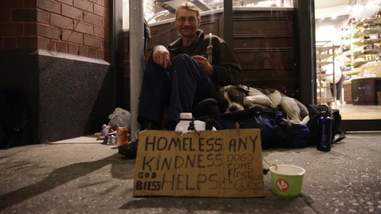 "I don't know how long I can live, but without him, I would have already died." Said Allen as he looked at Nitro gratefully. "All I can do is to keep my head up. I have this young man to take care of, and I can't give up. If I give up, who is gonna take care of his guy? I try to live my life day by day, and as long as I wake up in the morning, it's a good day."
When it was time to go to sleep, Allen basically made his own "shelter" by himself. The first thing he did was put Nitro into sleeping bag so he wouldn't get cold at night. Then at 11p.m, Nitro fell asleep. Allen lit his last cigarette of the night, and tried to figure out how the two of them would survive during winter. He hoped his application for social housing would be approved so he could move in with Nitro, and get out of the cold.

Duffy, 42. "My dog is the light at the end of the dark tunnel."
We met with Duffy and Bella at an organization that rescues homeless people and homeless dogs in New York. Duffy was selecting a winter coat for his dog Bella. This big guy put all kinds of clothes on Bella to find the best fit. As he carefully adjusted Bella's harness, his eyes were soft and tender.
Duffy was born and raised in a Brooklyn neighborhood with drug addicts and gangs. Like his father and uncles, Duffy started to use drugs at an early age. When Duffy was 16, his father died of drug abuse. By the time he was in his 20s, Duffy was sent to jail for robbery. Over the next 10 years, he was convicted and sent to prison a couple of times for other crimes. While he was incarcerated his mother passed away. He also was not there to witness the birth and experience the childhood of his son.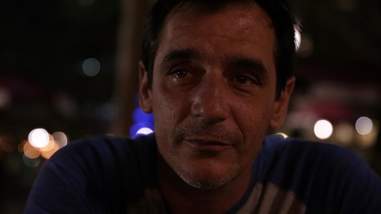 Prison has helped Duffy quit his drug habit, but his history makes it extremely difficult for him to find a job. He is officially homeless now, which is something he never thought would ever happen to him. Living his life by panhandling was not what he wanted to do, but drugs ruined everything. "Homeless, stressed out, embarrassed", he wrote on a cardboard sign he uses while panhandling.
It's never easy to be homeless, and the lonely existence haunted Duffy. He thought it might be a good idea to get a dog as a companion. He tried to adopt one, but it was more difficult than he imagined. With no residence or a stable income, he was denied on several attempts. Earlier this year, he was able to buy Bella from the Internet.
Now, with his companion Bella, Duffy feels his life has more meaning. Perhaps missing the need to nurture his son, Duffy gives all his love to Bella. He describes Bella as a princess, a gift from heaven. When he goes to sleep, he ties Bella's feet to him to prevent anyone from stealing her. Most of the time, Duffy carries Bella like a child in his arms in a sleeping bag. That's how they survive the cold winter in New York together.
Many pedestrians stop to talk with Duffy because of Bella. Sometimes those people give Bella some dog food or small change. In NYC where people are aloof to their surroundings, Duffy can't tell if people's friendliness is directed toward him or to Bella, but at this point, he does not care anymore.
Just like many other homeless people, Duffy is met with different opinions. Some people think that he is using the dog to gain sympathy, and some question if he has the ability to take care of Bella. One time, a dog lover wanted to pay $1,000 to buy Bella, but Duffy said no. Bella is his only family, only happiness, and the drive that gives him meaning to live.
Duffy's biggest wish is to find a long-term job and get off the streets, and out of the life he is living. When he is lucky, he can find a gig from Craigslist to paint or organize someone's garden, and he works hard. In the winter, there are fewer gigs and he has problems making money. Saving enough money to move into an apartment is a dream that never seems to get much closer.
Duffy feels a sense of responsibility now: He is fighting not only for himself, but also for Bella. There is this little creature that is waiting for him, and he feels that he is needed. "It's Bella who saves my life. When I am frustrated, she is the one that makes me want to live. She is the light at the end of the dark tunnel," said Duffy.
Ryan, 35, ex-homeless."Providing Kyle a happy life is one of my life goals"
Ryan, who came from Pennsylvania originally, got married when he was 25, but the marriage only lasted three to four years. After the divorce, his ex-wife took custody of their son and their house. This flipped Ryan's life upside down. He had suffered from depression since he was little, and the divorce made his condition even worse. From then on, he started wandering as a homeless person in different cities.
Three years ago, while Ryan was traveling through upstate New York, his friend's dog gave birth to a litter of new born pups. Ryan adopted one of them, Kyle, a black Labrador Retriever mix. At that time, Kyle was only three weeks old and could barely open his eyes. Ryan loved the dog at first sight, and decided to name him Kyle, the same name of his son whom Ryan has not been allowed to see for years.
From that point on Kyle became Ryan's best companion, and they have never been apart. Kyle would guard Ryan at night. When some strangers got close, Kyle would growl a warning. If the strangers ignored it and tried to steal something, Kyle would start to attack them.
Affected by depression for so many years, it is hard for Ryan to open himself up to others. Being homeless led him to close himself off to the world. Ryan loves to paint. When he was on the street, he would sell his paintings to make some money, although the money was not enough, it was better than nothing.
A year ago, Ryan planned to hitchhike with Kyle from upstate New York to the Big Apple. They met a couple who took them into their house in a small town and let Ryan and Kyle stay in their living room. Ryan was good at cooking and soon found a job in a local restaurant. Several months later, he saved enough money to come to New York City and found a place to live. It's someone's kitchen but it's way better than sleeping on the streets.
Although living in a small kitchen with Kyle, Ryan is very happy with his life at this moment. He never lost hope when he was homeless, and he learned to trust people again. Whenever he was hungry, whenever he felt the whole world had given up on him, a stranger's greeting, or a hot meal from a restaurant gave him hope to live on and renewed his faith in humanity.
Sometimes Ryan will invite other homeless friends to stay in his small "room". He knows that his street friends need a warm place in winter and, more importantly they need to regain their faith that the world is not abandoning them.
Providing Kyle a happy life is one of Ryan's missions. Ryan says that Kyle was all he had when he was homeless, and now they can at least have a place to live. No matter how hard the life will be in the future, he will always be by Kyle's side and take care of him like his son.
What we learned from the homeless people who own dogs in our interviews is that no matter how hard are their lives on street, the wellbeing of their dog is always the number one priority. While many passers-by see a person and a dog living together on a city street, what often goes unrealized is that these animals are the "significant others" for an incredibly marginalized group of people. The relationship formed between the two is often enough to keep the other going forward, one day at a time.
To learn more about stories of dogs of New York City's Homeless and how to help out , Click here