When news broke yesterday about the family of healthy lions killed at Copenhagen Zoo, the feeling was that of déjà vu. The backlash following the same zoo's decision to kill Marius the giraffe last month and feed him to the very same lions that have just lost their lives triggered a debate which raged for weeks. There was international condemnation of the move, calls to boycott Copenhagen Zoo, demands that the European Association of Zoos and Aquaria (EAZA) amend their policies to ban killing of "surplus" animals and calls for the staff responsible for the deaths at Copenhagen to be sacked. Those that campaign against zoos (and eventually the zoos themselves) pointed to the fact that this was not a one-off event, but that animals deemed surplus to requirements were killed in their thousands in zoos across Europe each year. The answer, said anti-captivity campaigners, is not to boycott Copenhagen Zoo, but to reject all zoos.
Last night, the debate was reignited with a vengeance and my organisation, CAPS, was contacted for comment. We have already talked in depth about the killing of "surplus" animals, the dubious claims of breeding for conservation, the failure of zoo industry bodies to hold their members to account and the problem of what to do when "zoo babies" pass their sell-by date. We have made our case and each example of killing made public simply goes to reinforce our opposition to an industry which holds animals captive for their lifetimes in return for the entrance fee of zoo visitors.
What is different about the killing of the lions in the last few days is that the response appeared to be less shock and horror over the killing itself (as we are all now well aware that zoos kill healthy animals in great numbers), but that the global opposition to Marius' death had had no impact whatsoever on the zoo's actions. There is a sense of incredulity and the question I have seen repeated over and over again is "why did the zoo not learn its lesson last time?" and "why did the zoo not listen to us?" The response of the zoo is invariably an attempt to "blind us with science".
The zoo director was quoted in press as saying:
"I think people are more enlightened after Marius. Marius hasn't made us the least bit afraid, because what we are doing is the most correct thing to do".
He went on to cite genetics, the risk of inbreeding and the need to promote "natural behaviour" in the group as justification. The implication is that those that oppose the killing simply don't understand the complicated science and decision-making process mirrors comments made by zoo officials following Marius' death.
Head of EAZA, Leslie Dickie, was quoted following the death of Marius as saying that people would "see the bigger picture" once they were aware of all the facts.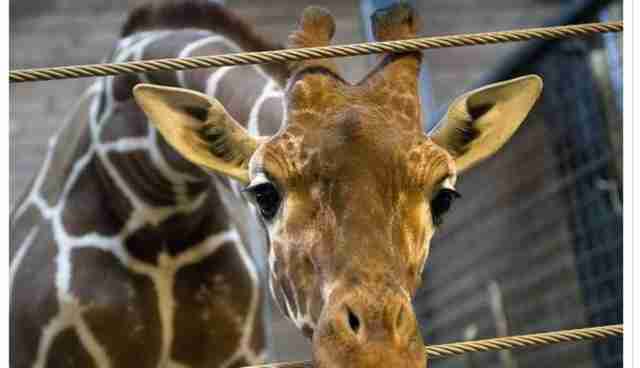 The clear message from the zoos is that an emotional, caring and compassionate response which opposes the killing of healthy animals is, at best, misguided and at worst, simply wrong. There is no place for emotion in science, we are told.
Yes, there is no place for emotion in the scientific world of zoos...except for when the industry wants us to join them in celebrating the birth of a baby, or boost visitor numbers over Valentine's day, or share their despair when animals that they did not kill intentionally die.
In the last few weeks, baby animals have been born around the world and the press (and public) have lapped up the adorable photos, shared in the fear that a baby rejected by his or her mother might not survive and rejoiced when, against all odds, a sickly newborn pulls through. In these cases, which boost visitor numbers and show the zoo in a good light, all of our good will, emotional support and compassion for the individual is not only welcome, but actively encouraged.
Come Valentine's Day, the annual "Love is in the air" stories are peddled to the media as pairs of animals are introduced to each other as part of zoo breeding programmes. These stories don't tend to share the gory details; the intrusive artificial insemination procedures and the closely controlled encounters to try to ensure offspring, but play on clichés and the idea that the eyes of two lions met across a crowed enclosure and the rest, as they say, is history. Emotion and anthropomorphism here is no problem.
When animals die unexpectedly, keepers and zoo officials are reportedly bereft (we know this because they invariably release press statements to tell us). Their grief over the death of animals that they have worked closely with is understandable as to experience no emotion whatsoever at the sudden death of any animal that has been part of your life would, frankly, be worrying in itself. In these cases we are encouraged to share in their grief in remembrance of the much-loved individuals whose lives were cut so tragically short.
Indeed, zoos claim that their very purpose is to encourage people to connect and care about animals. This, they say, is how they teach people about the natural world. Without holding animals captive, they say, the public simply wouldn't be able to care. We need animals to look at, to hear and to smell in order to make the connection. Emotion plays a vital part.
And yet, with all this talk of connection, compassion, emotion and caring, when it comes down to justifying actions which those outside the industry find abhorrent, emotion is not only invalid, it is positively frowned upon. When it comes to killing healthy animals that the zoo has worked so hard to make us all care about, our outrage is misguided, we are told. When it comes to demanding answers, we are told we simply don't understand. When we say what we feel, our feelings are dismissed.
In my view, that an industry which is collectively responsible for millions of animals is not only seeking to quash our concern over its actions towards them, but to tell us that our concern for the individual is wrong, is frightening.
We can be rational and caring; we can be outraged and logical. My (and my organisation's) opposition to zoos is not a knee-jerk reaction, but a researched and well-considered stance. But we can be angry at the same time.
Don't let anyone tell you that your outrage over the deliberate killing of animals is unjustified, but do try to think of the most effective way in which to channel that feeling. Boycotting Copenhagen Zoo will have little impact. While there are zoos, the killing will continue. Reconsidering our position on the keeping of animals captive in zoos and pledging to withdraw support for the industry is the most positive action that you can take in light of yesterday's news; and the only way in which we will move closer to an end to the killing.
ANIMAL WELFARE:
Are you concerned about the treatment of animals? Voice your opinion by using the hashtag #StopAnimalCruelty or #StopAnimalAbuse on Twitter or Instagram. You can see your contribution and others below: