Dixie and Veeb live in a large feline family made up of 30-plus cats - but they spend most of their time together.
The two senior best friends - Dixie, a black cat, is 15 and Veeb, an orange cat, is 19 - live at Complicated Cats Sanctuary in Gloucestershire, England. Unfortunately, they were brought together by loss.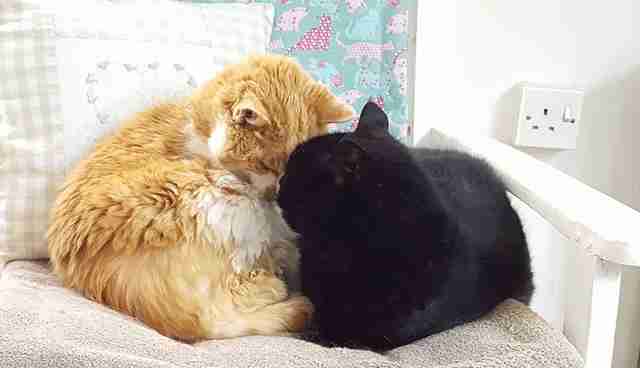 Their story started when Complicated Cats took in Dixie's brother, Teddy, from a local rescue.
"We didn't hear that he [Teddy] had a brother for some weeks [and only] during a chance conversation," Sue Hopkins, founder of Complicated Cats, told The Dodo. "We then took Dixie and reunited him with Teddy in 2001."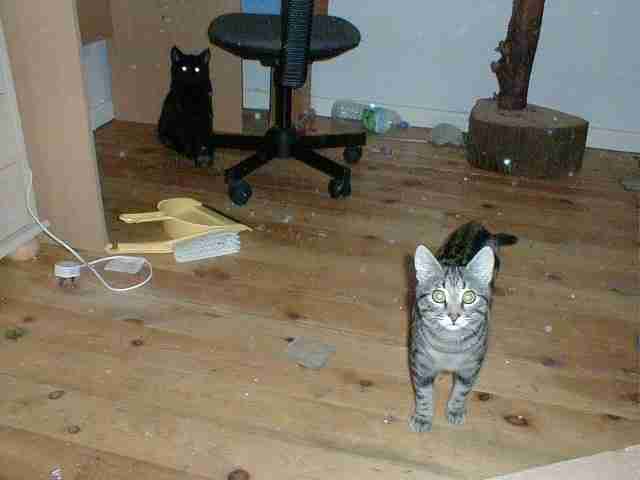 Hopkins described Dixie and his brother as anxious kittens who would hide all the time. While they became more comfortable with their surroundings, Dixie remains exceptionally shy to this day, she said.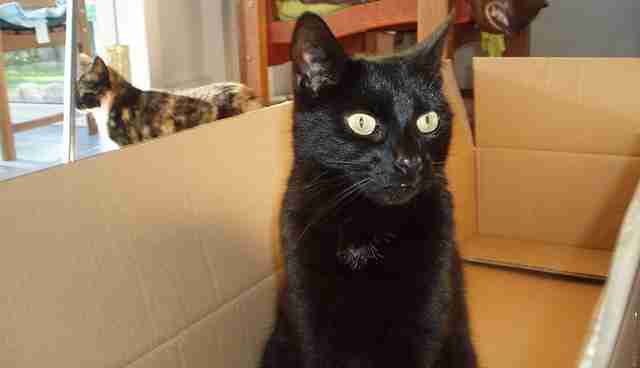 Fortunately he found a friend in another black cat named Percy, whom Hopkins described as very active and confident, and who helped Dixie come out of his shell.
Veeb, on the other hand, originally belonged to Hopkins' mother. When she passed away in 2008, Hopkins welcomed her five cats to the sanctuary.
Veeb was bonded to his own mother and the two cats often spent much of their time with one another, cuddling and grooming.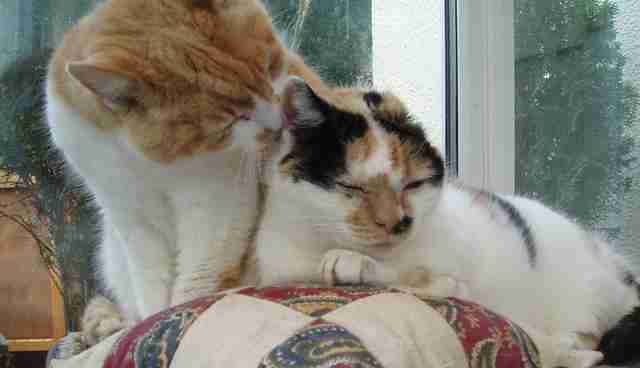 Little did Veeb and Dixie realize, things weren't always going to be the same for them. In 2010, Dixie's best friend Percy passed away after contracting feline infectious peritonitis (FIP), a fatal virus. Two years later, Veeb's mother passed away from asthma.
Both cats were left lost and lonely - but they found a way to fill the gap that the loss of their loved ones had left.
"Dixie started hanging out around Veeb and they were always near one another," Hopkins said. "Their friendship grew."
Soon, the pair was eating together, purring together and grooming each other.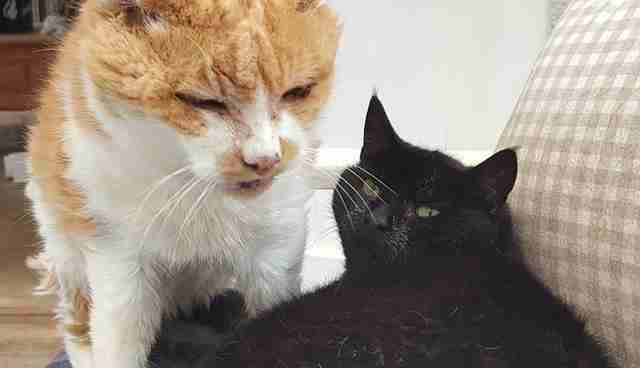 Veeb is more outgoing, vocal and playful than Dixie - but so was Percy. Hopkins noted that Dixie seems to have a preference for the type of friends the shy cat chooses to bond with.
"I think he has found comfort in having confident friends," she said.
Though their close friendship was formed under sad circumstances, Hopkins said, at the end of the day, the two are just like other cats out there, and love lazy naps in the sun and, of course, catnip.
"They are just ordinary cats living their old age in peace and comfort," she said.
Want to help Complicated Cats Sanctuary continue doing good work for cats in need? See how you can make a contribution here.
Watch this video of Dixie and Veeb giving each other lots of love: