Disney's new nature film, "Bears," chronicles a year in the life of one bear family in Katmai, a remote region in the Alaskan wilderness where humans have maintained a unique bond with inhabiting animals for decades. The film takes viewers into the woods and up close with a brown bear -- a first-time mother -- and her two cubs as they strive to make it through the often challenging conditions of the Alaskan peninsula. As it turns out, what the production crew found in filming the documentary (and what viewers will see in theaters) is a little surprising.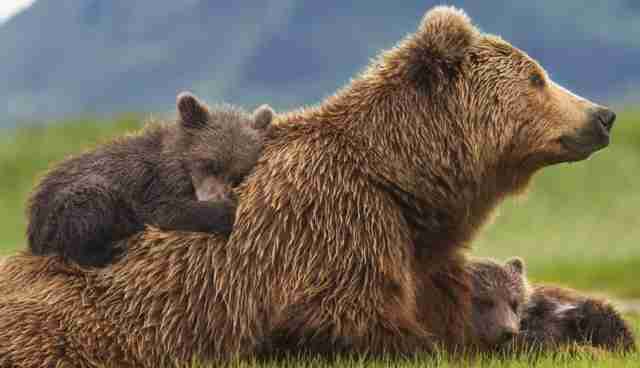 "A lot of people think that we're crazy to film bears on location in such a remote area," said the film's director, Keith Scholey. "But these animals don't deserve the reputation they have. They are not out to hurt people. They are big, powerful animals with a remarkably gentle nature. We never felt threatened by the bears."
Scholey, along with co-director Alastair Fothergill and their production crew, spent months gathering footage for the film, chaperoned by naturalist guides who have peacefully interacted with the area's brown bears for dozens of years. "These bears along the coast have never experienced the food that people eat, so we can co-exist with them very well," said the crew's naturalist guide, Simyra Taback-Hlebechuk. "You can eat your turkey sandwich 10 feet away from a bear in this area, and they won't react because they don't consider you or the sandwich a food source."
The guides never carried pepper spray or firearms during filming, noting that there are already plenty of natural threats to the bears without their unnecessary intervention. "We were able to capture incredible footage of this mother's plight to feed her cubs," Fothergill said. "It's a terrible dilemma she faces -- wherever there's food, there's danger. And when she's able to find refuge, there's not much food. Every parent can relate to her struggle in a way. We all face tough choices every day and sometimes just have to hope we're doing what's best."
"Bears" hits theaters April 18th. Check out the videos below for exclusive clips from the film.