'Bone Appetit': Dining Out With Your Dog Will Soon Be Legal In California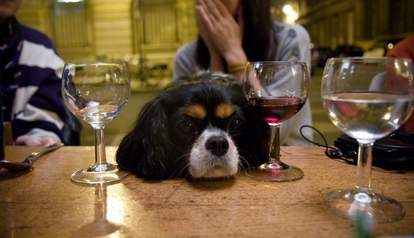 Soon, pet owners dining out across California will finally be able to tell waiters, "No need for a doggie bag - he's right here."
In a move that's sure to come as welcome news to the countless animal-lovers who consider their canines inseparable companions, Gov. Jerry Brown signed a bill into law making it legal for dogs to join their humans on restaurants' outdoor patios, which, like inside dining areas, has long been a forbidden zone under the California Retail Food Code.
The new law, which goes into effect January 1, 2015, stipulates that it will still be up to restaurant owners to decide whether pooches can be on the premises. Although some people with pet allergies will prefer establishments that continue to prohibit dogs, Mariko Yamada, the lawmaker who proposed the bill, thinks many places will jump at the chance to welcome them in.
"With Gov. Brown's signature, restaurateurs in California will see more businesses catering to their customers and the canine companions they love. I wish everyone 'bone-appétit'," Yamada told the Lake County News.
It should really come as no surprise that dogs are being given a seat at the table, especially considering their place in our hearts; according to a poll from Harris Interactive, a whopping 92 percent of dog owners say their animals aren't just pets, they're bona fide members of the family.