For Melanie R. Butera being a veterinarian was a calling. Her days were filled with life and death crises, but nothing prepared her heart for the three-day-old, blind fawn a farmer brought to her emergency veterinary clinic. Abandoned by her mother, the newborn hadn't eaten since birth. No one thought she would survive. Butera and her husband, Steve, nursed the fawn and, against all odds, the deer survived. They named her Dillie.

Butera never imagined that her unconventional family could touch the lives of so many people, but when she was diagnosed with cancer, the response from Dillie's fans was tremendous. The veterinarian, who had saved countless animals, learned a new lesson in healing.
Below is an edited excerpt from the book "Dillie the Deer: A True Story of Love, Healing, and Family" by Melanie R. Butera DVM.
Melanie Butera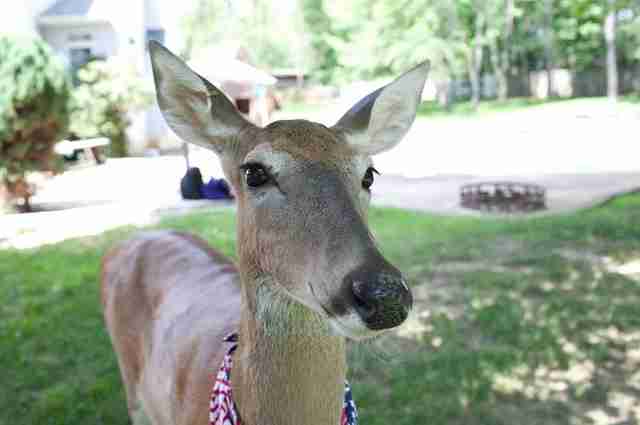 Dillie the deer becomes a star.
One night in January 2010, I took a call before heading up to bed.
"Hi, this is Mark Zinni, from Fox, channel eight," said a youthful, energetic voice. He wanted to film a segment on Dillie, but with a twist: A webcam would be set up in her room so viewers could watch her after the story.
"Are you kidding?" I asked. "Do you think people really want to watch her sit on her bed and drool?"
"Oh yes!" Mark answered. "People will love it. We're going to make Dillie a star!"
With the webcam up and running, Mark and his cameraman came down from Cleveland to film their clip. Mark was an animal lover. He melted when he met Dillie. She stood on the bed and posed for the camera like a pro. Mark fed Dillie roses on camera, which she gobbled up in a single chomp.
The Cleveland Fox station publicized the DillieCam, and Dillie started getting thousands of hits. I received countless e-mails and letters thanking Steve and me for saving Dillie and sharing her story. Many of the letters were in children's scrawls and included crayon pictures of Dillie. One drawing showed Dillie wearing stiletto heels with a note from the child's mother explaining that her child thought Dillie's hooves looked like high heels. Another mother wrote that her autistic child watched Dillie and petted her through the computer screen.
People all over the world now knew Dillie. The DillieCam registered more than a thousand hits a day, and hundreds of people friended Dillie on her Facebook page. Many of Dillie's fans became personal friends. Steve and I met artists, photographers, musicians, reporters, and animal lovers from around the globe because of our deer. It didn't matter that all these people came from different professions, social circles, or countries. Love was the universal language, and Dillie was fluent in love.
Melanie Butera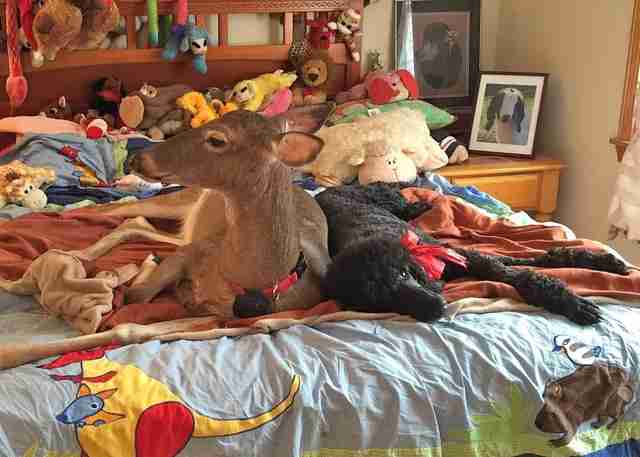 When Dr. Melanie Butera found out her cancer had returned, her doctor told her to go home and get her affairs in order.
"Is this all there is?" I said out loud to a Creator I thought would not answer me. "I'm just here, and then poof, I'm gone? Did I do anything that will last?"
When I had no more tears to cry, I reached down to stroke Dillie's head. I thought about the day she'd come to the clinic, how fragile her life had been. Then I thought about the thousands of letters of love we had received about Dillie. I had saved her. And now she affected more lives than I could if I worked as a vet for a hundred years.
I trashed the draft of my obituary and found a file I had entitled "Dillie." It was the first draft of a book I had begun to write about Dillie two years earlier. When she became a celebrity in 2010, people were writing about her and relating her story. I had thought at the time, "I know Dillie better than anyone. I should write a book about her." As I re-read the pages I had written before my cancer, I knew I had to finish this book. This was my proof that I had existed.
With the sun rising, and Dillie, Lady the dog, and Spazz the cat lounging around me, I began to put my affairs in order.
I started to write "Dillie the Deer."
I thought about how much our lives were enriched because of this beautiful animal. I recalled the anxious first days, not knowing if Dillie was going to live. Her first swim in the pool. The day she discovered spaghetti. The toothpaste wars. Finding her splashing in the bubble bath.
In that instant, I understood why people had become so enchanted by this little deer who should have never survived. Dillie was so beautiful, so peaceful, and so serene. She was the embodiment of joy. Her survival had been a miracle of love, and every molecule in her body displayed the glory of creation. This beautiful animal returned the love that saved her every day, delivering it to all the corners of the globe on her dainty cloven hooves.
Excerpted from "Dillie the Deer: A True Story of Love, Healing, and Family" by Melanie R. Butera, DVM. Reprinted with permission of the author and publisher.
Melanie Butera