Take Action to Ensure the World's Most Famous Wild Tigress is NOT Stuffed & Put on Display!
Please Sign & Share the petition on the link at the end of this post if you believe Iconic Tigress Machali Deserves Dignity & Respect, NOT the Taxidermist!
Machali is the world's most famous, and much loved wild tigress. She is true tiger royalty!
After her death Machali should be allowed to rest in peace, not stuffed and put on display.
Machali, Age 17 A Living Legend! The Queen of Tigers (Photo by Michael Vickers)
Here is some information about Machali & her incredible life, for anyone who is not familiar with this much loved Tigress (Courtesy of Tiger Nation)
Brought up around the lakes, temples and fort of Ranthambhore, her life has long been in the media spotlight. Films, books, documentaries and even a TOFT Lifetime Achievement Award have made her a star of the wild tiger world. She has brought in millions of dollars towards tiger conservation from the many people who travel to Ranthambhore to try & get a glimpse of her.
Growing up with endless pilgrims walking through her wild realm to pay homage to their gods, she remains seemingly unconcerned by her human admirers. She was a fearless yet caring mother, nurturing an impressive nine cubs, in four separate litters, to adulthood.
(Photograph by Aditya Singh)
Tenacious too, she's one of the only tigers ever seen to kill crocodiles.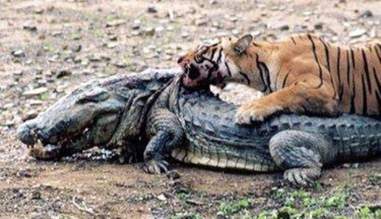 Today, retired to the fringes of the park, Machali is still the regal grandmother of Ranthambhore. Many of the park's tigers are her own offspring and a couple of her adult cubs were translocated to Sariska National Park (along with unrelated tigers) to help repopulate the reserve after all the tigers were poached.

Half the population in the Ranthambhore & Sariska National parks are of Machli's lineage Machali is Ranthambhore's most celebrated tigress. She has given so much to Ranthambhore National Park, both ecologically and economically, that last year the government released a commemorative postal cover & stamp in her honour.
Despite all of Machali's incredible achievements, everything she has done for the conservation of wild tigers, the awareness she has raised and the joy she has brought, it seems that after her death she may not receive the dignity and respect she so truly deserves.
There is a proposal by Rajasthan's Forest Department that has been submitted to India's National Tiger Conservation Authority asking for permission for this iconic wild Tigress to be stuffed and put on display after her death.
Please help us ensure that permission is NOT granted for this request. If you feel that this incredible Tigress should NOT be stuffed and put on display, but that she should be able to rest in peace, and her memory should be honoured with a plaque or a statue then please sign & share the petition on the link below ~ Thank you Refuse permission to the Rajasthan Forest Department to have Ranthambhore's Iconic Tigress Machali stuffed & displayed upon her death
The legend of Machali
This video shows just a couple of Machali's most memorable moments which have played a part in making her the living legend that she is.
More beautiful photo's of Machali & other wild tigers can be found at: Tigers in the Forest