Baby Orangutan Who Was Shot Shows How Strong He Really Is
Didik was obviously "sad and depressed" when he was first rescued by IAR, the group said.

| International Animal Rescue
He was scared and in pain. But inside him was a reserve of incredible strength.
"For an animal like an orangutan, witnessing the death of its mother is a profoundly shocking experience," IAR director Karmele Llano Sanchez said in a release when he was first rescued. "That is undoubtedly why Didik looks so sad and depressed."
Didik is finally gaining weight - and strength.

| International Animal Rescue
But a week of care at IAR's rescue center has done little Didik a world of good.
"Little Didik's condition is continuing to improve while in quarantine at our center," the organization wrote on Wednesday. "He is putting on weight and eating a variety of food, including carrots, cucumbers and bananas ... [H]e tends to get more food on himself than in his mouth!"
Didik underwent an X-ray so people could understand the extent of his injuries. The bullet was seen lodged in his shoulder - but luckily the wound was only superficial. He will have an operation to remove the bullet eventually. But first he needs to put on more weight.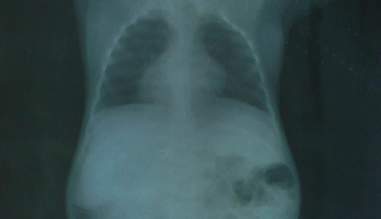 A bullet is lodged in Didik's shoulder, a memento of his tragic past.

| International Animal Rescue
While little Didik has only just begun his recovery, he'll need to spend years learning how to be a healthy, happy orangutan after all that he's been through. And now, things are certainly looking up.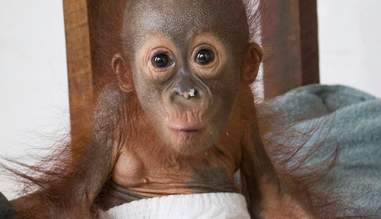 The baby orangutan "tends to get more food on himself than in his mouth!" IAR said.

| International Animal Rescue