Baby Orangutan Who Was Shot By Hunters Has First Day Of School
When Didik was first discovered, no one was sure if he'd even survive - but thanks to the dedication of all those who were determined to save him, today he is thriving.
International Animal Rescue
The young orangutan was just a few months old when he was found malnourished and suffering from a gunshot wound inside an abandoned store in Indonesia.
Volunteers from International Animal Rescue (IAR), who brought him to safety, believe he was injured while witnessing the death of his mother, who was likely killed so Didik could be stolen and sold as a pet.
"That is undoubtedly why Didik looks so sad and depressed," wrote at the time.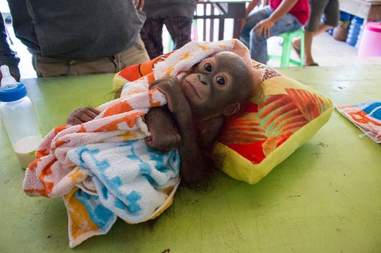 International Animal Rescue
Didik was lucky to escape a life of suffering, but under the care of rescuers, his would still be a long road to recovery to heal from those physical and psychological wounds.
Fortunately, the little orangutan proved to be a fighter.
International Animal Rescue
Months have passed since we first reported on Didik's heartbreaking story - but things have only gotten better. In fact, he's now healthy enough to start his next phase of life: learning the basics of being an orangutan at the IAR's forest school for orphaned babies like him.
He even got a lift there in a wheelbarrow, along with all his new friends.
International Animal Rescue
"Didik was a little nervous at first at the sight of so many inquisitive and unfamiliar faces," IAR wrote online. "However it didn't take him long to get used to his new surroundings and he was soon venturing up on to the climbing frame – into the arms of his babysitter for some reassurance! It wasn't long before Didik was up in the trees with his friends, climbing and swinging confidently in the branches."
Here's some adorable footage of little Didik in action - virtually unrecognizable now from his sad former self.