Starving Bear's Life Changes Forever After First Taste Of Honey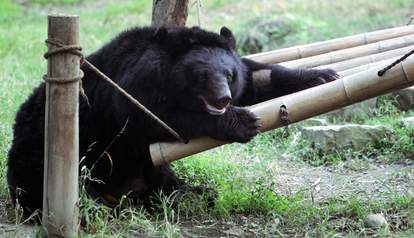 When Dick arrived at the China sanctuary he was emaciated - weighing a sickly 96.5 kilograms (approx. 213 pounds).
Used to a life of cruelty' the worst of which was an open wound for bile extraction - Dick, who is now one of the gentlest bears, would even sometimes swipe at his carers.
Several hundred kilos of fruit and veggies later and he tips the scales at a whopping 198 kilograms (approx. 437 pounds), making him nearly the largest bear at the China sanctuary.
Animals Asia
Animals Asia
And the incredible thing about all this? He's never forgotten the pleasure in the very first lick he took - the spoonful of honey that was his entry into a better life. It's written in joy on his face, in every enrichment or treat he nabs before the others even have a chance.
Animals Asia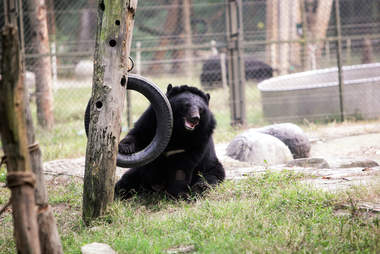 Animals Asia
China sanctuary Bear Vet Emily Drayton said:
"When Dick arrived, he was as thin as a string bean - weighing in at 96.5 kilograms. So we can hardly blame him for eating all the food he can get his hands on. His expression is one that always looks slightly startled or confused, unless there is a food bowl in front of him, in which case everything makes absolute sense. For Dick, the world seems to narrow down to one thing and one thing only - food!

He is a real foodie, and can grow very impatient if you are just fractionally late to give him enrichment or treats. There is nothing in this world that he loves more than to be licking strawberry sauce from a bowl."
Animals Asia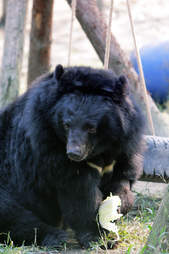 Animals Asia
Even though he can now wrestle with the biggest bears at the sanctuary, Dick hasn't forgotten his sneaky plans to get the best food for himself. He has a strategy: wait for the breakfast bell to ring - and make a mad dash to the far corner of the enclosure, grabbing fruits and veggies as he goes.
Animals Asia
Animals Asia
Recently, Dick had a health scare - his liver enzymes were elevated, which is something to watch as it might be symptomatic of a worse condition. But during his October health check, Dick passed with flying colors, even as the vet team remarked on his top form and glossy coat.
If all goes to plan, the vet team won't see Dick in the hospital for another two years - but they'll surely hear him banging away at his food flap come feeding time, demanding more, more, more!
Animals Asia