Dog Tossed Out With Trash Was Just Trying To Keep Warm
"Ollie-Loo has been full of love and kisses since he has been rescued."
Five days before Christmas, Terri Looby received a worrying message. Someone had seen a small dog wandering along a street in a Detroit, Michigan. It was freezing outside, and the ground was covered in snow - the dog wouldn't last long if left outdoors. The person wanted someone to help the dog and find the owner.
Looby, a volunteer for the Detroit Animal Welfare Group (DAWG), went out on her lunch break to try and find the dog. She and a coworker drove up and down the street, but they didn't see anything. Then they passed a trash heap on the snow-covered curb.
"There were some boxes, trash bags and a chair sitting at the curb for pickup day," Looby told The Dodo. "As we passed the trash, I noticed that there was a dog curled up in the tightest little ball possible."
The dog wasn't the "small dog" Looby expected, but a large pit bull mix. Whatever size he was, he needed help. It looked like someone had tossed him out with their unwanted belongings. The dog was curled up on an old chair.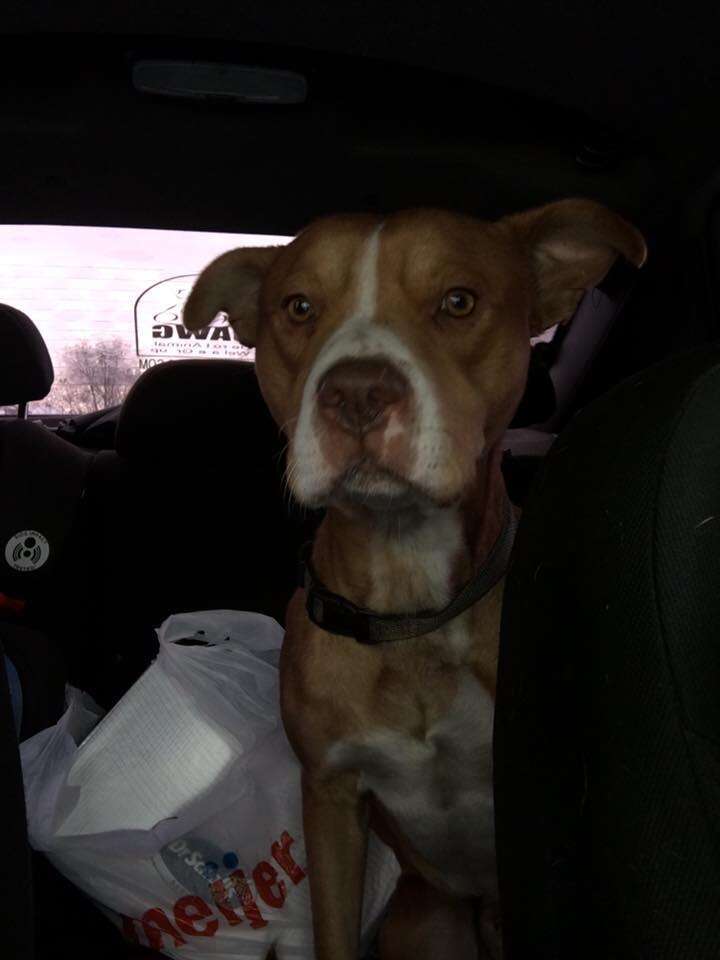 "We pulled over to the curb and got out of the car," Looby said. "As soon as the dog heard us, he picked his head up and looked at me. I said, 'Hi baby, it's OK. Come see me.' His tail was wagging, and he jumped off the chair and started limping toward me. He knew he was safe!"
Looby opened her car door and coaxed the dog inside. "He jumped in and sat in the back seat," Looby said. "He smelled the chicken patty that I had brought with us. We told him, 'It's OK, go ahead and eat it.' He grabbed that chicken patty so fast."
They didn't know the dog's name, so they started calling him Ollie-Loo.
Just before they left, a neighbor bolted over to them, and asked what they were going to do with the dog. "I told her who I was - that I was with a no-kill animal rescue called DAWG," Looby said. "She said the owners were kicked out about a week ago, and the landlord kicked the dogs out of the house. She said that the owners did come back for the small dog, but left Ollie-Loo out with the trash."
This seemed to explain the "small dog" mystery, although it wasn't clear why the owners had left Ollie-Loo behind.
Based on Ollie-Loo's visible ribs, Looby believed he'd been outside for a while - maybe two weeks.
Since Looby had to go back to work, she called Kelley LaBonty, DAWG's director, and LaBonty sent a volunteer to pick up Ollie-Loo. Then, after work, Looby took Ollie-Loo to the vet.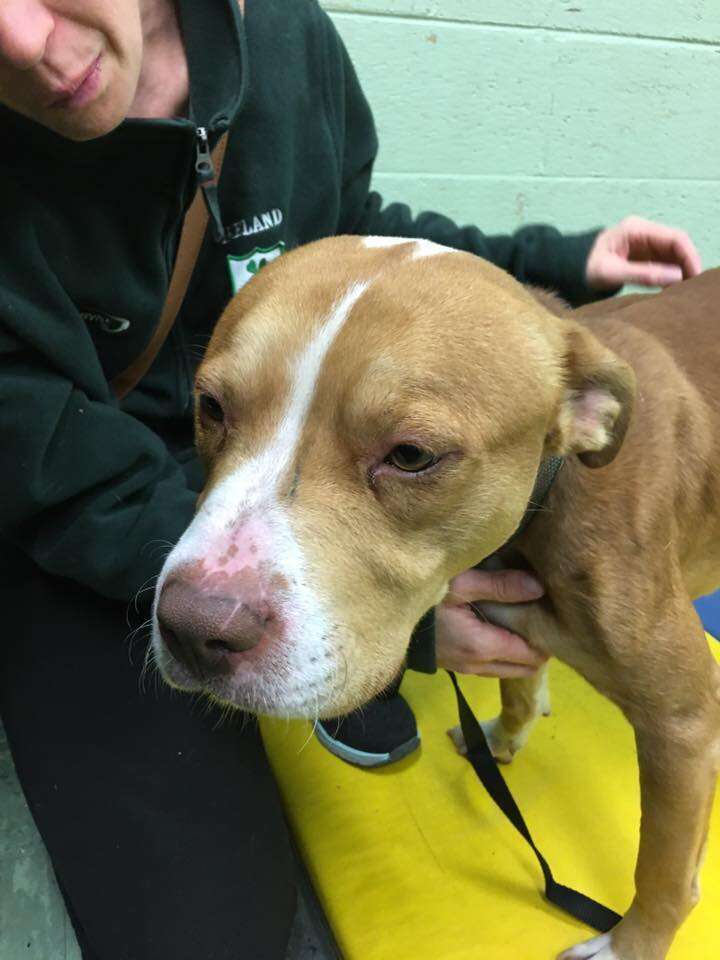 The vet didn't find a microchip, but an X-ray revealed that Ollie-Loo had a broken femur. The break looked recent. "They'll put a plate in to connect it together," Looby said, although Ollie-Loo is currently on standby for the procedure.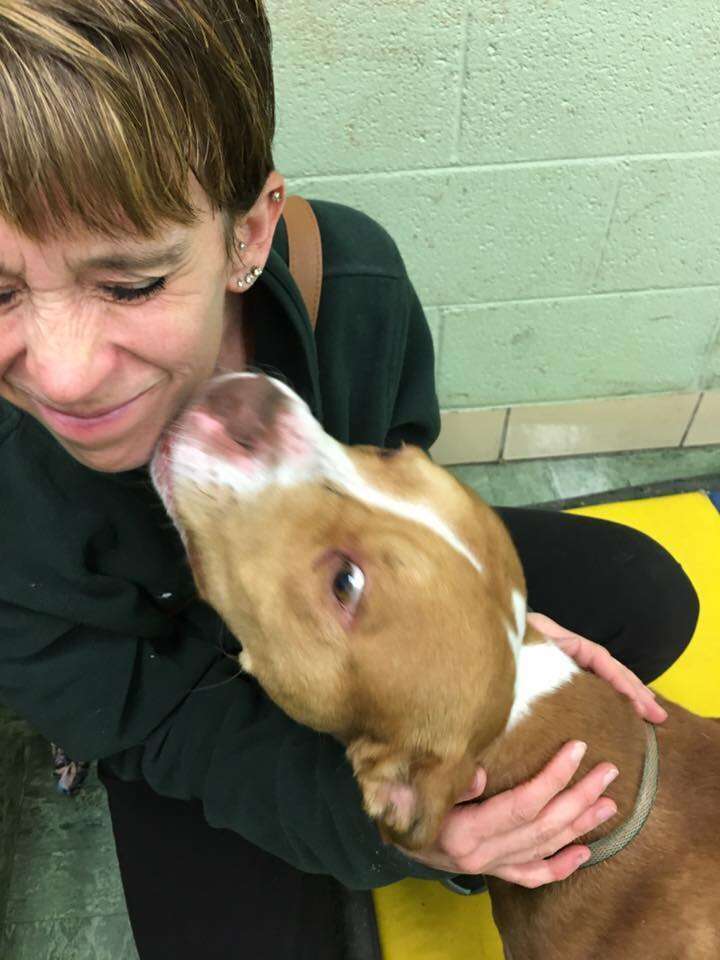 Ollie-Loo has just two baby teeth left in his mouth, so the vet estimated that he's about 1 and a half years old.
While Ollie waits for his surgery, he's enjoying warmth, love and good food at his foster home.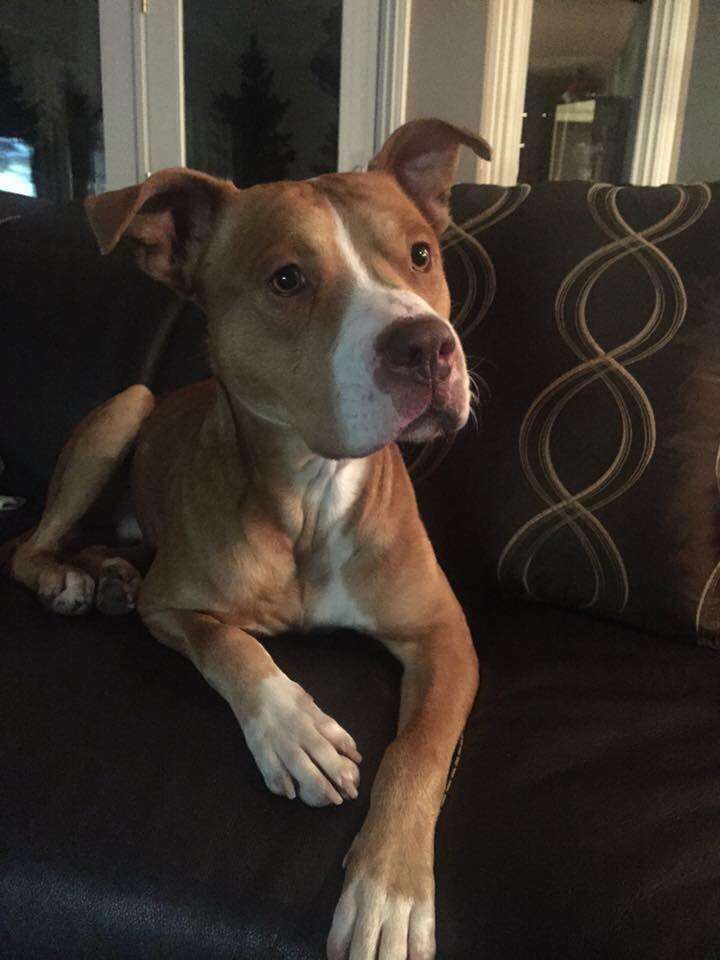 "Ollie-Loo enjoys being with his fosters, whether it is laying on the couch, curled up in bed or just laying in a dog bed that's a little too small for him," Looby said. "Ollie-Loo has been a very sweet, happy, tail-wagging puppy who just wants a family to love him and not toss him out like he is trash."
"As soon as Ollie-Loo had seen us, heard the soft voices or just felt the love, he knew he was safe," Looby added. "Ollie-Loo has been full of love and kisses since he has been rescued."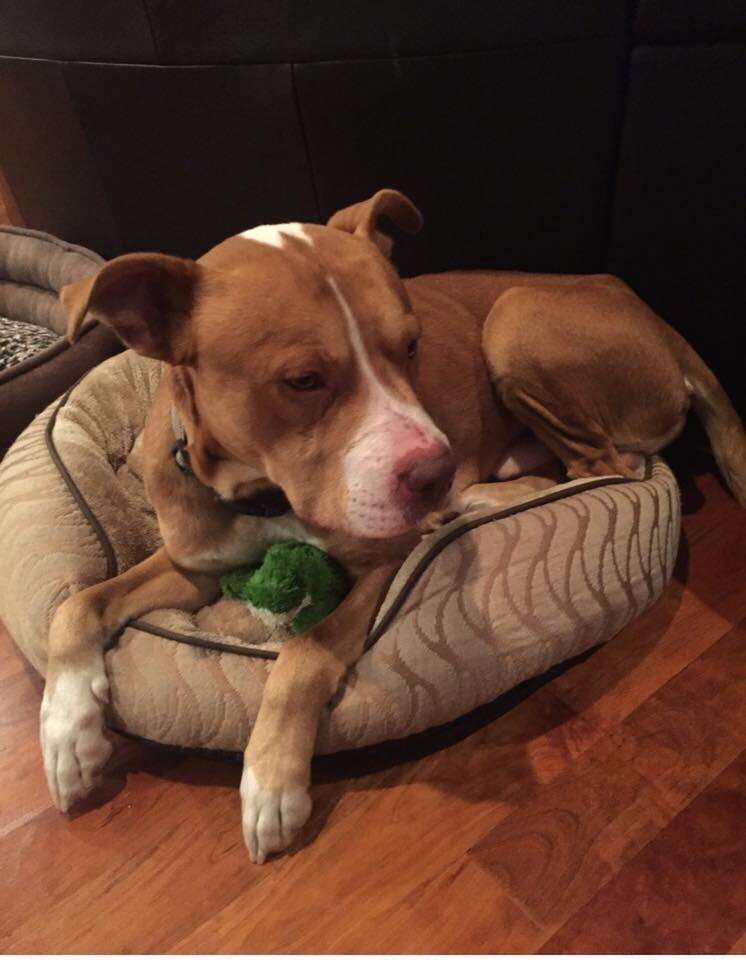 Once Ollie-Loo recovers from his surgery, he'll be up for adoption. If you're interested in adopting Ollie-Loo, you can contact DAWG here.
To help pay for Ollie-Loo's medical bills, and to help DAWG rescue more dogs like Ollie-Loo, you can make a donation here.