Even a leg amputation hasn't curbed the enthusiasm of this energetic pooch named Dexter.
Gigi and Jeff Jankowski adopted Dexter from a New England greyhound racing track when he was 3 years old. The Jankowskis discovered he was a sick puppy - poor health is, sadly, not an uncommon trait among racing greyhounds - and it took a year of medical care to determine he had a severe, incurable skin disease. "Once we realized this condition creeping up his leg would take over his whole body," Gigi Jankowski told The Dodo, "we felt the only option was amputation."
After Dexter's surgery, the pup was bounding up stairs within 12 hours. Photographer LeeAnn Coleman took this series of photographs about a month into his recovery.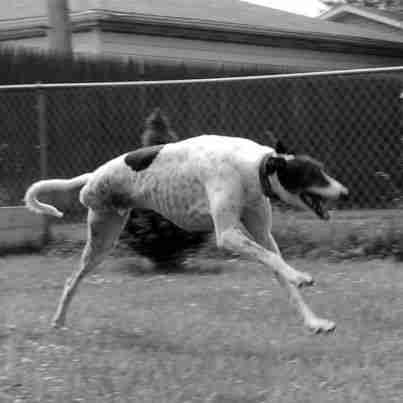 "She really captured his essence in those pictures," Jankowski said. "And in the proper succession, they show the full tuck and extend running form that greyhounds have."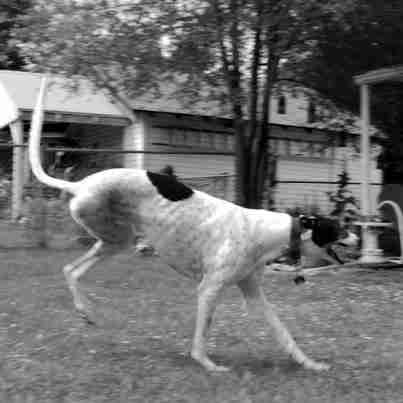 Jankowski is a big fan of greyhounds. "We've had over a dozen of our own adopted greyhounds and have fostered dozens more over the years," she said. "They are amazing animals. They are very individual in terms of personality and behavior, but they all possess a nonaggressive and laid-back demeanor."
She also encouraged the adoption of the dogs. "A good adoption group can find the right greyhound for almost any situation," such as children, other dogs or cats and apartments, she said. "They are fantastic pets to have."
It's been four years since Dexter's surgery, but "he is the same big goof and lovebug that he always was," Jankowski said. "He's a bit demanding actually! Kind of a prima donna. But we are just so happy and grateful he's alive that we let him be whomever he wants to be."
If you want to adopt a greyhound, there are plenty of animal shelters and humane societies that can point you in the right direction. Websites like Petfinder, too, are good places to start.