Desperate Giraffe Approaches Humans To Help Her Dying Newborn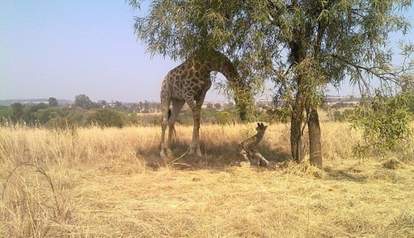 By nature, many animals are typically wary of humans arriving too close, particularly when in the company of their young offspring. But remarkably, in a desperate bid to save the life of her newborn calf, one giraffe mother actually sought out humans to help.
A few months ago, while out walking the sprawling grounds of the Oori Private Nature Reserve in South Africa, Sam Wingate and a friend were inexplicably approached by a female giraffe. They recognized her as the same giraffe they had seen from a distance just the day before in the company of her newborn calf, but now she was alone and appeared to be in distress.
Sam, a wildlife guide with 1 2 Go Tours, says that he had the feeling that she was in need of assistance, but that he wasn't sure what the problem was. So the pair cautiously began to walk in the giraffe's direction, at which point she turned and began to lead them towards a tree about 300 yards away.
There, slumped in the shade, they discovered her newborn calf, which appeared to be unable to stand.
"When I first saw her, I could tell that she had just been born," Sam told The Dodo. "You could see that her umbilical cord was still attached."
He wasn't sure what they should do next, but it soon became clear that they'd been summoned to help. At first, Sam was reluctant to approach the calf fearing that her mother might suddenly see him as a threat.
"I didn't want to get close with her still next to the calf. One kick could have killed me," says Sam.
"But perhaps she perceived my hesitation, since she then moved away. That was the most incredible part of the story. She actually moved away so that I could approach the calf."
While the calf's mother looked on from distance, Sam and his friend tried to assess what was wrong, suspecting that the infant may have dropped awkwardly from her mother while being born and was perhaps stunned. She didn't appear to be bleeding or injured.
"We somehow managed to get the calf on its feet and it walked a few steps and it fell down," says Sam.
After deciding that the exhausted animal needed more help than they could provide, Sam and his friend departed, stopping by a house so that wildlife veterinarian could be called out. Sadly, they later learned that the vet found the animal in an even weaker state, and that nothing could be done to save her. She died shortly after.
Despite the sad ending, however, Sam suspects that the calf's mother may still be thankful that he had at least tried to help. After that remarkable encounter in which she led him to her newborn, he's been approached by the same giraffe many times since.
"Quite often she approaches me, more than the others. I'd like to think that it's gratitude," says Sam. "She came to me in a time of desperation when her calf was dying. She looked for the closest support that she could get, and that was me."