Abandoned Pit Bull Is So Depressed She Just Stares At The Wall
Getting to spend time with our families for the holidays, cozy in our homes surrounded by good food, good friends and lots of love, is something many of us take for granted. But for a dog named Princess, a home in time for the holidays is just the stuff of dreams.
Elena Bobu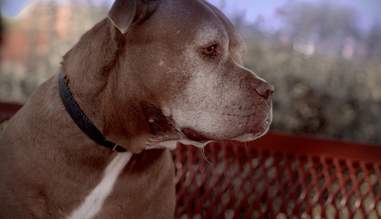 Elena Bobu
Princess is an 8-year-old pit bull mix who was abandoned by her family in January of 2013 after living with them for her entire life. Their reason? They were moving, and couldn't be bothered to take her along with them. Princess was surrendered to the Maricopa County Animal Care and Control in Phoenix, Arizona, and was almost immediately put on the list to be put down.
"My own observations were that she was seriously overweight (she had a hard time moving, she was wheezing all the time, had to sit down a lot on our walks and she refused dog food for several days in the beginning). Her skin was flaky and the coat in poor condition," Elena Bobu, who rescued Princess from the shelter, told The Dodo.
Elena Bobu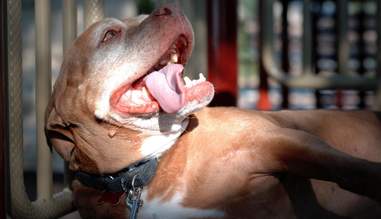 Elena Bobu
Bobu works with a group called Rescue Pals, and when she heard about Princess's plight she arranged for the rescue to take her on. "When I picked her up, the woman who handed her to me said to be careful as she didn't like people," Bobu said. "I grabbed the leash and Princess started dragging me toward the door, she was wiggling her booty and looking back at me with the biggest smile on her face. In the car she gave me several kisses and stood in the front seat smiling ear to ear."
Elena Bobu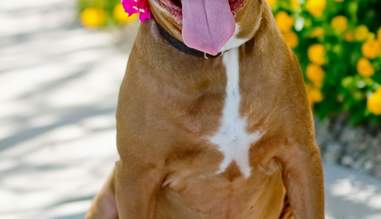 Elena Bobu
Princess currently spends her time in a boarding facility while she waits for her forever family to find her. While this is much better than a crowded shelter, Princess deserves the attention and love that only a loving family can provide for her. Most of her time is still spent in her kennel - and that's not where she belongs.
Facebook/Princess the Bulldog
Facebook/Princess the Bulldog
It was clear right away that Princess was an incredible dog with a streak of bad luck. Bobu immediately began the task of trying to find Princess the home she deserved, but it proved more difficult than she'd hoped. Princess was adopted, but then returned ... three different times.
Each home Princess was brought into simply wasn't fit for a dog. "I found her living in a trashy backyard between piles of dirt and trash, no water, dirty and with ticks on her body," Bobu said. "As she no longer belonged to the rescue, I had to convince and pay the 'owner' $100 to get her back."
Elena Bobu
Elena Bobu
Every time Princess was brought back to the shelter, she became more and more discouraged. She could not understand why she kept having to come back to her tiny kennel. "This is where she is often seen looking at the wall, very sad and hopeless. She perks up when she sees people," Bobu said. "Having spent so much time in a kennel, and being so loving of people, she is showing consistent signs of depression."
Facebook/Princess the Bulldog
Facebook/Princess the Bulldog
Princess has the personality of the perfect dog, and loves people more than anything. A Facebook page has been started to raise awareness of her struggle and media outlets have covered her story, but Princess is still without a home. Recently a message was posted on her Facebook page that sums up her desires so well: "Please keep sharing and posting my story, I really wanna go home this Christmas. Love, Princess"
Elena Bobu
Elena Bobu
"She has a lot of personality and is very smart. She knows when she is being naughty and she wiggles her booty trying to get away with it," Bobu said. "She is a lovely dog who just makes everybody smile and burst with joy."
Princess would do best in a home without very young or super energetic dogs. Older children or mellow dogs (or a puppy she can raise herself) would work best. Most of all, Princess just needs love.
If you would be interested in adopting Princess, you can email info@princessthebulldog.com or contact her Facebook page.
Check out a video made to help get Princess adopted: