Karma is a sweet older dog who was rescued by Muttville Senior Rescue in San Francisco. Her teeth were in such bad condition when she was found that they all had to be pulled, leaving her completely toothless.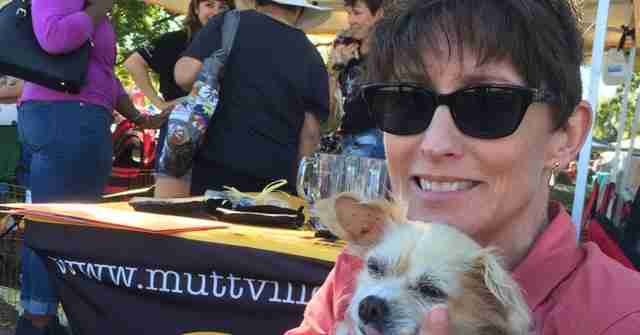 Debra Garrett was looking for a companion dog for her elderly mom, and as soon as she met Karma, she knew she'd be the perfect fit.
"My mom is 82 with Alzheimer's and really wanted a dog," Garrett told The Dodo. "We did not want her to have a dog that was likely to outlive her or that would require a lot of training and energy. Muttville provided us with the perfect solution for my aging parent, an older dog that was tried and true."
Unfortunately, after a few days it became clear that Garrett's mother wasn't quite ready to care for a dog, and so Garrett and her husband took Karma instead, and are now so happy that they did.
"Karma is the sweetest, quietest, most loving little dog we ever could have asked for," Garrett said. "She loves people and just wants to be held or cuddled by someone."
Karma's tongue is always sticking out due to her lack of teeth, and her parents are so smitten with her adorable face and toothless smile.
Garrett and her husband work at a dental practice, and often work very long hours. They didn't feel right about leaving Karma alone for all that time, and so they started taking her to work with them. They soon discovered that their dental practice was exactly where Karma was meant to be all along.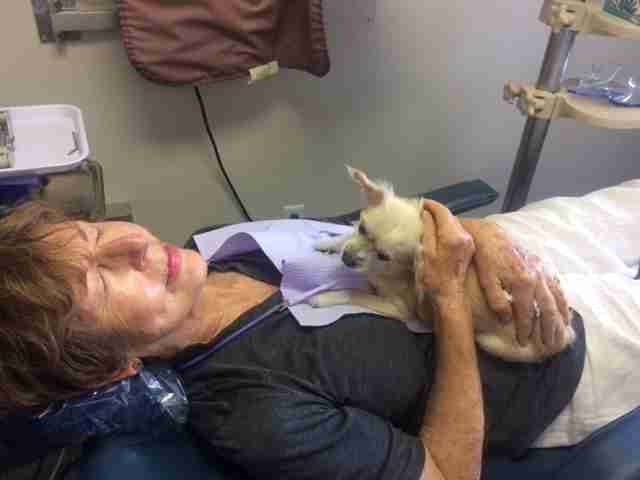 Karma is such a sweet and mellow dog, and is so drawn to people, that it seemed only natural for her to hang out with her parents' patients while they had dental procedures. Her parents soon discovered that Karma was able to calm scared patients and make their appointments easier to handle.
"It's magical to watch a true dental-phobic patient melt while holding Karma in one of our chairs," Garrett said. "Even patients who didn't think it would help much found that their appointment went much better with Karma on their lap."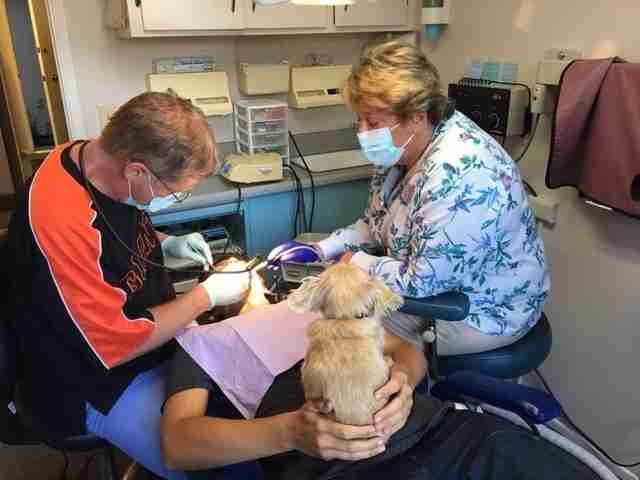 Karma may not have any teeth of her own, but she still knows just what to do when someone is scared of having theirs worked on, and brightens the days of everyone who comes into her parents' office. When she's not on the job, Karma likes to sleep in her mom's dental hygiene room and greet all of the patients who pass through.
"She fills me with a sense of contentment whether I am holding her myself or watching her with one of my patients or seeing her in her little bed," Garrett said. "The office is a much better environment with Karma working beside us!"
Turns out, you don't actually need any teeth to be the best dental therapy dog there ever was.