SAVED: He Won't Spend Another Day In This Muddy Hell
For construction workers at a Hendersonville, North Carolina site, it must have seemed like just another miserable morning. It was raining torrentially. And, of course, there was that dog.
The Dodo
The one next door whom they had watched suffer alone since they started on the project back in September.
The one who lived in a pit so thick with mud, he often had to stand on his own crude doghouse.
And the one who would peer up against his fence, wagging his tail feverishly at the merest hint of attention.
The Dodo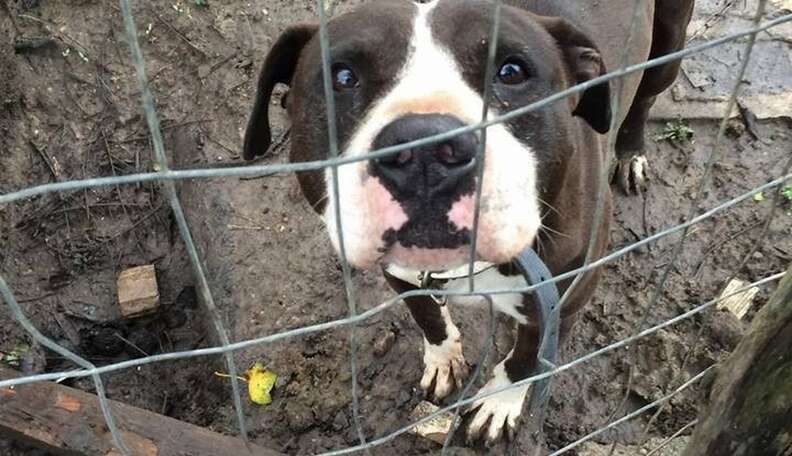 But it wasn't going to be that kind of day.
Hendersonville's chief of police, Herbert Blake, was standing outside the house in the driving rain on Friday morning, alongside a city councillor and several animal welfare workers.
Jeff Miller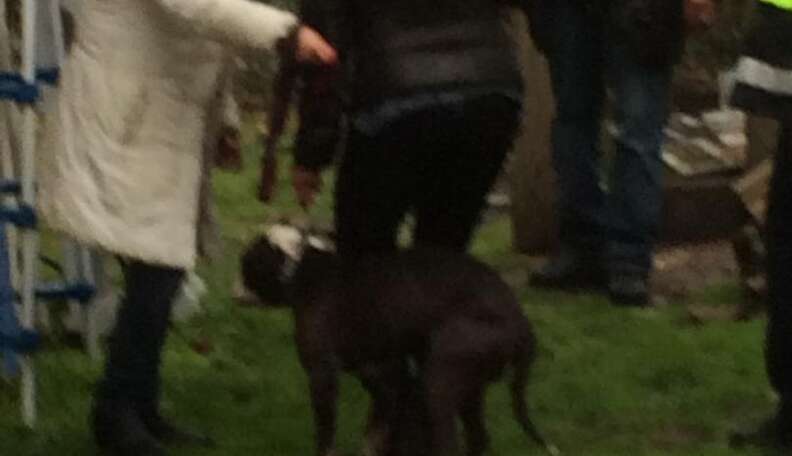 This was Demo's walk to freedom.
Or, we should say, leap to freedom.
"He jumped in the back of the car like he owned it," city councillor Jeff Miller told The Dodo.
Jeff Miller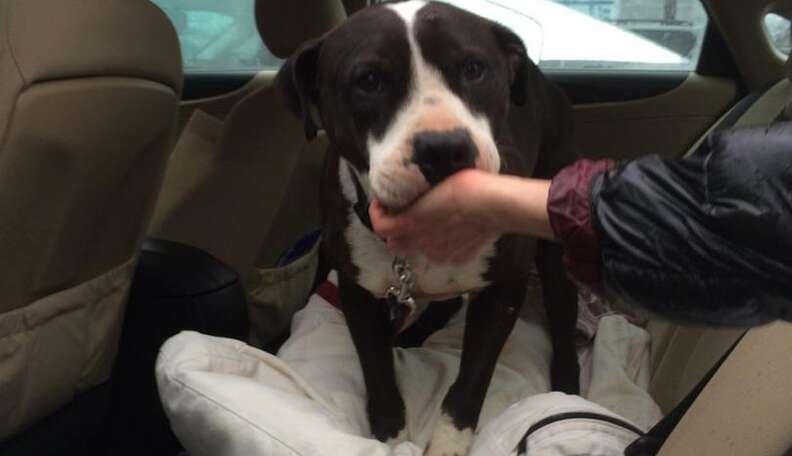 And no one cheered more loudly than the construction crew, who had, for months, been heartbroken eyewitnesses to the dog's plight.
"The only reason why the animal had food, water or shelter was because of the construction workers," Susan Turner of rescue organization Nadia's Hope Foundation tells The Dodo.
Indeed, the workers, haunted by Demo's plight, built him a shelter from brick and tarp. They laid cedar shavings on the ground. And even shared their lunches with Demo.
Since the story was first reported on The Dodo on Thursday, animal lovers around the world have rallied to save the dog. The chief of police woke up Friday morning to 450 emails.
For city councillor Jeff Miller, the story seemed so shocking, at first he didn't believe it was happening in his town. So he drove around late that night, trying to find Demo's pen.
And it turned out, "I live like nine-tenths of a mile from there."
"That's when it all kind of came into focus," he says. "And this morning, it all hit the fan."
Miller drove with the police chief to the house this morning. They persuaded the dog's owner to give him up. His owner was waffling right until the end.
"The truth is the gentleman who owned the house, he was an older gentleman, had tried to take care of him," Miller explains. "But it was his son's dog and his son was in prison."
Jeff Miller
Miller says the dog had food and water, despite what construction workers contend, and he had a makeshift shelter.
"It certainly wasn't to the standards we would have liked to see, but it met with the basics of what is required."
Construction workers who spoke to The Dodo yesterday weren't entirely convinced.
"They do put food out there for him, sometimes it's just water, usually on the ground or whatever," one of the workers told The Dodo on Thursday. "It's basically a big old mud hole back there."
And then came the most important day of Demo's life - that drenched Friday morning, when the dog who seemed to have so few friends suddenly found himself surrounded by so many.
He woke up this morning in his doghouse, an island in a sea of mud.
Tonight, he sleeps at the Blue Ridge Humane Society, a no-kill shelter in Hendersonville, where he will make up for lost time, surrounded by new friends.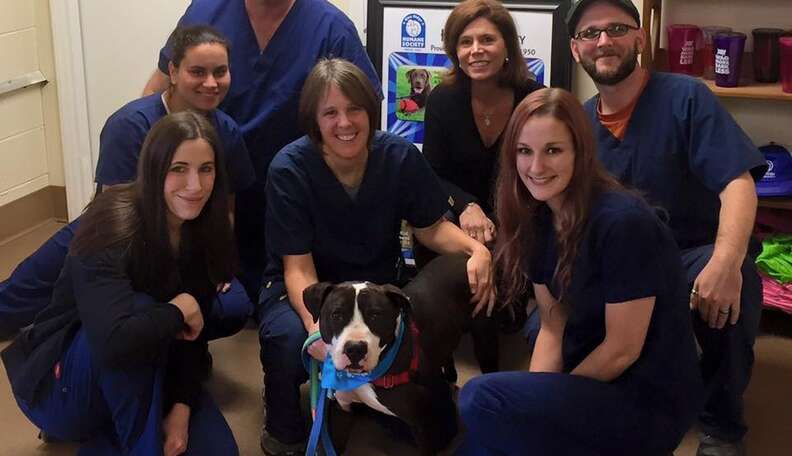 He's already been given a new name: Noah.
"The city police department has done everything in their power to take care of this and they followed through to the very bitter end," Caroline Gunther, a board member for the Blue Ridge Humane Society, tells The Dodo.
And so too, did those unnamed construction workers who threw a lifeline to a dog whose life, like his murky home, seemed scheduled for demolition.
The reconstruction begins today.
Jeff Miller