Turtle With Deformed Shell Has Very Important Doctor Visit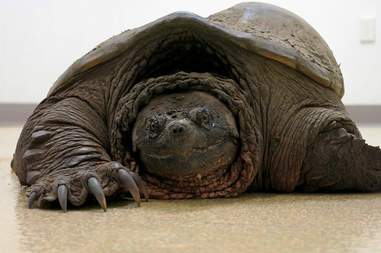 WRC
Through radiographs, they discovered the poor guy had a collapsed lung that could be related to his old shell injury.
What exactly happened to this snapping turtle and his shell will likely remain a mystery. But one thing's for sure: He's been in the right hands.
Since he came to WRC, he's gotten the care and warmth he needed to survive the winter. Now, his rescuers are making sure he's good and ready to be wild and free again.
WRC
"The single lung snapping turtle (with the partially concave shell) went through a brief recheck exam to make sure he's doing well prior to release," WRC wrote on Facebook last week. "We're beginning to prep turtles for their upcoming return to the wild. This means gradually dropping the temperature of their tub water so they don't go from their over-wintering temperature to frigid lake temps."
Just a few weeks more and this guy will be back where he belongs.