Why Some Animal Advocates Support The Right To Hunt Deer
For a handful of days in fall, one of Ontario's most serene parks turns away most visitors.
Stern-faced park officers stand at every possible entrance to the sprawling park, gruffly telling the usual crowd - horseback riders, hikers and nature lovers - they're not welcome.
The run of the 1,600-acre park goes to a small group, made up mostly of men with bows and arrows, to hunt deer in Short Hills Provincial Park.
And it's hell on everyone, from the hunters who have to make their way through outraged animal welfare advocates, to the protesters themselves who bear witness to the often gruesome reality of the hunt.
Robin Zavitz and daughter Tayler with a doe that was wounded in the 2013 huntDaniel Wilson
Robin Zavitz and daughter Tayler with a doe that was wounded in the 2013 hunt

| Daniel Wilson
And, of course, there are the deer, who have only been subjected to the hunt for the last three years.
Before then, they had spent decades among hollering, gawking children, horses and hikers who even managed to hand-feed a few. Along the way, they've become nearly tame.
But they're still, for some reason, not always easy targets for the hunters who come to cull their ranks.
When Robin Zavitz, who lives in one of around 100 homes alongside the sprawling southern Ontario park, looked out her window during the early hunts, she found a man, armed with a crossbow, standing in her backyard.
A fawn born at Short Hills park last springTayler Staneff-Zavitz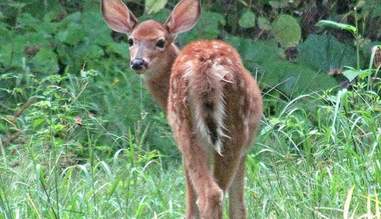 A fawn born at Short Hills park last spring

| Tayler Staneff-Zavitz
Her husband rushed outside to confront the stranger.
"I'm chasing a wounded doe," he replied.
The hunter had strayed outside the park to chase the doe.
Not long after he departed, the ailing animal made an appearance.
Parks officials were called.
"She was suffering, laying there in my backyard, and I said, 'For God's sake, put her out of her misery," Zavitz tells The Dodo.
"And this wounded animal was shot in the head in front of my daughter. It was horrendous. It's something that nobody would want to sit through. It was just awful."
But on the last weekend of the hunt, all the stakeholders gathered quietly in their respective camps at the entrance to the park. There were the park rangers standing vigilant in the winter chill. A handful of protesters huddled just outside the barricade. And, just to the side of the driveway, gathered perhaps the most important stakeholders of all - those whose right to hunt goes back for centuries.
A spring doe at the parkTayler Staneff-Zavitz
A spring doe at the park

| Tayler Staneff-Zavitz
Members of the Haudenosaunee community conduct the deer hunt exclusively. It's a right the aboriginal group has steadfastly exercised over the years, even as their original hunting grounds have ebbed away. And they get plenty of support from other indigenous communities.
"We're here to support the hunters in their yearly hunt in order to harvest the deer," Ryan Lown, of the Oneida Wolf Clan, Six Nations, told The Dodo.
The entrance to Short Hills parkChristian Cotroneo
The entrance to Short Hills park

| Christian Cotroneo
Indeed, as hunters pulled up to the park gate, supporters waved them in with smiles, and sometimes even a cup of hot cider.
Lown says hunting here is not only a right, but a necessity.
"One of the main reasons for the hunt is to cull the overpopulated deer," he explains. "They're overpopulated by about three times the current amount [the deer population] can sustain."
"They start to starve. A lot of deer will just die."
It's a claim that those protesting the hunt vigorously reject.
"If, in fact, there was a true need for a cull, the Ministry of Natural Resources would have to conduct a full environmental assessment on the park," Robin Zavitz says. "There has never been an environmental assessment done at Short Hills Park in 50 years."
In fact, she adds, a recent veterinary report she accessed through Canada's Freedom of Information Act found the deer of Short Hills in remarkable health.
A buck wounded in the 2014 huntRobin Zavitz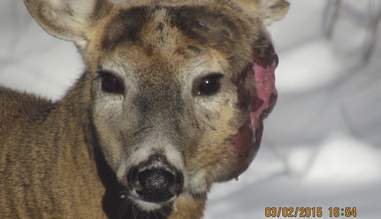 A buck wounded in the 2014 hunt

| Robin Zavitz
"The ministry has a biologist who's supposed to look at every animal that comes out of here," she notes. "The deer are healthy, they're disease free and they're tick free."
The report, she says, brought another grim reality to light.
"They were shooting fawns that were just 66 pounds. So they're shooting fawns that are smaller than my dog."
But the indigenous hunters have found another ally, one that at first glance may seem an unlikely one.
Members of the animal welfare group Hamilton/Halton Animal Liberation Team, or HALT, were also present on the last weekend of the hunt. To support the hunters.
"Our role predominantly is as allies," Jennie Rideout of the animal welfare collective told The Dodo. "We're there in solidarity."
When protesters get too close to the hunters, volunteers at HALT create a buffer zone between them. They also join in drumming, singing and cheering when hunters make it through the barricade.
On the surface, you might think hunters and animal welfare activists make uneasy allies.
Ultimately, the group understands that this land is not their land. "We're all settlers and we all understand our relationship with the indigenous people of this territory," Rideout explains.
"When we look at colonialism, you're looking at a long history of violence that's been perpetuated against indigenous people. And through that you see a lot of taking away of land, taking away from natural resources."
And there is a certain circle of life that extends beyond treaties and land use and even horseback riding.
"There is a deeper connection, a deeper understanding and a deeper respect," Rideout says.
This is no trophy hunt.
"Whether you agree with the death of that animal or not, it's still not our place to interfere. It's been a treaty that's been signed for hundreds of years. They have this right. It's a legal right."
But is it ... right?
Maybe that's not the question. Maybe it's something more like, who has the right to judge?
Original pencil sketch of the Short Hills hunt
Sharon Heath

Original pencil sketch of the Short Hills hunt

| Sharon Heath
With the sun setting on another year of the Short Hills deer hunt, that question will likely, literally, remain on ice. But frozen earth doesn't forget. And just as next year's hunting season returns to Short Hills Park, so too will the ghosts in that ground awaken again.
And there will be no peace, once again, in this valley.