Dedicated Vet Performs Life-Saving Surgery On A Little Goldfish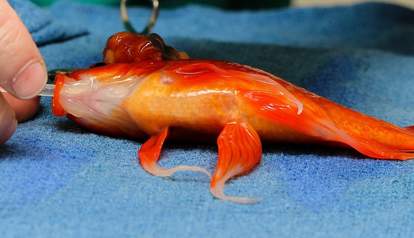 <p><a class="checked-link" href="https://www.facebook.com/lortsmithhospital">Lort Smith Animal Hospital</a></p>
Goldfish might be among the least-expensive type of pets to purchase, but as the story of a hearty little swimmer named George proves, their lives can be as priceless as any other.
Last week, George's owner brought her beloved pet to veterinarians at Lort Smith Animal Hospital in Melbourne, Australia in hopes that they might help save his life. The 10-year-old fish had developed a tumor on his head, and the tumor was making it increasingly difficult for him to swim or feed normally.
Dr. Tristan Rich, who assessed the fish's condition, told the owner that he could either put the fish to sleep, or attempt to remove the growth. Performing surgery, especially on fish, can be a risky and costly endeavor, but George's owner agreed that it was worth it.
"It can be a few hundred dollars, and mostly it's charged for the standard anesthetic, also depending on the time it takes. The actual procedure is quick and straightforward," Dr. Rich told the Sydney Morning Herald. "[But] it's quite fiddly, as you can imagine with an 80-gram fish, and you've got to make sure you can control any blood loss. He can only lose about half a mil [milliliter]."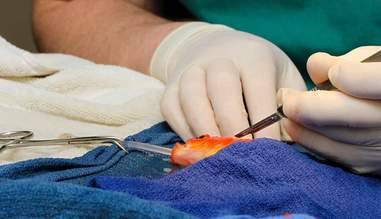 (Lort Smith Animal Hospital)
While removing the tumor itself takes no small amount of precision, putting the fish under anesthesia and keeping it breathing is a science all its own. Vet staff describe the procedure on their Facebook page:
Dr Tristan Rich, head of Lort Smith's exotic and wildlife vet team, set up three buckets – one with a knock out dose of anaesthetic, one with a maintenance level of anaesthetic, and one with clean water as the recovery unit.

Once George was asleep, Dr Tristan ran a tube from the maintenance bucket which was being oxygenated, into George's mouth, so that the water with the maintenance dose of anaesthetic washed over his gills.

Dr Tristan worked quickly to remove the large tumour, although the size of it meant that he had to use a gelatine sponge to control the bleeding during surgery. The size of the wound meant it was difficult to seal, so Dr Tristan put in four sutures then sealed the rest of the wound with tissue glue.
(Lort Smith Animal Hospital)
After the 45-minute surgery, George was returned to an oxygen-rich bucket to begin his recovery. Thanks to Dr. Rich's skill and dedication to saving the life of even the most unlikely of patients, the shiny little pet is back on his fins. The vet says he's performed such procedures less than a dozen times, but he's clearly developed an expertise.
"The surgery went swimmingly and George has now returned home with his loving owner," says Dr. Rich.