Deaf Dog Who Was Abandoned On The Street Goes On The Best Adventures Now
Gordon waited a long time for the right forever home.

| The Mayhew Animal Home
Miraculously, The Mayhew Animal Home found Gordon and took him into its care in November 2014. But then the search for a suitable home for the deaf dog began.
Because of his deafness, his chances were slimmer than those of other shelter dogs. Still, Gordon got to work learning to read sign language so he could find a family who would love him as he was.
Days and weeks and months passed. A year went by. And Gordon was still in the shelter, waiting.
Because Gordon is deaf, he learned to read hand gestures.

| Bonnie Baker/The Mayhew Animal Home
Finally, all that hard work and patience paid off. "I first saw Gordon on Facebook. A friend of mine had shared The Mayhew Animal Home's post, and I just kept clicking, discovering more pictures, videos and stories about him," Josanne Griffin-Mason, an aspiring dog owner at the time, told The Dodo. "I showed my partner and we booked an appointment to meet him."

The moment Griffin-Mason and her partner, Richard Neenan, met Gordon, they loved him. "He had a huge smile, such a waggly tail and he leapt on our laps for a cuddle," Griffin-Mason recalled.
The couple adopted Gordon in August 2015.
Gordon living the good life in his comfy new home.

| Mina Milanovic
"He's already very attached to us and settled in so well," Neenan told The Mayhew Animal Home soon after adopting him. "We've got a garden and a huge golf course nearby where he goes for a walk every day. We have a very confident house rabbit and they've rubbed noses a few times."
Gordon meets Munch, the rabbit of the house.

| Griffin-Mason/Neenan
Then Mookie, another dog, was rescued and joined the growing home. Gordon took to his new sister immediately. "They're very fond of each other, loving nothing more than a good play, followed by a cuddly nap on the sofa," Griffin-Mason said.
Mookie and Gordon cuddle on the couch.

| Griffin-Mason/Neenan
They even share a Facebook page dedicated to them - and their adventures. And there have been quite a few adventures already.
Mookie and Gordon enjoy the great outdoors.

| Griffin-Mason/Neenan
Since his rescue, Gordon's people have been showing him the world.
Gordon's proven himself to be very adventurous.

| Griffin-Mason/Neenan
Gordon went on his first adventure last December. A tour through the English countryside included a stay at a little medieval inn and a visit to Stratford-upon-Avon, the town where Shakespeare lived.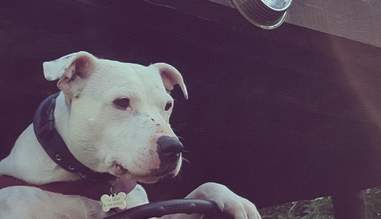 Gordon poses at the wheel.

| Griffin-Mason/Neenan
Gordon poses in front of Edinburgh Castle in Scotland.

| Griffin-Mason/Neenan
"Gordon loves going on holiday, and he's already got his paws into Brighton, Bath, the Cotswolds, the Peak District and Scotland," Griffin-Mason said.
Gordon takes in the sights at Bath Abbey.

| Griffin-Mason/Neenan
Gordon's proving that he can do everything Mookie can do. He's even expanded his knowledge of sign language. "His sign language repertoire is really impressive now," Griffin-Mason said. "We even taught him to speak (bark) on command, which is quite a feat, considering he can't actually hear himself barking."
Adventurous Gordon also knows how to enjoy a night in.

| Griffin-Mason/Neenan
Gordon's story shows the potential of rescue dogs everywhere - especially ones who have had a setback, like deafness, that hurts their chances at landing in a loving home.
Gordon poses at Bath Abbey.

| Griffin-Mason/Neenan
"If anyone is considering adopting a deaf dog, I'd highly recommended doing so because deaf dogs really do struggle to find homes," Griffin-Mason said. "Plus, it's highly rewarding as their carer. The deafness is manageable with sign language and a vibration collar for recall in the park, simply buzzing it when we need him to heel."
Mookie teaches Gordon how to swim.

| Griffin-Mason/Neenan