Deaf Dog Makes Friends With A Boy Who Totally Gets Her
"She is the most gentle, loving girl ever."
When Brandi Guillet and her family decided to foster a deaf, formerly-mistreated rescue dog named Ellie, they might never have expected that it would be her improving their lives.
But that's exactly what she's doing.
Brandi Guillet
It's only been two weeks since Ellie was welcomed into their home after being rescued from an abusive Florida breeder, but she's already formed a remarkable bond with Guillet's special-needs son, Connor. Since Ellie is unable to hear, she was taught to respond to sign language after being saved - and that so happens to be how Connor communicates, too.
Guillet recently shared a photo online capturing Connor and Ellie's newfound friendship, explaining why she's now decided to give the dog a forever home (and why others should consider doing the same):
I adopted my son at birth knowing he had a genetic disorder. He is now 6 and non verbal but uses sign for communication. We are fostering a beautiful deafie boxer girl (soon to be adopted!). She is amazing with my son. She is the most gentle, loving girl ever. The most BEAUTIFUL part of this adoption is my son and his dog can actually talk to each other!

I highly encourage adoption of deaf dogs ... She is such a perfect addition to our family. We have been blessed with Ellie <3
Ellie has found her place.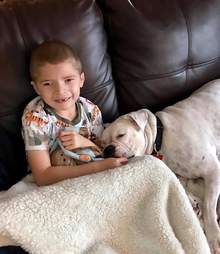 Brandi Guillet
To learn more adopting a dog with hearing difficulties in your region, visit the rescue group Deaf Dogs Rock.