Kind Woman Stops To Bury 'Dead' Fox On The Side Of The Road
<p> <a href="https://www.facebook.com/WWSanctuary/timeline">Facebook/WoodlandWildlifeSanctuary</a><span></span> </p>
<p> <a href="https://www.facebook.com/WWSanctuary/timeline">Facebook/WoodlandWildlifeSanctuary</a><span></span> </p>
Tammy the fox could have easily become just another dead animal on the side of the road, killed by a careless driver - if it weren't for some kind strangers and devoted rescuers.
"Tammy was lying on the side of the road, and the lady who found her stopped to bury her in peace," Monika Melichar of the Woodlands Wildlife Sanctuary told The Dodo. But Tammy wasn't dead, she was still alive - barely.
"She called us and we immediately dispatched two volunteer drivers to meet her and rush her to our sanctuary," Melichar said.
When Tammy arrived at the Woodlands Wildlife Sanctuary in Ontario, Canada, late on a Sunday night, she was so weak that the emergency drivers thought she had passed away on the ride there.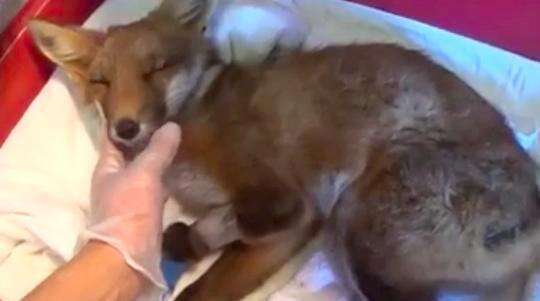 "The next morning our wildlife vet arrived and quickly hooked her up to an IV drip," Melichar said. "Her prognosis was poor. She had suffered severe head trauma. But we all prayed for a miracle."
For two days Tammy drifted in and out of consciousness. Just when her caretakers were beginning to lose hope, she lifted her head for the first time.
"Then her recovery happened in leaps and bounds, and within two weeks she was standing and eating on her own," Melichar told The Dodo.
Her rescuers gradually transitioned Tammy to an outside pen, where she continued to grow stronger and stronger.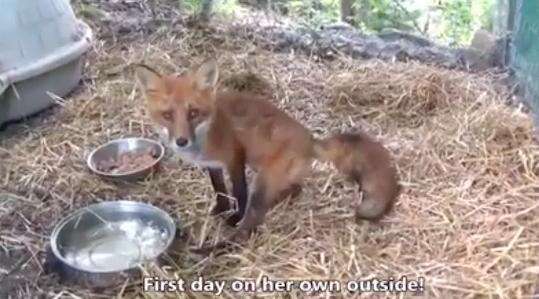 Most miraculously at all, Tammy found a new best friend at the sanctuary. Caretakers introduced her to Todd, another fox rescue who was also recovering after being hit by a car - and they quickly bonded.
Now the sanctuary plans to release them back into the wild as soon as they're strong enough.
It's only thanks to the efforts of a kind stranger, and the dedicated volunteers at Woodland Wildlife Sanctuary, that Tammy was able to survive.
Some people may have driven right by Tammy when she was lying injured on the side of the road. But Tammy isn't "roadkill" - she's an animal with a spunky personality, a bright future and a new BFF named Todd. For tips on what to do if you see in injured animal in need, click here.
Watch her whole rescue here:
To find out how to support Woodland Wildlife Sanctuary's efforts to save animals like Tammy, click here.