People Are Dumping Hundreds Of Dogs By The Road In Major U.S. City
Late one night in August 2014, Marina Tarashevska - a dog rescuer in Dallas, Texas - read an alarming message on Facebook: A stray, injured animal needed immediate assistance in an area of the city called Dowdy's Ferry.
Dowdy's Ferry is not a traditional neighborhood. It's mostly a lengthy swatch of thick woods adjacent to a highway, the soft-spoken Tarashevska told The Dodo. "It isn't known as a safe place to be at night." And because there aren't many residents in the area, she says it's long been used as an illegal dumping ground: Dumped cars. Dumped trucks. Dumped couches. Dumped trash.
And dumped dogs.
Tarashevska, the founder of the dog rescue group Dallas Dogrrr, says that when she arrived that hot August night to rescue the struggling animal, she was shocked by what she saw: Along the desolate spread of land was stray after stray after stray. "I saw at least ten dogs in just one short stretch of Dowdy's Ferry right away," Tarashevska says.
Tarashevska eventually rescued the injured dog, now named Filo, with the help of Michael Brinkley, who posted the original call for help. And for the next few months, Tarashevska says she kept returning to Dowdy's Ferry to help Brinkley feed the remaining animals. "He couldn't afford to feed them all, but gave them as much as he could. It broke my heart," she says. "So I started asking for donations and giving food to him to help him feed the loose dogs."
Eventually, as the leaves began to fall that November, Tarashevska started to explore the dense woods in an effort to rescue more of the animals. "I would usually [coax] them with food, but some dogs are feral. And some have been there for years," she says. "There is a reason they are alive, because they avoid contact with people, who have often hurt them." In fact, one dog, she says, took an entire year to rescue. "We named her Dying Dog on our Facebook page, because she was in such bad shape."
As she trudged onward into the thicket of Dowdy's Ferry, Tarashevska realized she wasn't just tackling an ongoing abandoned dog problem.
She was also confronting a dead dog problem. That day in Dowdy's Ferry, Tarashevska discovered bag upon bag of dead animal remains.
Warning: Graphic Images Below
Dallas Dogrrr
More specifically, what Tarashevska says she found were heavy duty, black plastic bags stuffed with dead or decomposed dogs. "I had no idea what was happening," she says. "I had been finding dogs in very bad shape, very injured, but I didn't know the issue was so bad. And once I found the bags, there were just so many more." Tarashevska estimates she's found some 150 dead dogs at Dowdy's Ferry since that August night in 2014.
Most of the dogs she finds dead, she says, are pit bulls. But dogs of all breeds, ages and in all conditions have been discovered. "A few weeks ago, a woman dumped three Chihuahuas," she says.
Tarashevska recently played a central role in a Dallas Morning News feature about the stray and dead dog dumping situation in Dallas; she was also highlighted in a lengthy article by the Dallas Observer, which criticized the city of Dallas for its inadequate response to the situation.
While the articles have been heartening, the situation is overwhelming, she says. "There is so much to do there and so many dogs in need and new ones being dumped every day."
"The city simply isn't doing enough," she adds. "I just cannot keep up with it."
Still, she says, she visits Dowdy's Ferry a few times a week to save who she can.
The city of Dallas
Dallas has long been a city of dog problems, says veterinarian Dr. Cate McManus, operations manager for Dallas Animal Services (DAS) in Dallas.
"There was an ordinance back in the 1800s for loose dogs in Dallas," she explained to The Dodo. "It shouldn't be the norm, I'm not saying that. But [in terms of current problem], I don't think anything has worsened or changed recently - and we are trying very hard to fix it." Unlike Tarashevska, McManus would not call the scenario at Dowdy's Ferry a crisis. But she does think the city hasn't been entirely effective with its approach.
"There have been a lot of Band-Aids," she says, including massive dog sweeps that yank groups of strays off the streets all at once and shuttle them into the DAS shelter. "We can sweep up the stray dogs, take them off the street. But we need to find out why they are there to begin with."
Dallas Dogrrr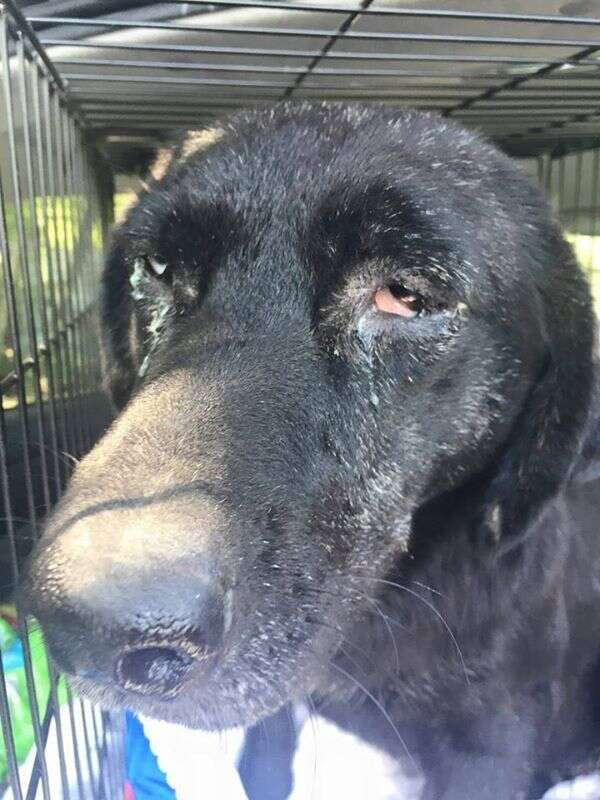 If a dog is picked up by DAS, and the animal is uncollared or without a microchip, the animal is held for 72 hours after its first day of admission before being euthanized. If the dog is microchipped or has [an ID] tag, explains McManus, the animal will be held for 10 days after the day of admission, then euthanized. The maximum capacity for DAS is 650 dogs.
Dallas Dogrrr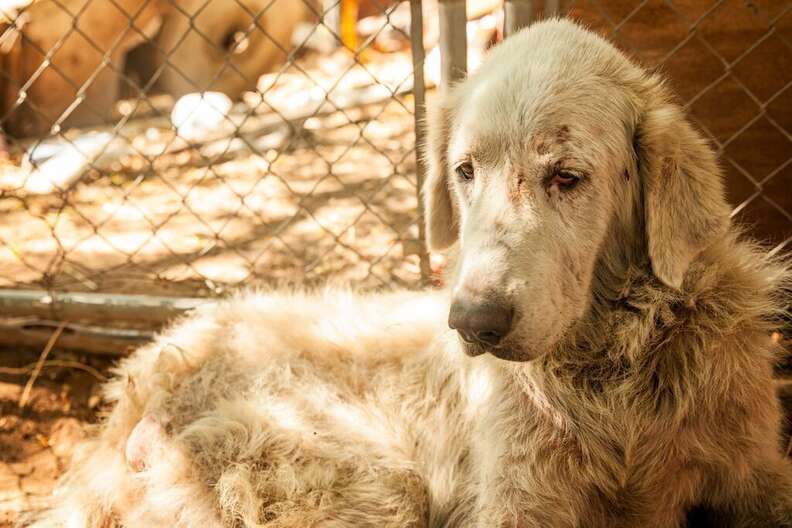 This September, DAS euthanized 700 dogs. In September 2014, DAS euthanized 1200 dogs.
On average, DAS euthanizes 30 dogs in a single day.
As for the dead dogs at Dowdy's Ferry, McManus does not believe, wholesale, that the animals are victims of abuse. "[We've done a number of necropsies] on the dead dogs being dumped," says McManus. "Only one showed that there had been neglect or suffering."
Essentially, McManus thinks local dog owners simply don't know what to do with their dead animals, despite the fact DAS allows owners to dispose of their dogs at the shelter at no charge. Owners can also put the dogs out on the curb in a bag and the city's sanitation will pick the remains up - although, she admits, "it might be a little creepy."
Paul Hansen, chief deputy city marshal in Dallas, oversees environmental crimes in the city and acknowledges there is a dog dumping problem. In fact, Hansen told The Dodo, he believes the situation of dog dumping has actually worsened in the last year, "though I can't tell you why that is."
Two Dallas marshals with a small dog who was caught wandering a known dumping site in Dallas, (Dallas Animal Services)
"Dowdy's Ferry has been a chronic dump location since I've been involved in environmental crime," says Hansen. The marshal's office "has attempted to address the situation of illegal dumping in the past, such as furniture and things" but it didn't catch the public attention." Illegal dumping, he adds, is penalized with a fine if the object is over five pounds.
"But when the animal carcasses were being dumped on the side of the road," he says, "people can smell it when they drive by. So it's been more of a complaint."
Hansen doesn't know exactly who is dumping the dead dogs. "We haven't found that common thread that we look for," he says. "We've seen different types of material [being used]: plastic bags, different containers, feed sacks ... I really think it is a matter of convenience - people using whatever they have handy." (Tarashevska theorizes there is an individual or a small group dumping the dead dogs, and that they could be in the construction industry due to the fact that some animals have been "hog-tied" or bound with Muletape, commonly found in that business, she says.)
Recently, the marshal's office installed new cameras in Dowdy's Ferry in April, though there have been cameras in the area since 2004, says Hansen.
However, the marshall's office has only made one arrest in a dog dumping case since that time.
Dog being dumped at Dowdy's Ferry. This surveillance photo led to the recent arrest. Dallas Animal Services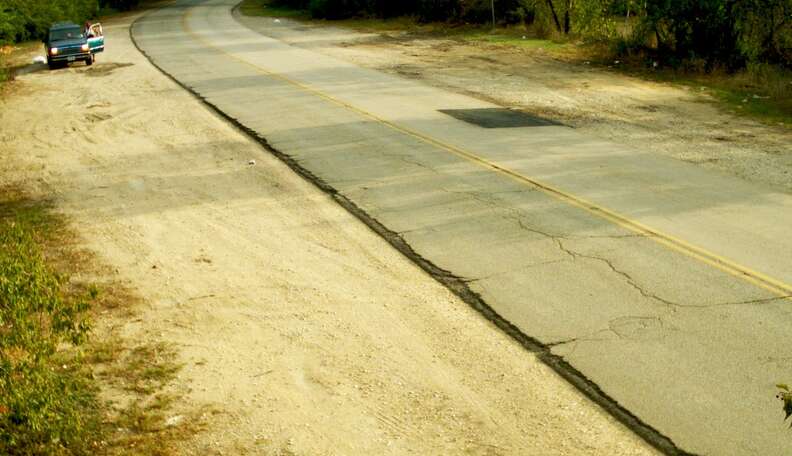 "I do think the city has taken this seriously, because we have always had DAS go throughout the city and address stray dogs and vicious dog calls," Hansen says. The obstacle, he feels, is getting citizens on the whole more involved "and to let us know what is going on. Because even in reviewing surveillance photos, you see cars pass by, and citizens could call in and say something is going on." But they don't.
"It's really hard," Hansen says, "to take a few officers and a few marshals and make a difference. So we want to engage the community and go after the people involved."
McManus believes it's generally a cultural or educational issue causing dogs to be neglected, abused or abandoned. Does she really think community education works? "I do. People really don't know [how to care for a dog] and it really blows your mind what people don't know. We work hard to provide this help," she says. "Generally, people care about their pets and love them and maybe they don't sleep with them but it doesn't mean they don't care about their pet."
Marina Tarashevska
On October 31, 2015, DAS is launching a new campaign called DallasPETS (dallaspets.org) to tackle the problem at Dowdy's Ferry. Billboards, advertising, online media and PSAs will comprise the new effort using the hashtag #DallasPETS, Justin Lewis Snasel, senior public information officer for DAS, told The Dodo. "Loose dogs and illegal dumping are our two largest issues."
In the meantime, Tarashevska says that although the new media attention on Dowdy's Ferry may have slowed down the dumping of dogs in that city stretch, whoever is dumping the dead or living animals is moving to other areas of the city. So now she goes to those places as well.
Tarashevska makes a point of saying she is buoyed by the work of other rescues and volunteers. She's even receiving assistance from other shelters. "There was a pit bull who was dumped and he had chunks of his leg and thigh missing. He was probably a bait dog or was just being beaten up," she says. "Someone posted a plea and Second Chance rescue in New York started helping. So, we now have our very first street dog rescued from Dallas going to New York next week."
Marina Tarashevska