A couple of people were driving down a Tennessee highway in September when they spotted a lifeless bundle of fur crumpled in the middle of the road. It was the body of a black bear cub, who had likely been hit by a car.
They got out of the car to move what they thought was a dead cub, wanting to make sure she wasn't hit again. But the broken cub wasn't quite as lifeless as she looked.
Appalachian Bear Rescue
"When they went to move it, the bear lifted her head," Dana Dodd, president of Appalachian Bear Rescue (ABR), told The Dodo.
The passersby quickly called ABR, a Tennessee-based sanctuary that rehabilitates orphaned and injured black bear cubs. ABR doesn't usually respond directly to calls, which is the territory of the Tennessee Wildlife Resources Agency, but received permission to assess the bear and rushed to the scene.
"She had a concussion," Dodd said. "She had a cut on the inside and outside of her jaw. It required stitches both inside and outside."
Appalachian Bear Rescue
The ABR worker quickly transported the dazed cub to the University of Tennessee's veterinary hospital, where they discovered that, miraculously, the cub hadn't broken any bones.
But a look inside her mouth revealed that her teeth had been badly injured, a serious issue that could stop the cub from thriving in the wild. "Her lower incisors were separated from her gums," Dodd said. "They did what they could to repair that, but they weren't certain."
Appalachian Bear Rescue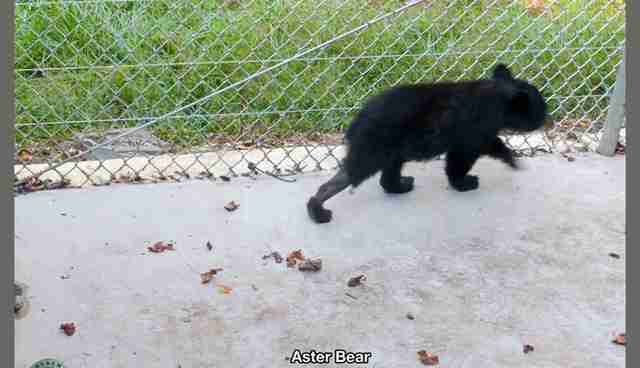 The vets patched up the 15-pound cub, who was still dazed and confused, and told ABR they'd keep her for the next five days and would call at the end to let them know if she made it.
But Aster, as she came to be known, had other plans. A day later, Dodd said, ABR received an early call: "She's a wild little bear and you're going to have to come and get her."
Appalachian Bear Rescue
Happily, ABR scooped up the little firecracker and settled her into their cub house, a sheltered area where young or injured bears can get back on their feet. But they were still worried about whether Aster's jaw would heal, which would determine whether she could return to the wild.
"They only limited her only to applesauce and yogurt, so really soft foods, for a while," Dodd said. Fortunately, she showed no sign of brain damage and continued to improve, and moved on to soft pears and harder and harder foods. ABR wanted to make sure she could "crack acorns," Dodd said.
Appalachian Bear Rescue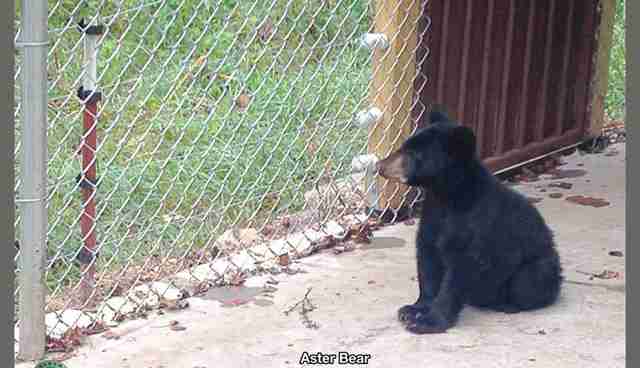 She continued to improve, and, just like before, let the ABR team know when she was ready to move on from the cub house. "The bears tell you when it's time to let them out," Dodd said. "When they can't stand captivity anymore they begin to pace, and they're just not happy in any sort of confinement."
Appalachian Bear Rescue
And so Aster graduated to ABR's wild enclosure, a penned-in area of forest where the more independent cubs can climb trees and learn to be bears.
Appalachian Bear Rescue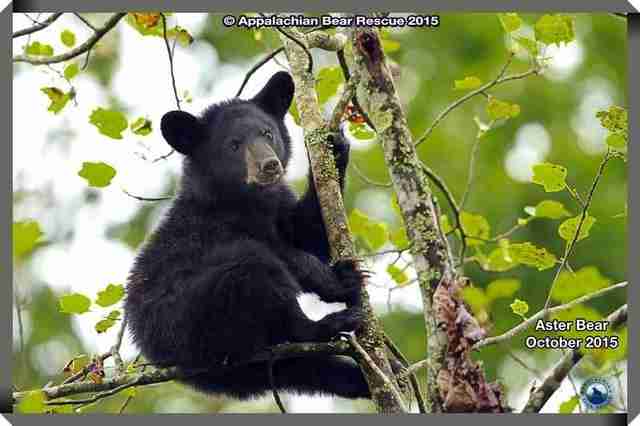 One photo ABR proudly posted on Facebook showed Aster eating an apple. "This might not seem like much of a feat, but this proved that her jaw injury had healed completely," the group wrote.
Appalachian Bear Rescue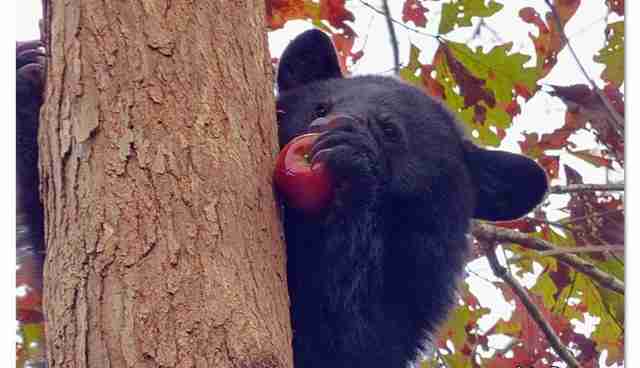 Finally, she was ready to be released. Her check-out appointment showed that, at around 10 months old, Aster had blossomed from an armful of fur to 51.5 pounds. "Her teeth were perfect," Dodd said. "Everything had healed properly."
Appalachian Bear Rescue
Though black bears usually stay with their mothers until they're around 16 months old, a healthy but younger black bear cub can often survive independently, Dodd said.
Appalachian Bear Rescue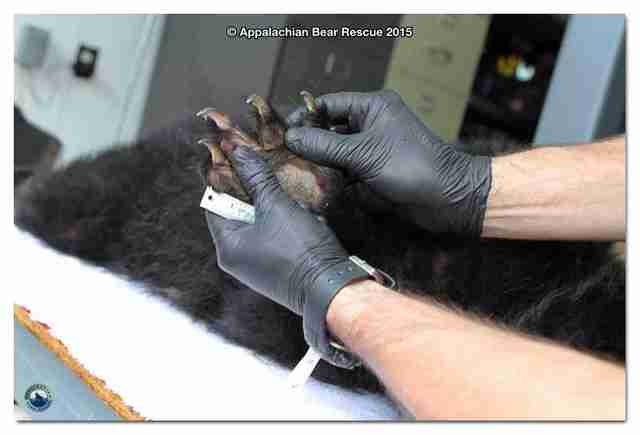 "Ten months old is early to be out with no mother," Dodd said. "But research shows that in our climate, here in the south, if a club is healthy at 6 months old it will be fine out in the wild ... if they're big and strong enough to go. And she's certainly big and strong enough to go."
Appalachian Bear Rescue
And so Aster was loaded into a crate, and sent out with state officials to get her second chance at a wild life.
Appalachian Bear Rescue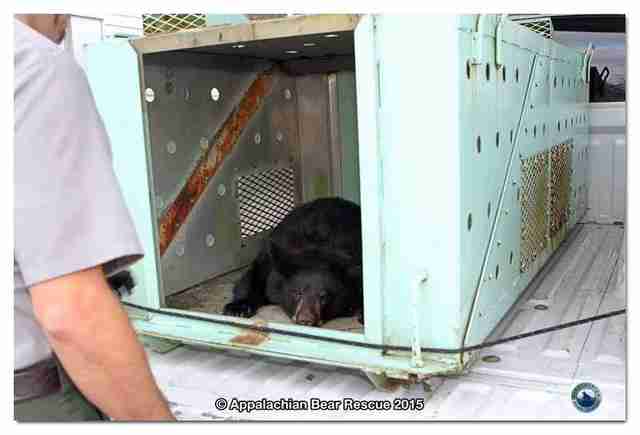 "We wish her a long and happy life in the wild," ABR wrote.
If you'd like to help care for ABR's other orphans, you can make a donation here.