'Dead And Buried' Dog Shows Up At Shelter Weeks Later ... Alive
<p> <a href="https://www.facebook.com/fawn.cole.3/media_set?set=a.128888180490957.16500.100001093260854&type=3">Facebook/FawnCole</a><span></span> </p>
When Deirdre Cole and her husband went out of town in April they left their two little dogs, Fern and Fawn, in the care of a trusted pet sitter. When they got back from their vacation, Cole and her husband got the news every pet parent dreads - Fawn had passed away in her sleep while they were gone.
Their sitter, Susan Truscott, who runs Best Friends Critter Sitter in Cookeville, Tennessee, told Cole that Fawn died in her sleep. "Susan said she found her 'cold little body in the doggie bed.' She said she cried," Cole wrote in a Yelp review on the Critter Sitter page, "She said (and her boyfriend elaborated) that they buried her in a little coffin in their pet cemetery."
Cole posted a heartbreaking Facebook status the day she got the news, writing, "I will miss my little shadow."
But only two weeks later, Cole was browsing Facebook when she saw a post from the Cookeville/Putnam County Animal Shelter, with an adoptable dog who looked startlingly like her beloved Fawn. Cole immediately contacted the shelter.
"She was just coming in saying this dog looks a lot like mine," Darrell Webb, the shelter director, told The Dodo. As soon as Cole walked in the door, she realized her "dead" dog was alive - and overjoyed to see her humans again.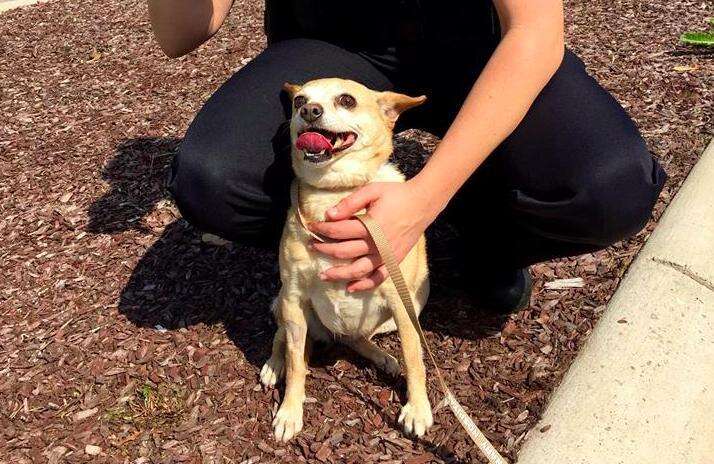 Fawn had been picked up as a stray by the Algood Police, in good spirits despite "two gashes on her back legs," Webb told The Dodo. Fawn had been entertaining visitors and staff alike in the county shelter.
"The MOST impossible, unthinkable, and AMAZING thing: FAWN is HOME!," Cole posted on her Facebook page. "Fern is ecstatic."
Susan Truscott, the pet sitter who told Cole that Fawn was dead, hasn't explained how or why Fawn ended up at the county shelter - but Cole made her feelings clear in a scathing Yelp review.
Best Friends Critter Sitter has not yet responded to The Dodo's request for comment.