Hog-tied and pepper-sprayed after running away from the slaughterhouse, this petrified goat ended his escape in the best way possible - a new forever home at a farm animal rescue.
"He was terrified," Jenny Brown, co-founder of Woodstock Farm Animal Sanctuary, told The Dodo. "He was so scared."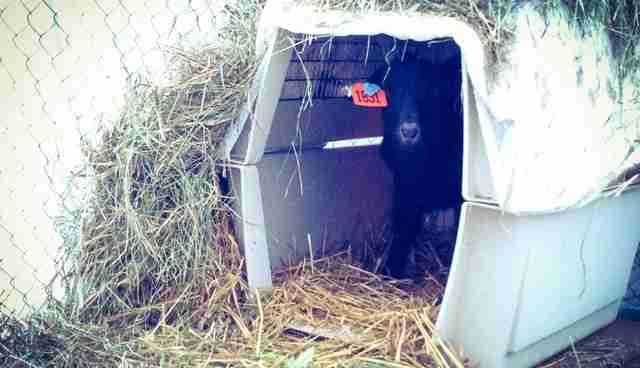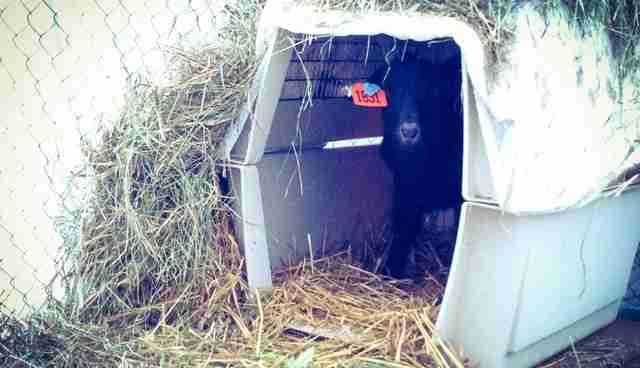 David the goat's mad dash for freedom started in December, when he was found running around Long Island with a USDA tag in his ear that indicated he was supposed to end up in a slaughterhouse.
When police cornered David, they pepper-sprayed the panicked goat to subdue him. They then pinned him down, hog-tied him and dropped him off at the local animal shelter, which had no idea what to do with an injured goat. Fortunately, they reached out to Woodstock.
"[He was] just not well taken care of," Brown said of the goat.
David, who the rescue believes is around 2 years old, arrived at the sanctuary in a dog carrier, and he kicked and cried as Brown's husband pulled him out. He was underweight and limping and had overgrown hooves. A parasitic infection had left him severely anemic, and his eyes were still red and swollen from the mace.
Brown and her husband placed the terrified goat in a small isolation pen to keep him from hurting himself, but he became so scared he actually scaled the 4-foot wall of the pen and escaped.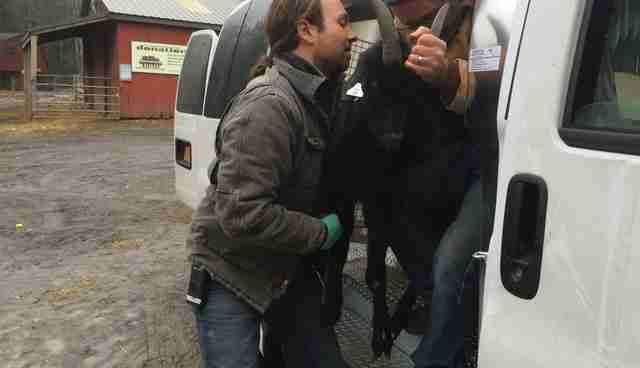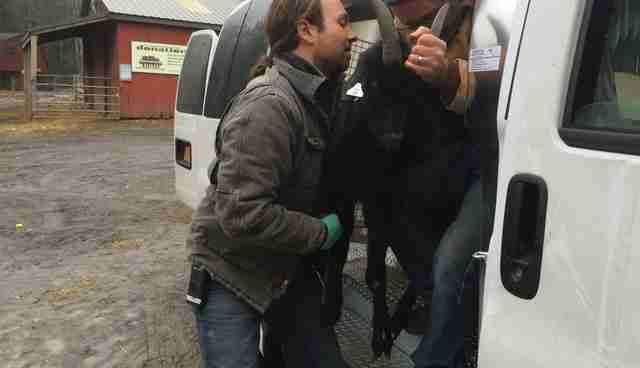 "He really had a profound fear," Brown said. "He had never been handled with kindness, not socialized with humans - just probably treated as a commodity."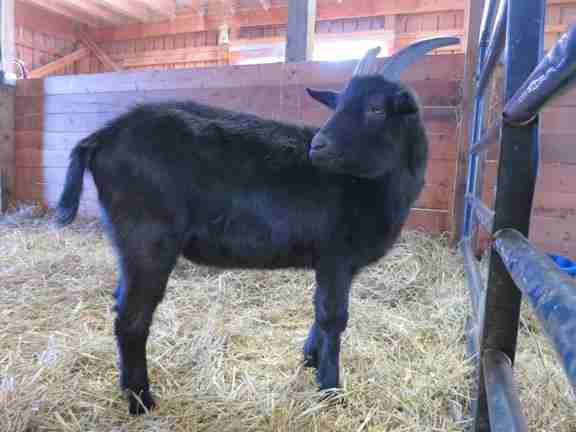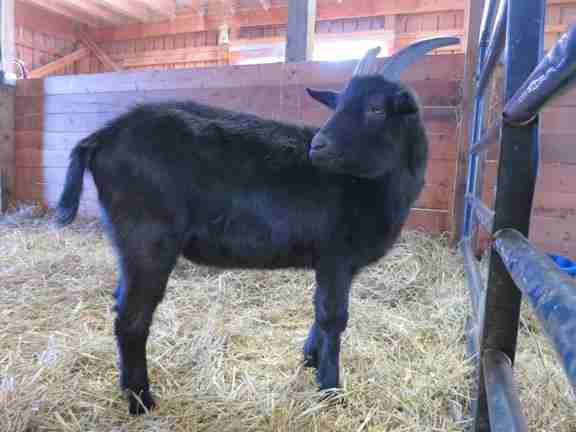 The sanctuary believes David probably escaped from a live meat market - "slaughterhouses," Brown called them - in New York City. There, live animals, including turkeys, goats, and sometimes even calves, are stuffed into tiny cages for customers to review. When one is chosen, the live animal is led to the blood-stained back of the shop where he's butchered according to the customer's specifications.

"They all live in deplorable conditions," Brown said. "They're just barely keeping them alive before a customer chooses them for slaughter."
Fortunately, David's future looks brighter. In the months since his rescue, the sanctuary has been working hard to rehabilitate the young goat, both physically and psychologically. "He's really come out of his shell," Brown said.

David even has a group of goat friends he likes to hang out with, though the bolder goats can still pick on him and he gets special treatment from his caretakers. When feeding the goats treats the other day, Brown explained, "a number of them would push him out of the way. So we forced them all inside and we just had David and he got all the apricots."
David seems to appreciate the consideration. Though he's not as affectionate as the other goats - "You can't get them away from you. They want the loving. They're in your face," Brown said - David has started to let caretakers pet his face if they offer him a treat.
"He's gained weight, his coat is shiny, his eyes are bright, that stupid awful [USDA] tag is gone," Brown said. "He's got a good life."