Happy birthday, David Attenborough! Today, the renowned English broadcaster and naturalist turns 88, and we at The Dodo think it's the perfect opportunity to reflect on some of the most incredible moments he's brought us over his 60 years creating inspiring, eye-opening nature documentaries.
1. He discovered an orangutan who learned to imitate humans and perform "DIY" tasks.
2. He said "boo" a sloth.
In case you wanted to see that moment again: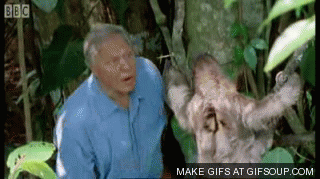 3. He brought us this amazing footage of a panda bear doing a handstand.
4. He stood fearlessly just feet from a venomous puff adder.
5. He spotted a nearly-invisible gecko in the jungle of Madagascar.
6. He pioneered the "cute animal video" phenomenon when he gave the world a glimpse of a pair of tenrecs.
7. He's not afraid to draw wolves near him ... by howling.
8. He kept his cool -- charmingly -- when pursued by an incensed capercaillie bird.
9. He infiltrated a group of gorilla -- which he called "bliss."