The Dashain Festival, traditionally known as Mwohni is one of the most anticipated festivals conducted in Nepal. During the fifteen days of the festival, hundreds of thousands of animals are sacrificed to help mankind liberate themselves of their sins and grant them of their wishes. Dashain is an annual festival that is celebrated by both Hindus and Buddhist Newars from around the globe and takes place in Nepal.
Animal Recovery Mission, a vanguard non profit organization based out of Miami, Florida, has investigators reporting from the regions surrounding Birgunj and Janakpur in Nepal who are exposing the carnage taking place in and around Nepal's temples as well as documenting ceremonies conducted by devotees of the festival.
The ceremonies are executed in commemoration of the beliefs and traditions of bloody battles between the "divine" and "demonic" powers that are held within animals such as buffalo, goats and pigeons. By sacrificing these animals, worshipers believe they will be granted a variety of blessings that vary from fertility to blessing tradesmen, safety from accidents and success. Hindi advocates of this festival worship the Goddess Durga and her various manifestations, and is who they sacrifice animals for especially.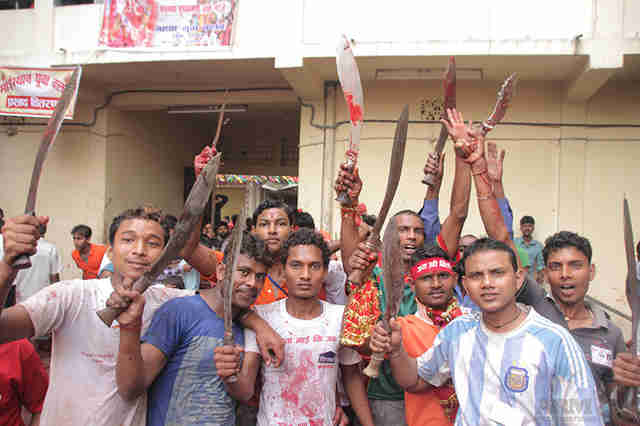 The Dashain festival occurs in during the months of September or October and even enforces the closure of all government offices, educational institutions and many businesses in it's honor. The most important days are the first, seventh, eight, ninth and tenth days.
WARNING: Disturbing image
The eighth day, known as the "Maha Asthami," is the day when the most heightened of the Goddess Durga's manifestations (known as the blood-thirsty Kali), is appeased through the sacrifice of hundreds of thousands of buffaloes, goats, pigeons and ducks in temples throughout the nation. In these ceremonies, blood is symbolic for its fertility and is considered to be the most honorable offering to the goddesses. After the offering of the blood from the animals, the flesh of the sacrificed animals is prepared and eaten by the worshippers, believing that it is a blessing of divinity if consumed.
Animal Recovery Mission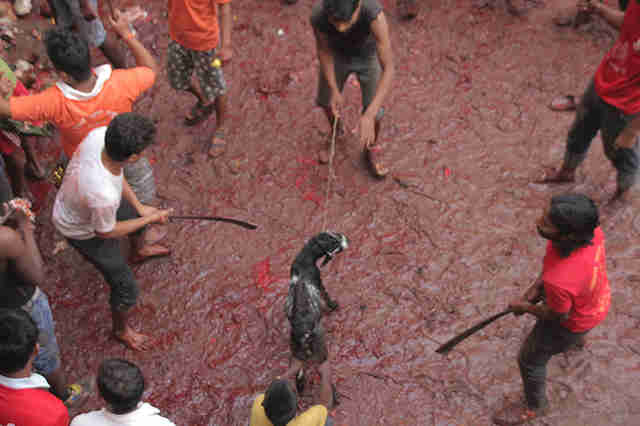 It is common for buffaloes to be sacrificed in the courtyards of all the land revenue offices in the country on this day. In Nepal's old palace in Basantapur Hanuman Dhoka, worships and sacrifices are also active throughout this particular day.