Playful Kitten Takes A Moment To Cuddle With Her Dalmatian Brother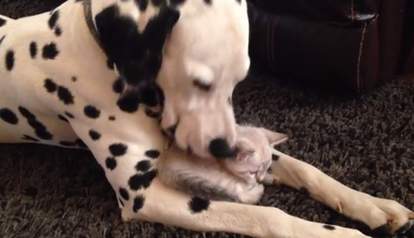 Squirt the foster kitten is full of curious energy, which is a sharp contrast to her chill Dalmatian brother, Louie. Fortunately, Louie is totally cool with being Squirt's playmate - and even having a cuddle session or two! Since Louie is so much bigger, it's fun to burrow underneath him.
Squirt doesn't even need a blanket - she can just nestle under Louie's ear.
However, lying still is much easier said than done. Especially when there are so many things to pounce on and explore ...
... but a snuggly moment with Louie is definitely worth hanging around for, so Squirt decides to settle in between her brother's paws - for just a few more minutes, anyway.
Squirt also enjoys playing and scampering with her Dalmatian sister, Lady - or at least attempting to get her attention:
You can watch Squirt and Louie's entire snuggle party below: