Woman Turns Around And Is Puzzled To See A Dog Optical Illusion In Her Bed
"When you share your bed with half man, half whippet."
Jo Constant and her partner have three dogs with very big personalities. The pups always want to be involved in whatever their parents are doing, including sleeping.
"Flippit the Whippet and Bear would only ever sleep under the duvet with us given the chance," Constant told The Dodo. "Bear is huge at [around 84 pounds], so sometimes it's just Flippit who you really don't even notice. The worse thing is if one gets on top of the duvet as they pin it down and drag it off [of] everyone."
One morning, after a night spent in a hotel sleeping amongst a pile of dogs, Constant got up and was going about her routine when she turned back to the bed — and was faced with the funniest optical illusion she'd ever seen.
"When you share your bed with half man, half whippet," Constant said.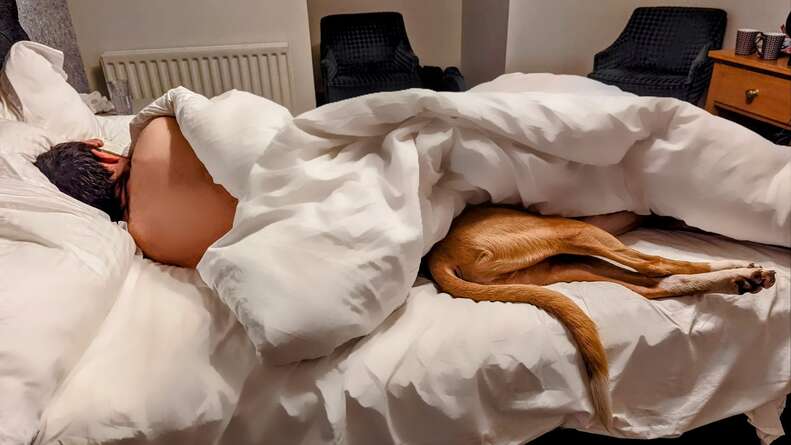 The way everyone was laying, it looked as if her partner had the body of a dog, and she made sure they all stayed that way long enough for her to snap a photo.
"They were Bear's legs," Constant said. "Flippit was in there, too."
The dogs didn't move and didn't pay any attention to what was happening. To them, piling themselves into bed on top of or sprawled around their parents was a completely normal occurrence. Nothing out of the ordinary at all.
Constant and her partner love their dogs very much — even though they sometimes make sleeping arrangements just a tad tricky.
Top-Rated Products For The Ultimate Dog Spa Day
We may earn a commission if you purchase from our links.