Woman Wakes Up To Find Her Foster Dog Left Her A Tiny Surprise
A living, breathing chicken nugget 😳
Kaitlin Devoto knew almost nothing about the dog she'd agreed to foster, other than the fact that the dog was a puppy mill rescue.
"I didn't know a gender or age," Kaitlin Devoto, the pup's foster mom, told The Dodo. "The first time we knew what she looked like was when she arrived in Cincinnati when I picked her up."
At the pickup center, Devoto found herself face-to-face with a female standard red poodle.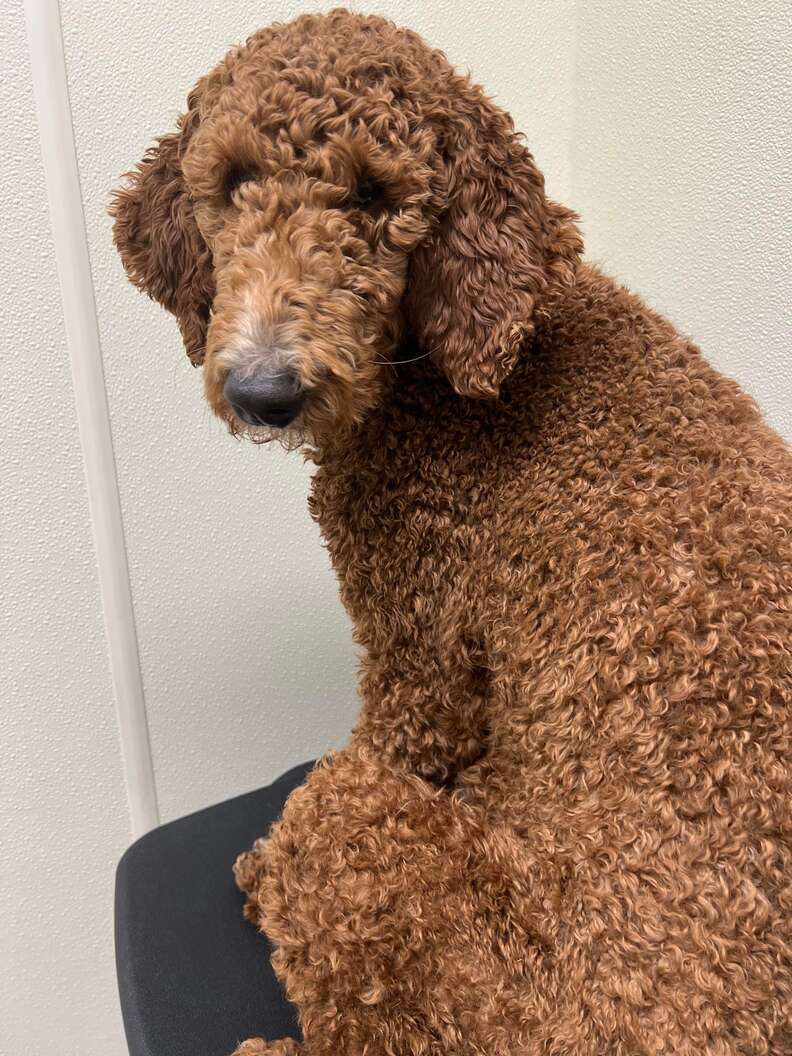 She noticed that the dog was producing a little bit of milk, but the experienced foster mom assumed it was due to a recent litter.
"It's not unusual to receive a puppy mill Momma who's still lactating," Devoto said. "When their puppies are weaned, moms are 'no longer useful.'"
The dog was also skinnier than she should've been, which Devoto planned to treat with nutritious meals and lots of love. She scooped the scared but relieved poodle into her arms and brought her home.
Just four days later, Devoto woke up to a shocking discovery: There was a tiny poodle puppy in her new foster dog's bed.
"She delivered the puppy overnight!" Devoto said.
She quickly checked the poodle's belly for more puppies and was even more surprised to learn that there'd only been one.
"It was a singleton baby!" Devoto said.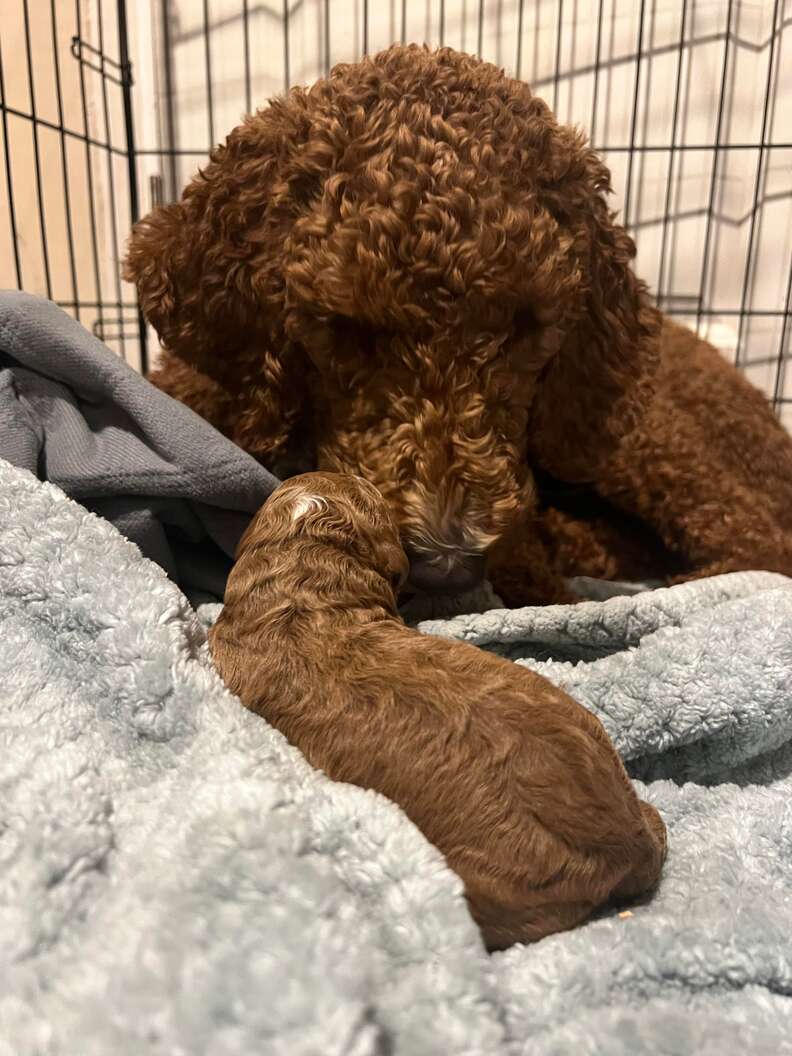 Devoto jumped into action right away to make momma and baby comfortable. She lined an enclosed crate with warm blankets and gave the pair of poodles a quiet place to sleep and nurse.
As she looked over the puppy to make sure he was healthy, she noticed two things: He was a boy and he resembled a chicken nugget.
"He was very quickly named Chicky Nug," Devoto said, "But I was stumped on a name for Momma that fit the same theme."
With the help of her friends, Devoto came up with the name Mickey D for Momma after the fast food chain McDonald's. They decided on Mickey for short.
"Mickey seems to suit her," Devoto said. "Plus, Mickey and Chicky are a cute name duo!"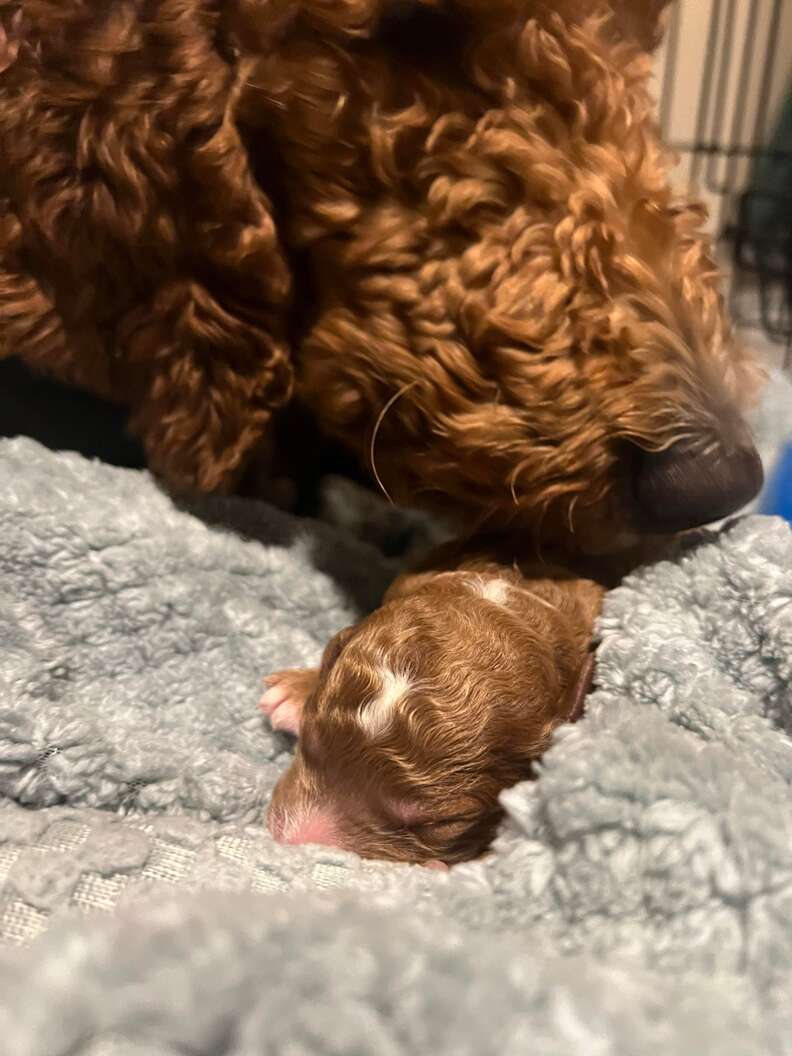 Since the puppy's birth, both Mickey and Chicky's personalities have blossomed. Chicky is now a 5-week-old pup with a fun, sassy spirit.
"He loves to run around and do zoomies," Devoto said. "And he's very interested in biting toes and toys."
Mickey also loves playing with her toys and being around her family. According to Devoto, the nervous dog is growing more confident every single day.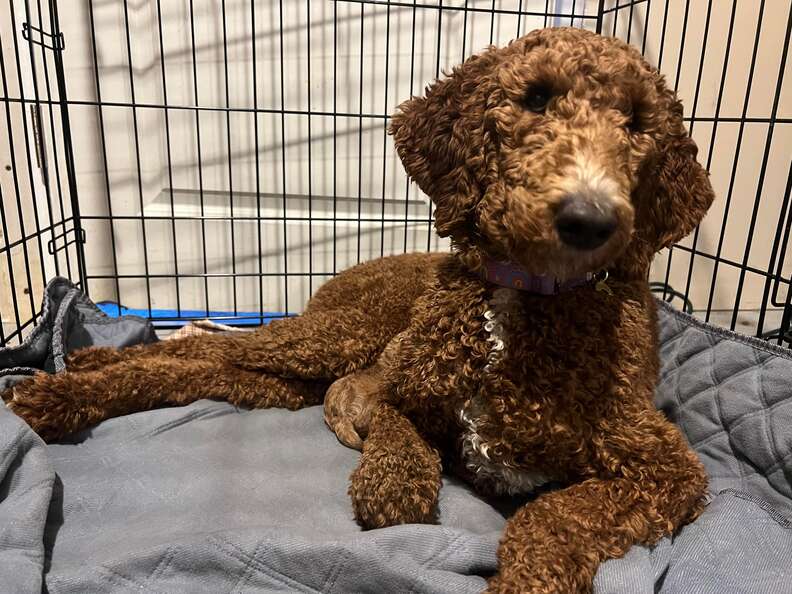 Both dogs are still in Devoto's care, but they'll be going to their forever homes soon. Chicky will meet his adoptive family once he turns 8 weeks old, and Mickey will be available for adoption through Louie's Legacy Animal Rescue next month.

Although Devoto will be sad to see Mickey and Chicky go, she'll always cherish the moments she had with the mother-and-son duo. Their time together might've be short, but the love Devoto and her foster pups shared in those few weeks will surely last a lifetime.
What To Buy If You Just Adopted A Dog
We may earn a commission if you purchase from our links.